"You don't get to hate it, unless you love it."
This line, uttered by a lead in The Last Black Man in San Francisco, perfectly captures the ambivalence felt by the characters towards the city of their birth, home to their families for three generations.  In one of many eloquent voiceover scenes, we see how the black man built the picture-postcard, tourist-enticing Victorian homes, his sweat soaking into the fish-scale shingles.  Now, predatory lenders and gentrification push him to the margin, if not out of the city altogether.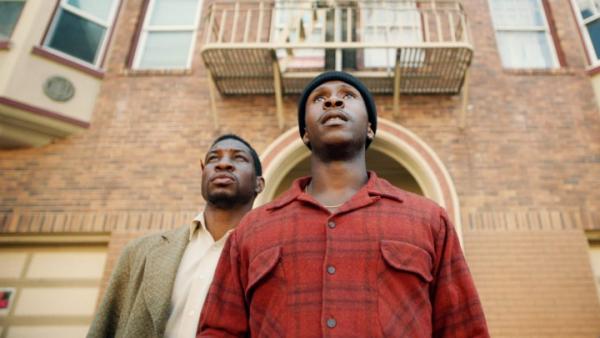 I've doubtless said it before, but it bears repeating: one of the most rewarding experiences as a film critic is bearing witness to exciting artistic debuts.  And The Last Black Man in San Francisco has a handful of notable firsts and seconds:  Joe Talbot's feature writing and directing debut, Jimmie Fails' writing and acting debut, and composer Emile Mosseri's second movie score.  (Cinematographer Adam Newport-Berra is hardly a newbie, serving as DP for several indie features over the past decade, but I'm confident his superb craft here has increased his job offers exponentially.)
As an ensemble, their work brings to mind that of another rising chronicler of black American experience, Barry Jenkins.  What Jenkins and his ensemble accomplished in Miami (for Moonlight) and Harlem (for If Beale Street Could Talk), Talbot and his team have done in San Francisco.
Talbot and Jenkins both give us characters with psychological substance.  Their movies' scores are emotionally evocative, at times melancholic, at other times pining or hopeful.  Their cinematography unfailingly serves their stories, yet a photographic still from their films would give me pause on an art gallery wall.
Talbot and his cinematographer Newport-Berra keep their characters in sharp focus, often backlit by sunlight.  Slow motion shots reveal the beauty of ordinary faces that one could see on a bus ride across any city.  A long take of a homeless man flawlessly singing an operatic aria is among many scenes humanizing the ever-growing gap between rich and poor in American cities.
And of course Talbot and Newport-Berra have the U.S.' most photogenic city to work with (though to their immense credit, there's nary a view of the Golden Gate Bridge).  We get plenty of shots of the Victorian houses that populate the downtown, but rightly so, since one of them is a character in its own right.  However, much of the action takes place in the off-the-tourist-track Hunters Point neighborhood.  Home to a decommissioned naval shipyard, this almost completely non-white community has a certain infamy as a Superfund cleanup site.
Talbot co-wrote his script with Rob Richert (another first) and Jimmie Fails.  Fails has been Talbot's best friend since they were kids, and they've both said this film is substantially autobiographical, to the point of naming one of their leads Jimmie Fails.  It's safe to say the other lead, though differently named, substantially stands in for Talbot.
The Last Black Man opens in Hunters Point.  After a prologue by a street preacher declaiming a key theme – "Fight for your land! Fight for your homes!" – we meet Jimmie and his best friend Montgomery (Jonathan Majors) waiting for a bus.
Both Jimmie and Montgomery have day jobs, as nursing home aide and fishmonger respectively, but their sense of vocation resides elsewhere.  Montgomery is an aspiring playwright, with an ear for street dialogue and an eye for character-revealing detail.  Jimmie is obsessed with his family's former home, the aforementioned Victorian.
In Fails family lore, this home was built by Jimmie's grandfather in 1946.  Only when his father failed to pay taxes were they evicted when Jimmie was a boy.  Still Jimmie's lodestar, or perhaps his white whale, he's compelled to return to its gate-barred exterior every couple of weeks.
When the white couple living there abruptly moves out, Jimmie starts squatting, as he continues to touch up areas of neglect.  Previously living in a group home and in his car, Jimmie most recently had been sleeping on the floor of Montgomery's bedroom.  (Montgomery himself only has a tiny room to call his own, inside his blind grandfather's house.)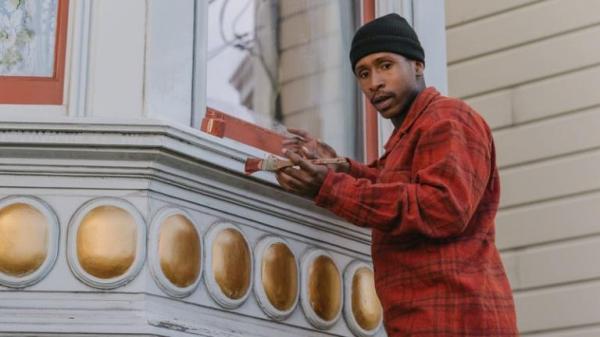 There's more than a smidgen of madness to this duo's obsessions.  Jimmie's squatting can't possibly end happily, right?  And Montgomery is so fixated on authentic urban dialogue that he gives notes to a quintet of toughs perpetually bantering under a tree near his grandfather's home.
Despite a certain unreality to their fixations, Jimmie Fails and Jonathan Majors imbue their characters with an empathy-eliciting authenticity.  Like Fails, the supporting cast is substantially drawn from the Bay Area.  The street preacher is played by Willie Hen, a local rap artist.  One of the bantering quintet is played by Jamal Trulove, who recently made national news after the city paid him a multimillion settlement for wrongful imprisonment on a bogus murder charge.  Even Danny Glover, as Montgomery's blind grandfather, has a San Francisco connection, born there in the '40s and a campus activist there in the '60s.
As alluded to earlier, The Last Black Man in San Francisco alights upon many timely national themes: homelessness, gun violence, our Third World level income inequality, our country's willingness to toxify areas inhabited by minority groups.  What is refreshing about Talbot's film is how these topics are weaved almost seamlessly into a beautiful portrait of an intimate friendship.  Jimmie and Montgomery support each other's passions, but speak truth when it needs to be told.
The only romance in this film is the romance for a home and a city that have yanked away the welcome mat, already frayed to start with.  However, as Montgomery tells Jimmie, "If you leave it, it's their loss."
(Image credit for star rating: Yasir72.multan CC BY-SA 3.0 )