Booksmart checked two major boxes for me as a critic. First, I'm a sucker for well-told stories about life's transitions. Whether we're talking contemporary films like Bo Burnham's Eighth Grade and Richard Linklater's Boyhood and Before trilogy, or classic world cinema like Yasujiro Ozu's Tokyo Story and François Truffaut's five Antoine Doinel films, I'm totally on board.
Second, it thrills me to see an artist bursting with talent at the start of their career, or in the case of Olivia Wilde here, in shifting from prolific actress to feature film director. Amazingly, there's scarcely a misstep to be found in Booksmart.
If I'm being nitpicky, I can say that sometimes the alternatingly pop and hip hop soundtrack threatens to overpower the onscreen dialogue. However, the song choices and original music by Dan the Alternator pleasingly complement Booksmart's happenings. (And the songs must be current and cool, because this 51 year old critic recognized almost none of them.)
I could also say that Wilde's story of two best friends on their last day of high school takes a predictable turn when their bond is challenged late in the film. But the resolution of this conflict is handled brilliantly, and on the whole, I would gladly re-watch this teen comedy before any of John Hughes' vaunted tales. Additionally, having a plus-sized actress as the lead, and depicting same-sex romance responsibly, both show that we've evolved past the adolescence portrayed in Hughes' movies.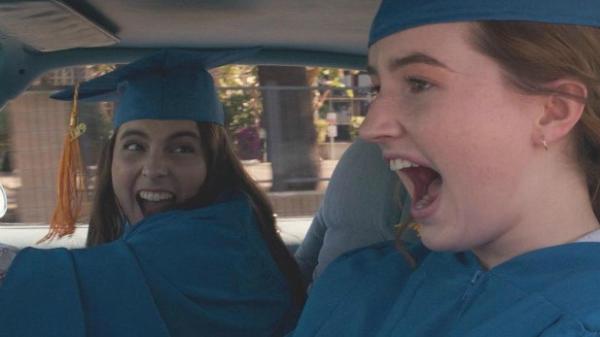 It's also an uncommon film that so engrosses me from its opening scene to its visually creative closing credits. Booksmart begins with Molly, the more assertive of the two friends, listening to a just a bit over-the-top motivational recording as she mentally prepares to kick academic ass.
In the next scene, Amy pulls up to Molly's house and leaps out of her car, a Volvo plastered with in-your-face, feminist bumper stickers. Together they do a geeky, adorable happy dance that establishes for us their affectionate bond.
As the film progresses, we glean that both perceive this intimacy to be threatened by their post-graduation plans. Molly has a life of dominance mapped out, from Yale undergrad to law school to the Supreme Court. The quieter Amy wants to make the world better for women in humbler ways, with a humanitarian summer in Botswana just over the horizon.
Once at school, an overheard conversation blows Molly's mind: the classmates she dismissed as shallow dopes have been accepted to Ivy League schools, too. Since the only fake ID's that she and Amy have are bogus university library cards, Molly commits to compensating for lost time with a night of partying they'll never forget. Amy – out of the closet for two years – only agrees to come along reluctantly, on learning a skater she's crushing on will be at the booze- and weed-sodden party that is their ultimate destination.
Usually a script with multiple authors signals production troubles, but the finished product from
Booksmart
's four women screenwriters (Emily Halpern, Sarah Haskins, Susanna Fogel, and Katie Silberman) crackles with wit and heart. I not only laughed out loud at multiple points, but laugh-snorted, too.
As our duo ditches their original plan to binge watch a Ken Burns documentary, Molly yelps, "The Dust Bowl can wait, bitch!" High school meanness is still mean, but has a funny edge, as Molly points out a codependent couple, saying the heavy drinker of the two is only keeping the other around for the eventual liver transplant.
While the adults and students around Molly and Amy have their own distinct personalities, Booksmart is 90% about this pair. Wilde's stylistic choices make this clear: close-ups of their expressive faces abound, and the ambient noise periodically goes silent or on high reverb, to emphasize their individual subjective experiences.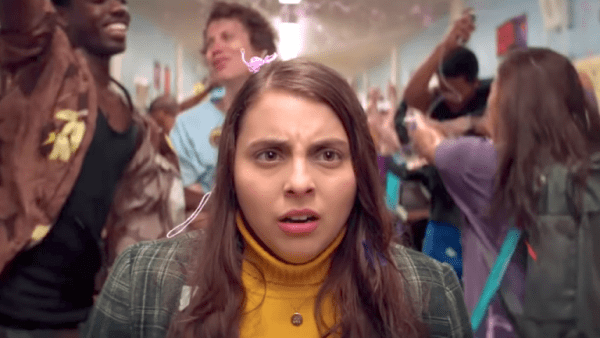 The actors playing the adults in this film – Lisa Kudrow and Will Forte as Amy's mom and dad, Jason Sudeikis as the burned-out principal – do solid work, but Booksmart succeeds on the strength of the performances by Beanie Feldstein (Molly) and Kaitlyn Dever (Amy). Both share the cerebral bluster of brilliant adolescents who try to intellectualize away their insecurities. But Feldstein and Dever also infuse their characters with unique traits, while making the chemistry between Molly and Amy fully convincing.
Like most teen comedies, Booksmart's high school milieu is exaggerated for dramatic impact. (This means the cringe to laugh ratio found in last year's Eighth Grade is inverted here.) Similarly, the land of adolescence is idealized. Molly and Amy discover on their hero's journey that the seniors who seem like shallow jerks are actually decent underneath their masks, and Amy's Christian parents contort themselves to affirm their daughter's sexual orientation.
But if we imagine and work towards a more empathic world, it sometimes happens, right? And the message wedged between the laughs is a necessary one for its intended audience: you're already pretty great; just don't let adulthood f*** that up.
4 out of 5 stars
(Image credit for star rating: Yasir72.multan CC BY-SA 3.0 )