It was a dark and stormy night. Under pressure from his domineering dad, a British-Pakistani teenager debates whether to throw away his dreams of writing, lugging a sheaf of poetry and song lyrics out to the trash. Meanwhile, Springsteen's "Promised Land" booms in his mind. As the pages are caught by the wind and whirl around him, which side will win? Obeying his father, or following his passion?
This scene, near the beginning of Blinded by the Light, captures the generational and cultural conflict that runs through the newest film by Gurinder Chadha (best known until now for 2002's charmer Bend It Like Beckham).
It also captures the challenge that Chadha set for herself. Will her latest transcend a sequence that could fall into cliché territory, and offer an original coming of age story about a young man propelled by the Boss's musical and lyrical talent? In a movie world crowded with biographies and stories inspired by iconic rock and pop stars, will Blinded by the Light distinguish itself?
Happily, the answer to all of these questions is a definite yes. Though I found plenty to like in Rocketman, Yesterday, and to a lesser degree Bohemian Rhapsody, this is my favorite of the bunch.
I'm doubtlessly biased by my abiding admiration for Springsteen, whose music has been a potent counterpoint to darker moments in recent American history, while sustaining me through a personal crisis or two. So I won't quibble overmuch with those who express a preference for Rocketman: I, too, was won over by its rehab center framing device, musical numbers, lead performance by Taron Egerton, and fable of LGBT empowerment. (By contrast, the lazy plot contrivances of Yesterday and the biopic-by-numbers quality of Bohemian Rhapsody make them indefensible selections for top spot.)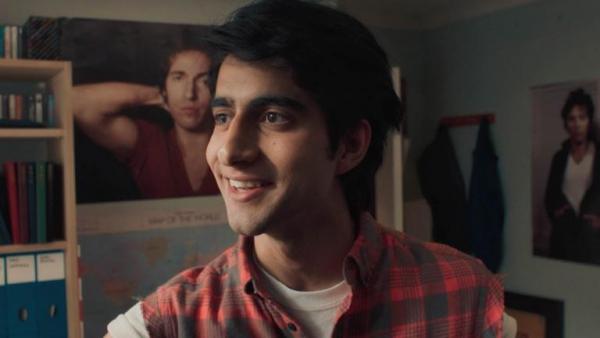 Based on a memoir by Sarfraz Manzoor – renamed Javed Khan in the film – Blinded by the Light is set in 1980s England, in the dumpy city of Luton. Ironically, Manzoor/Khan's subdivision is named Bury Park, one syllable short of the Boss's Asbury Park, New Jersey.
For Javed, Luton is a death trap, a suicide rap, even before he knows the lyrics of "Born to Run." In his final year of high school, he feels left behind by his best friend Matt (Dean-Charles Chapman, Game of Thrones' Tommen Baratheon, all grown up), who's more interested in his band and canoodling with his girlfriend. At home, he must bend his will to his father, mandated to contribute his meager earnings to their cash-strapped family and to set his sights on a soul-deflating yet profitable career.
A lucky collision in his school hallway with a fellow Pakistani classmate named Roops changes everything. Roops is obsessed with Springsteen's music, a passion that proves contagious. (What disaffected teen wouldn't take the bait, hearing an artist described as "a direct line to all that is shi**y in this world"?)
Chadha illustrates Javed's newfound passion magnificently. Song lyrics splash on the screen around and behind him. When he hits the play button on his Walkman, the words "tired" and "bored" from the opening verse of "Dancing in the Dark" flow next to his left and right ears. Springsteen classics generate musical numbers on the streets of Luton, its drabness morphing into saturated colors.
Newcomer to the screen Viveik Kalra terrifically makes manifest Javed's transformation. His slouched, bunched-up posture opens up and his face glows as his confidence expands. Prompted to develop his writing skills by an empathic teacher, and emboldened by Bruce's lyrics, he even goes on a date with Eliza (Nell Williams), a classmate dedicated to leftist political causes.
Alas, external factors threaten to crush Javed's happiness. In Margaret Thatcher's Britain, his family feels the effects both of economic recession and an emboldened racist presence.
The camera catches all of this period detail: more seriously, the ugly resurgence of neo-Nazi symbolism and hate speech; more frivolously, the big frizzy hair and garish clothing of Javed's female classmates, and the splitting of the males into goth and new wave tribes.
The all-or-nothing high stakes of adolescence are palpable here, where a difference in musical taste can make or break a friendship (at my own high school, I remember an argument over the artistry of The Doors turning violent). A thoughtless comment devastates, while parental support or disapproval is world-changing.
Much of this territory was covered in Gurinder Chadha's Bend It Like Beckham. This earlier film and her latest one both consider the tensions of having a hyphenated cultural identity, with the younger generation feeling more British, the parents identifying more strongly as Pakistani (or in the case of Beckham, Indian). Loyalty and service to the family clash with individual expression.
The script for Blinded by the Light handles these tensions in a more nuanced manner than Chadha's earlier film. Bend It Like Beckham was hobbled by hamfisted romcom plot twists, which are minimized in Blinded by the Light. Javed's father Malik is played by Kulvinder Ghir with greater subtlety and complexity than his counterpart in Beckham.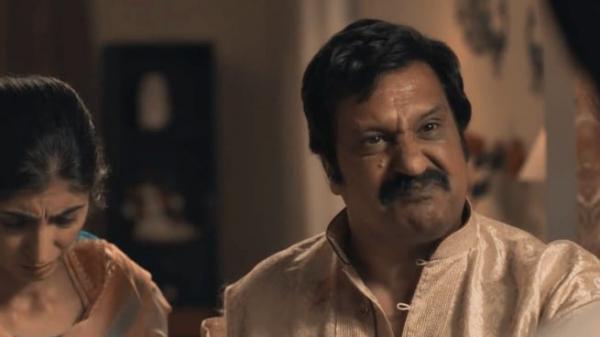 I do wish that the supporting cast of Javed's peers were given more depth. And Eliza's parents – thankfully on screen briefly – are mere caricatures of Thatcherite Brits, the father a John Cleese upper class twit from Monty Python.
However, the central relationship examined in Blinded by the Light is that between Javed and Malik, done with a potency that brought me to tears. Between their climactic scenes and the joyous musical numbers, I left the cinema feeling cleansed and lighter than when I entered.
(Image credit for star rating: Yasir72.multan CC BY-SA 3.0 )