Where'd you go, Rotten Tomatoes?  47% for Richard Linklater's terrific new film?  Seriously?
Don't get me wrong, I've long been aware of the flaws inherent to this film review aggregator.  As a cylinder propelling cinematic capitalism, it skews falsely positive to sell movie tickets for mediocre fare.  Artistically, it creates false equivalents between masterpieces and rusted franchise tent poles:  98% for I Am Not Your Negro, versus 91% for Star Wars: The Last Jedi.
But whence cometh the disconnect between my admiration and affection for Where'd You Go, Bernadette and its widespread critical disdain elsewhere?
Sure, the folks surrounding Cate Blanchett's eponymous character could've been more fully fleshed out, namely her husband Elgie (Billy Crudup) and her arch-nemesis neighbor Audrey (Kristin Wiig).  Maybe one could argue that a couple of character transformations stretch credibility (I wouldn't), and that a criminal subplot resolves too tidily (I would).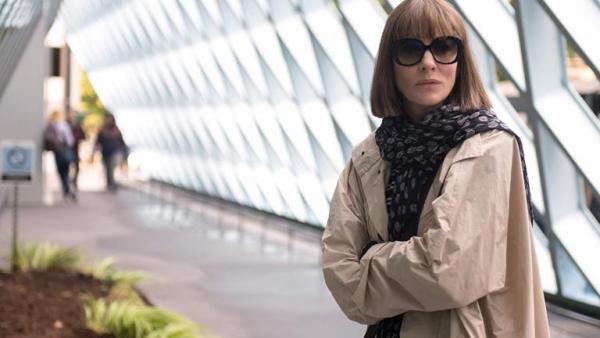 But these are not enough to explain the critical pans.  So, I've got a theory:  whether consciously or unconsciously, Bernadette's temperament and flaws strike too close to the mark for many critics.
Like Bernadette, plenty of us introverted writers are overstimulated and exhausted by interactions with flesh and blood human beings, retreating to the security of our laptops and the printed word.  And where Bernadette is an out-of-the-closet misanthrope, we hide our disgust with so much of humanity behind our published sentiments and warmth that are more often ideal than actual.
Otherwise, the harsh judgments just don't make sense, because Linklater as usual is telling a heck of a story, buttressed by intelligent technical choices.  For my money, he improves on his source material – Maria Semple's bestselling novel of the same name – which kept me at emotional arm's length with its style of narration.
In the film version, after a lickety-split prologue of Bernadette kayaking among glaciers, we backpedal five weeks to discern her path to the Antarctic.  Cleverly, we meet Bernadette and Elgie's house before we meet its inhabitants.  A magnificent Addams family mansion on a Seattle hill, overgrown with weeds outside, decaying and leaky on the inside, it's an apt metaphor for their marriage.
Both have devolved from youth's luster and optimism in their own manner.  Bernadette has poured herself into mothering her precocious 8th grade daughter Bee, but is otherwise a hermit, using a virtual assistant to cope with basic chores.  Elgie has gone AWOL, too, a workaholic tech genius with the Microsoft employee badge and viral TED talk to prove it.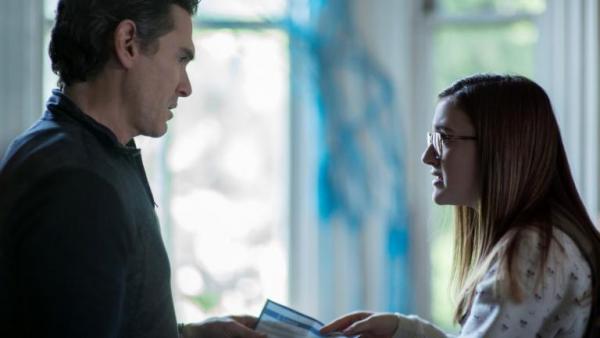 Through a couple of brilliant expositional choices, we learn the details of the preceding decades.  A YouTube video documentary, viewed in fragments by different characters, discloses that Bernadette was a legendary architect who abandoned her profession 20 years ago.  Then, Rashomon-style, Linklater jumps back and forth between separate conversations that Bernadette and Elgie have on the same afternoon, sharing their overlapping-yet-different versions of their marital decline.
Back to the present day, a perfect storm of hermit hell is rapidly inflicted upon Bernadette.  Her conflict with her polar opposite neighbor goes nuclear; Elgie patronizingly tries to fix her; and Bee receives an acceptance letter for a prestigious boarding school, so Bernadette's
raison d'être
will soon be out of the house.  So, like any good introvert obeying her id, Bernadette flees.
Cate Blanchett portrays Bernadette with magnificent sensitivity, making this film a rich, relatable character study.  To paraphrase her own words in the script, she is convincingly gnawed at by the banality of life, yet simultaneously moved by the things no one else notices.
In a manner analogous to Patricia Arquette's mother in Boyhood, Blanchett's Bernadette shows once more that Linklater gets the emotional turbulence inherent to invested parenthood.  Like Bernadette, I've teared up at my children's school performances, moved by my kids' wonderfulness as well as the transience of such experiences.
In a spry piece of dialogue, we learn that Bernadette referred to her prematurely born Bee as Krishna:  partly because of her blue skin tone (in this case, from a lack of oxygen), but primarily due to her twin attributes of creator and destroyer.  I've seldom heard a better description of parenthood.  Our children prematurely age us and emotionally wreck us, yet we rejoice in them in a way like no other.
Taking the Krishna metaphor further, I think Linklater is also saying if an artist doesn't create, their energies will turn menacing.  As Bernadette faces the possibility of an empty nest, she needs a new vector for her inspiration.  Otherwise, the perfect storm (partly of her own making) will linger overhead.
I would've loved for the Antarctic sequences to have more of a "you are there" feel, but while in Seattle, we're offered a vivid sense of place.  Its dreary days, crappy urban planning, and nightmarish traffic have prompted Bernadette to scapegoat it for her malaise.  (Guilty as charged again:  I'm routinely tempted to do the same with the Bible Belt backwardness that currently surrounds me.)  Naturally, her inner quirky architect finds regional solace in Chihuly glass and Rem Koolhaas' Central Library.
With its minor flaws, I would rank this film a notch below Linklater's best.  To my mind, those are still his Before trilogy and Boyhood.  In all four of those, Linklater manipulates time (a life-altering day in each Before film, a dozen years spanning Boyhood) to profoundly contemplate the challenges unique to each life stage.
Instead, I place Where'd You Go, Bernadette on a par with his previous work, Last Flag Flying.  Both, though imperfect, offer central characters taking stock of past and present, in a way that prompted introspection as I simultaneously delighted in finely-honed dialogue.  So, don't be "rotten"; allow yourself to be rewarded by this film.
(Image credit for star rating: Yasir72.multan CC BY-SA 3.0 )