Entering the cinema yesterday, I was skeptical of what I was about to see. Could a family drama set in a snake-handling church in Appalachia avoid sensationalism? Having Walton Goggins in a lead role didn't reassure me, since he's been a go-to Southern Gothic actor for almost 30 years.
Well, I was wrong. Them That Follow is a nuanced consideration of fundamentalist religion and the patriarchy that inevitably accompanies it. Just as importantly, Walton Goggins and Olivia Colman, the two leaders of their insular congregation, deliver understated performances, humanizing characters who could've easily been shallow villains.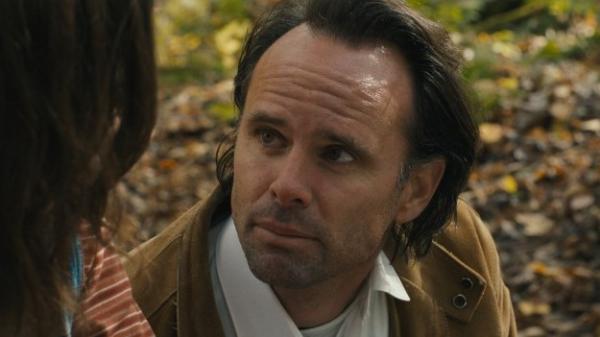 Goggins is Lemuel Childs, the pastor of a flock numbering a few dozen that gathers furtively in a repurposed shed. His daughter Mara (Alice Englert), at the threshold of adulthood, is being groomed to marry Lemuel's protégé, Garret (Lewis Pullman).
However, Mara is in love with Augie (Thomas Mann), the backslidden son of Colman's character, the colorfully named Hope Slaughter. Unbeknownst to everyone but Mara, she's pregnant with a child fathered by Augie. Not even her best friend Dilly (Kaitlyn Dever) knows.
In this story co-written and co-directed by Britt Poulton and Dan Madison Savage, the dramatic tension is splendidly escalated, the longer Mara keeps her secret. Poulton and Savage skillfully balance this suspense with Mara's drive to pick between the young man she loves, and the young man her father and congregation have chosen for her.
The tension is further heightened by the fact that local law are wise to Lemuel's extralegal religious conduct, so the threat of arrest hangs constantly over him and Garret. (Snake handling, though practiced by about 125 Appalachian churches, is illegal everywhere but West Virginia.) Then of course there's the mortal peril of snake handling itself, the church coping with the recent death by snakebite of one of their members.
Impressively, this is Poulton and Savage's feature directing debut. Their story is rich with foreshadowing and perfectly intermingles its various plot threads. Their characterizations are substantive, especially for a film with a breezy 98 minute run time. Some, like Hope Slaughter, perceive their remote holler as an escape from worldly temptation, while her son Augie feels imprisoned.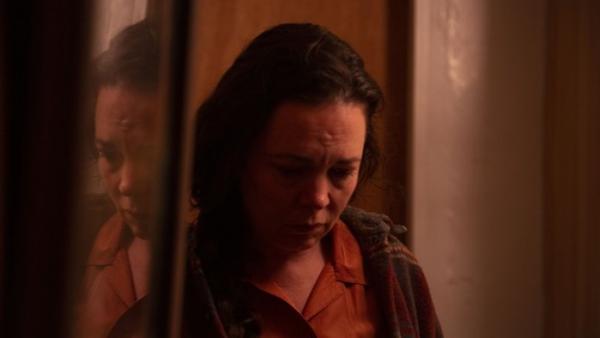 There's also a vivid sense of place to Them That Follows. The autumnal beauty of Appalachian streams and forests is nicely lensed, as is the remoteness of a village so small, it lacks a single traffic light. (Having been a traveling doctor in such a region – a 30 minute drive from one of Tennessee's known snake-handling churches – I can attest that Poulton and Savage nailed these particulars excellently.)
Across the board, the acting here is superb. Besides Goggins' turn as a convincingly affectionate yet dominating father figure, Olivia Colman shows she can inhabit any role she darn well pleases. Fresh from playing royalty in
The Crown
and
The Favourite
, she conveys a backwoods toughness that mingles with shame over her conduct before she was "saved." And the younger actors are just as good, essential since
Them That Follows
is mostly told from Mara and Dilly's point of view.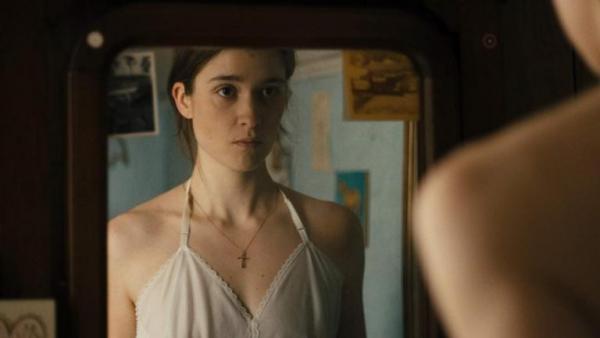 For a pair who openly state in interviews that they're not people of faith, Poulton and Savage nearly get the southern Holiness milieu right, too. The snippets of sermons we hear from Goggins and the prayers uttered by his congregation realistically insert Bible verses into fitting contexts. The glossalia and "Spirit-filled" behavior during their services ring true.
The techniques deployed by their crew masterfully heighten the emotion of the actual snake-handling service. The vertiginous camera tilts and choppy editing – a snake removed from its cage here, a Bible held enthusiastically skywards there – immerse us in the congregation's zeal.
However, there's one glaringly unconvincing detail, a practice found in certain Islamist cultures but unheard of in American fundamentalism. Unfortunately, it forms a significant plot hinge, so its inclusion detracts substantially from my otherwise positive impression of this film.
This is doubly unfortunate, for despite its extreme religious setting, Them That Follows provides insightful commentary on the toxicity intrinsic to fundamentalism in all forms. We see the male domineering that's a part of every major religion, casually in Lemuel's commanding his daughter how to dress, more flagrant in the church's efforts to control female sexuality. Much as progressive Judaism and Christianity try to evade this, they can't escape the male ownership of women that saturates the Pentateuch and the still-toxic notions of submission in the New Testament.
In addition, this film shows in multiple ways how fundamentalism corrupts good parenting. Besides the peril inherent to snake handling, we observe how another family spurns medical treatment of their son's asthma in favor of the Lord's healing power (if I only had ten bucks for each time I've seen similar neglect of mental health needs!). This poisonous parenting is manifested, too, in Hope's shunning of Augie and Lemuel's shaming of Mara.
Sadly, the dynamics that would lead Abraham to raise a slaying knife over Isaac, that led Jesus to proclaim that a man's enemies will be those of his own household (Matthew 10:36), are still alive and well today. Them That Follows merely offers an extreme version of these daily worldwide realities.
(Image credit for star rating: Yasir72.multan CC BY-SA 3.0 )