Listening to the Boss's music for 40 years, and becoming a profound admirer of his artistry a dozen years ago, I've followed with interest his evolution over the past few years.  From the politically urgent, arena-worthy sounds of Magic, Wrecking Ball, and High Hopes, Bruce Springsteen has turned more introspective of late, with his autobiography of 2016 and his Broadway show of 2018.
Maybe this stock-taking is a function of age, as Springsteen turns 70 next week.  Whatever the reason, this mellower side of the Boss persisted into his latest album, Western Stars, released in June of this year.  Clearly an homage to the easy-listening hits of Jimmy Webb and lushly arranged Glen Campbell tunes of the '60s and '70s, Western Stars recollects songs like "Wichita Lineman," "Gentle on My Mind," and "By the Time I Get to Phoenix."  Even some of Springsteen's lyrics and titles refer to Campbell's songs, with a lineman narrator in "Sundown" and a hopeful fellow waiting for his ex to arrive on the "Tucson Train" (it's not Phoenix, but it's close!).
While in Toronto last week, I was lucky enough to catch the world premiere of the feature-length concert film of Western Stars, attended by the Boss himself, along with his longtime collaborator and co-director, Thom Zinny.  Since there won't be a tour to promote his album, the co-directors instead captured an intimate track-by-track performance for friends in a century-old barn on Springsteen's property.  Each song is preceded by voiceover from Springsteen, accompanied by footage illustrating his words:  sometimes iconic landscapes or wild horses of the American Southwest, sometimes generic '50s- and '60s-era home movies, and sometimes video of Springsteen with his family.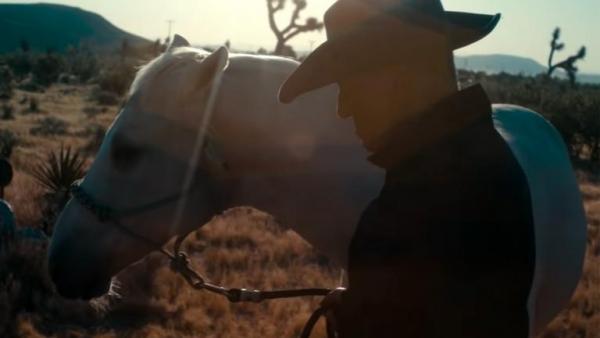 Introducing his film, Springsteen described the songs of the album as illustrating two sides of the American character:  individual freedom and communal life.  The classic loner is there right off the bat in the first two songs, a carefree hitchhiker on track one, then a more ambivalent "Wayfarer," who "can't count sheep for the white lines in [his] head."
On the community side of things, Springsteen gets more personal before playing "Tucson Train," talking about his self-sabotage of intimacy in early adulthood.  With folksy eloquence, the song's narrator laments how "we fought hard over nothing; we fought till nothing remained."  The hard work of forging lasting relationships continues with "Drive Fast (The Stuntman)," whose character's busted body is a metaphor for his psyche.  Its title character (and these songs are so cinematic!) finds love late and strives to "get the broken pieces to fit."
Before "There Goes My Miracle," Springsteen speaks briefly of his spirituality, how he sees the love between two people as the greatest proof of God's existence and for the divine in every person.  While this godless humanist respectfully disagrees, I do appreciate that Springsteen's faith encompasses many mansions, given his repeated support of LGBT causes and the inclusive spirituality of "Mary's Place" on his post-9/11 album, The Rising.
The concert performance in
Western Stars
is lensed beautifully, the dimly lit browns of the old barn soothing the eye.  The sound design splendidly captures the particular contributions of his 30-piece band, the camera seamlessly weaving from close-ups of Springsteen to individual band members and their instruments, a diverse assemblage that includes strings, horns, lap steel, accordion, and a backing vocal quartet.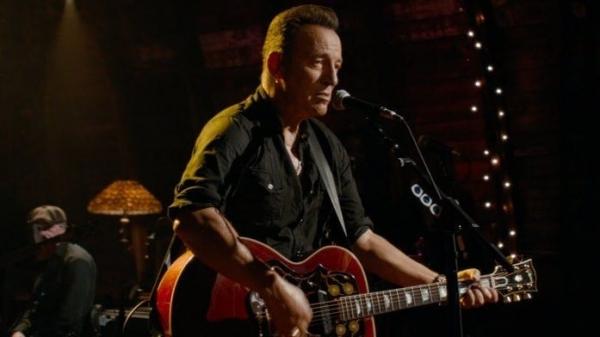 The main difference I could detect between the studio album and the filmed performance is the more prominent place given to Patty Scialfa, Springsteen's wife/fellow guitarist/accompanying vocalist.  Their affectionate chemistry and her plaintive voice add emotional depth to the romantic deception of "Stones" and infuse hope into the album's somber closer, "Moonlight Motel."  After the screening, when asked about Scialfa's contribution to the filmed performance, Springsteen acknowledged that she made these songs far richer, and laughingly, candidly wished he'd involved her more in the studio versions.
The overall directing style here is certainly not ground-breaking, and I wish the in-between footage had been more personal and less generic.  However, when I look back on my 10 days at the Toronto film fest, though there are films I rated more highly, this is the event that brings me the warmest memories.  I suspect these good feels will come to any fan of the Boss who watches this, when it gets a wider release next month.  (And be sure to stick around till the screen goes dark, as there's a wonderful cover of a Glen Campbell tune that plays as the credits roll.)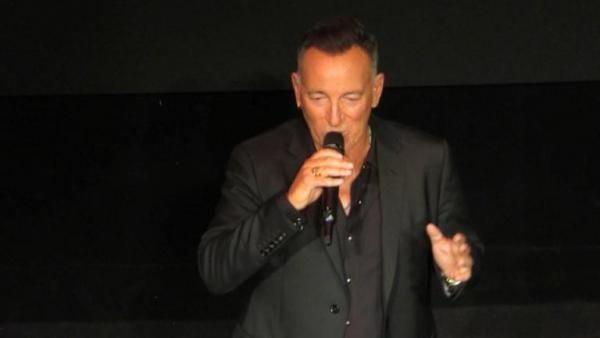 A part of me also wishes, in our age of incipient fascism, that Springsteen had used more of his social critic's voice on this album.  (He briefly nods in this direction on the title track, with a mention of "our American brothers" crossing the border wire, but that's as far as he goes.)  But he told the Toronto audience he's working on songs for an album with the E Street Band, so maybe he'll don the mantle of America's conscience then.
But most of all, at a time when the pop music greats of my youth are either departing this life (Ric Ocasek) or contenting themselves mostly with reworking earlier tunes (Peter Gabriel), I'm grateful that Springsteen is forward-looking and even trying on different musical genres.  Long may the Boss continue to reign.
(Image credit for star rating: Yasir72.multan CC BY-SA 3.0 )