After a pair of recent swims against the critical tide for film adaptations of beloved novels – Where'd You Go, Bernadette and now, The Goldfinch – I did a discernment check with two people I trust, who'd also read or listened to Donna Tartt's Pulitzer-winning novel.  Both of them – my wife and a music critic who loves all high-caliber art – told me without any prompting that they, too, esteem the film version quite highly.
After that check-up, I guess my critical alignment is good for another year.  Whew!
I'm not saying the film version (directed by Brooklyn's John Crowley) is better than the book, but can you name a film based on a Pulitzer-winning novel that is?  Nor am I close to claiming the film is faultless.  There are a couple of chance re-encounters on the busy streets of NYC that strain, then break, credibility.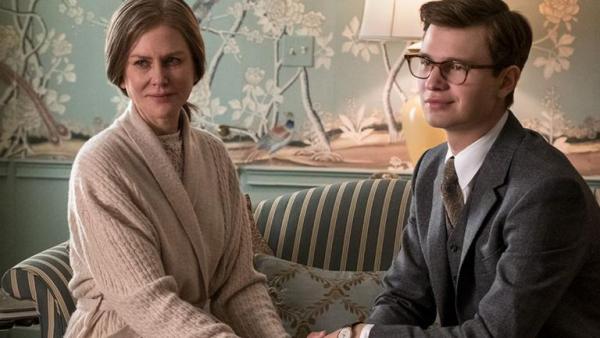 More significantly, the adult actors portraying the characters we first meet in childhood are almost without exception not as up to the task as their younger counterparts.  This is particularly problematic in the case of Ansel Elgort, as the main character Theo at age 21.  I get that Elgort was cool, fluid, and fun to watch in Baby Driver, but here he lacks the subtlety necessary to compellingly play a tightly-wound, always-on-the-defense trauma survivor.
But there is so much to admire about this film, which enveloped me for its entire 2.5 hour run time.  Indeed, I felt the final act was even a bit rushed!
After a prologue with Elgort-as-Theo in Amsterdam, The Goldfinch jumps back 8 years to Theo in the immediate aftermath of a horrible trauma.  A spontaneous trip to the Metropolitan Museum of Art with his mother is shattered by a terrorist bombing, killing her and several others.  (The depictions of violence here are restrained, by the way, with a couple of scenes of domestic aggression having a far more visceral impact.)
Uninjured himself, a disoriented, dust-coated Theo impulsively grabs a small painting lying next to him and makes his way to his apartment.  Failing to find his mother there – his useless father has long ago vanished – he stows the painting and makes his way to the only other place his addled mind considers safe, the home of a school acquaintance, Andy Barbour.
When the police finally track Theo down, Andy's mother Samantha (Nicole Kidman) on the spot decides to welcome the orphan into their home.  This lasts for an increasingly happy series of months, during which Theo befriends Hobie (Jeffrey Wright) and Pippa (Aimée Lawrence).  Hobie, an antique furniture dealer and restorer, was the business partner of a man also killed in the blast; while Pippa is the deceased man's niece, who suffered a brain injury standing next to her uncle.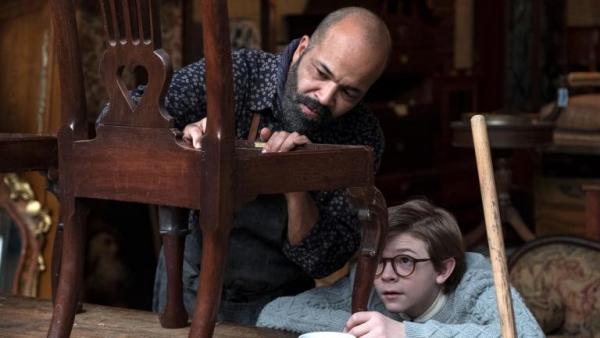 This tentative stability is interrupted when Theo's father (Luke Wilson) suddenly shows up and whisks him away to live in Las Vegas.  His dad being a deadbeat gambler and alcoholic in and out of recovery, Theo finds solace in close companionship with a similarly neglected classmate Boris (Finn Wolfhard).
This period shows Theo introduced in stepwise fashion to addictive substances that numb his unease and subdue his nightmares.  Some of the folks doing the introducing are well-intentioned, others not so much.  Meanwhile, Theo keeps the painting ("The Goldfinch," by Rembrandt student Carel Fabritius) secretly tucked away, returning to it periodically as a safety blanket and bridge to a happier time.
The Goldfinch seamlessly, meaningfully leaps back and forth in chronology across its eight-year timespan.  These jumps are punctuated as well by Theo's intrusive memories of his life-defining event.  This editing is handled perfectly by Kelley Dixon, best known for her equally masterful labor in Breaking Bad.  I appreciate, too, how Dixon depicts the most traumatic events (the bombing and his subsequent police interrogation) with speedy cuts mirroring Theo's fragmented recall.
In addition, director John Crowley is aided by veteran cinematographer Roger Deakins, best known to me as the Coen Brothers' ever-reliable director of photography.  (Deakins has also lent his skills to the underappreciated masterpiece The Assassination of Jesse James by the Coward Robert Ford, while his visuals are the best aspect of lesser movies like Skyfall and Blade Runner 2049.)  Here, Deakins works gorgeously with shades of brown for the New York sequences, then uses plenty of shadow for the Las Vegas scenes, following a splendid overhead establishing shot of massive, sparsely populated housing developments being reclaimed by the desert.  He's just as proficient with sharp close-ups, whether it's a child's scabbed finger, or the details of Hobie's workshop and the Barbours' blueblood apartment.
As alluded to earlier, the child actors playing Theo and Boris are terrific.  I was less impressed with Oakes Fegley's efforts in 2017's Wonderstruck, but he's clearly improved his craft in the past couple of years.  As young Theo, and unlike Ansel Elgort, he's got the nuanced microexpressions to convey his character's repressed emotional spectrum.
But Finn Wolfhard as young Boris threatens to steal every scene he's in.  Part of this is due to Wolfhard's prodigious acting gifts (he's delightful to watch in Stranger Things, too), but it's mostly his character's optimism and exuberant affection – not to mention his untamed shock of jet-black hair – contrasting so vividly with Theo.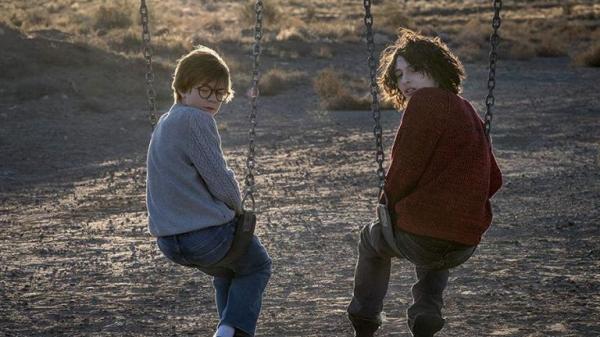 The main adults are also well-acted.  Jeffrey Wright is solid as usual playing the soft-spoken, unfailingly kind Hobie.  Same with Nicole Kidman as Samantha Barbour:  with this film, Big Little Lies, and Boy Erased, one might argue she's being typecast as brittle-on-the-outside, steely-on-the-inside mother figures, but check out last year's underrated Destroyer if you need a reminder of her range.
The overall emotional tone of The Goldfinch is one of restraint, which fits glove-like with Theo's interior state.  As an eight-year portrait of a young man's struggle towards wholeness, with the human touchstones who help him in his journey, this is another soundly crafted, quietly affecting film from John Crowley.  Please don't let the naysayers persuade you otherwise.
(Image credit for star rating: Yasir72.multan CC BY-SA 3.0 )