For the fifth year in a row, I'm back in Toronto for their fabulous film fest.  So besides poutine and delectable St. Lawrence Market pastries, I'll be feasting on 2-3 films daily for the next 10 days.  I'm aiming to bring my favorites to your attention, so you can keep your eyes out for them when they open widely in the coming months.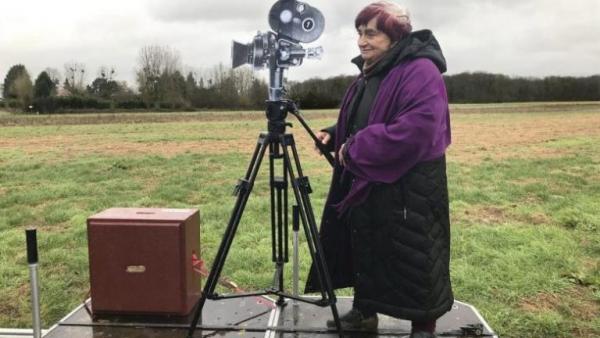 The first film to make me cry this year was Varda by Agnès.  The final work by the great French director, it premiered in Berlin only a month before she died in March this year at the age of 90.
Varda was many things: part of the French New Wave, feminist, political radical, lover of cats, ever-grieving widow of Jacques Demy.  We see all of those things in this film (and mourn her loss anew), as Varda narrates her way through highlights of her 40+ film, 65 year career, using abundant clips from her work, as well as excerpts of recent lectures and conversations delivered directly into the camera.
Using the three words inspiration, creation, and sharing, Varda walks us through her own process of filmmaking.  We learn how The Gleaners & I was inspired by watching a man pick through scraps after a Parisian food market.  For creation, Varda urges a gathering of students to "film quickly with the means at hand," telling how she elected to script her 1962 classic Cleo from 5 to 7 as 90 decisive minutes in the life of a woman because of budgetary constraints.  And for sharing, we observe the reactions of a group of schoolchildren to her video installation Homage to Zgougou the Cat.
To be completely honest, there are elements of repetition here, with many themes that Varda had already explored in late films like The Beaches of Agnès and Faces Places.  However, in this final work, I was made newly aware of her prolific careers as photographer and video installation artist.  Both, like her films, underscore her profound kindness, as one who saw all of humanity (and other members of the animal kingdom) as extraordinary, worthy of honor and affection.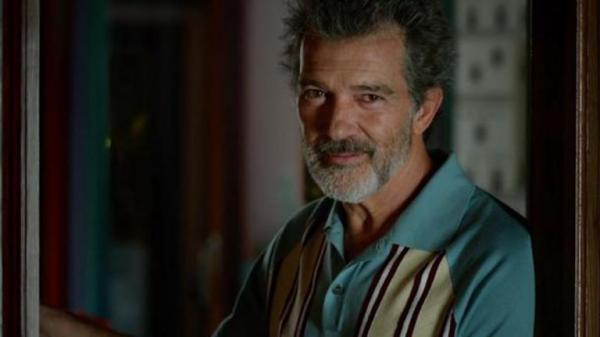 The critical buzz has it that Pain and Glory is Spanish director Pedro Almodóvar's best film in years.  For a change, I agree with the herd; this is a new favorite for me, along with his earlier Volver and Talk to Her. 
During the Q&A following its screening, Almodóvar said his newest is part of a recent "austere, more somber" phase to his career.  Here again, I'll concur: Pain and Glory lacks the intense melodrama or plot twists that he's famous for.
Antonio Banderas, in what may be his career-best performance, plays Salvador Mallo, a late-career writer and film director facing creative block, chronic pain, and depression.  Addiction is soon added to his laundry list of problems – vividly introduced to us in an early animated sequence – after an actor from one of his early classics introduces him to heroin.
Despite his facility behind the camera and with a pen, Mallo is not adept at articulating his feelings, but in a series of flashbacks, we learn of the birth of his creative spark and the sources of his emotional pain.  And even though the subject matter is heavy, Almodóvar as usual lightens things up with his use of bright color (the man loves his reds!) and a romantic orchestral score by his longtime musical collaborator Alberto Iglesias.
The director is also helped by luminous performances from the two actresses who play Mallo's mother at different life stages:  Penelope Cruz when younger, Julieta Serrano when older.  The emotions here are so authentic, the pain etched so strongly in Banderas' face and posture, that we (not just I, since Almodóvar and Banderas deservedly received a sustained standing ovation at the film's conclusion) desperately long for Mallo to rediscover the glory promised in this work's title.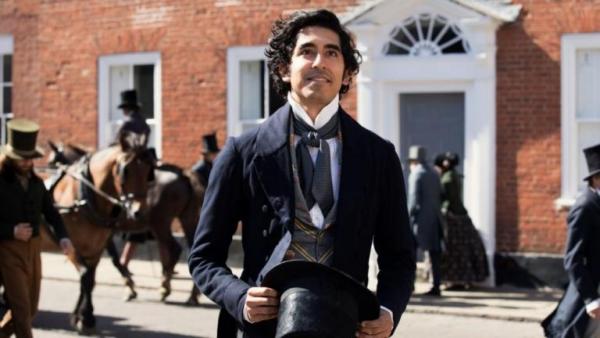 British director Armando Iannucci is best known for his profane, take-no-prisoners political satire, on display in the TV series Veep and The Thick of It, and the films In the Loop and The Death of Stalin.  So adapting a Charles Dickens novel and keeping the period language in place is quite the change of pace.
However, The Personal History of David Copperfield is refreshingly modern in its colorblind casting, epitomized by having Dev Patel play the title character.  Iannucci also doesn't hesitate to employ contemporary film technique, such as projecting flashbacks of earlier events onto walls behind characters.
For those who aren't familiar with the original, Dickens' novel is a first-person account of a young gentleman's life from birth to early adulthood.  Copperfield is yanked from his loving mother and doting nanny, and thrust by a sadistic stepfather into child labor in a London bottle factory.  From there, Copperfield later runs away and finds shelter with an eccentric aunt and her frankly psychotic cousin.
Like the book, Iannucci's film doesn't stint on 1840s period detail.  On the brighter side, we see vast estates and ludicrous colorful attire for men and women alike.  On the darker aspect, we get debtors' prison, child labor and beatings, widespread homelessness, and fraudulent boarding schools.  (Iannucci allows us to make our own parallels to 21st Century inequalities and exploitations.)
Like any good coming-of-age tale, The Personal History of David Copperfield shows us a young person forming his own identity, heard in all the names that other characters layer upon him (Trotwood, Daisy, Dody, etc.), before he insists on his real name.  We also see him realize that shame is not bestowed by poverty, but only through bad actions.
Iannucci's film is an exuberant showcase of top echelon acting.  Standouts include Tilda Swinton as domineering yet tender Aunt Betsey, Peter Capaldi as debt-saddled, big-hearted Micawber, and Hugh Laurie as Cousin Dick.  I would love to see Laurie secure an Oscar nomination for his performance, as he infuses Dick with a perfect blend of comedy and sympathy.  Today, Dick would no doubt be labeled as schizophrenic, tormented by the delusion that the troubled thoughts of King Charles I (beheaded in 1649) have taken residence in his own cranium.
The one significant flaw with Iannucci's film is that two hours is not enough to do justice to Dickens' sprawling masterpiece.  As a result, this cinematic version of Uriah Heep (despite Ben Whishaw's valiant effort) does not achieve the novel's height of malevolence, and certain actions elsewhere lack convincing motivation.  In this era where TV series like The Wire or Treme can justly be called Dickensian, Iannucci would've done better to use the multiple hours that television allows to create a more fleshed-out adaptation.
Varda by Agnès:  4 out of 5 stars
Pain and Glory:  4.5 out of 5 stars
The Personal History of David Copperfield:  3.5 out of 5 stars