I'm always surprised when educated people say they were taught little about seminal events in their country's recent history. Then, I remember that I learned absolutely nothing in high school about America's war with Vietnam.
Such was my momentary surprise again, when during the Q&A following his latest film, Spanish director Alejandro Amenábar stated that his people know little about their Civil War. Indeed, While at War is only the second feature made in his country to have Francisco Franco (their dictator from 1936-1975) as a character.
While at War follows two parallel, intersecting storylines: Franco's ascent within the junta that overthrew Spain's fragile republic in 1936; and the response to current events by one of the country's leading writers, Miguel de Unamuno. It's easy to see how Franco (played impeccably by Santi Prego) earned the nickname "Little Fox," as people mistake his slowness to respond for incomprehension and his soft-spoken tendencies for weakness. But still he ascends.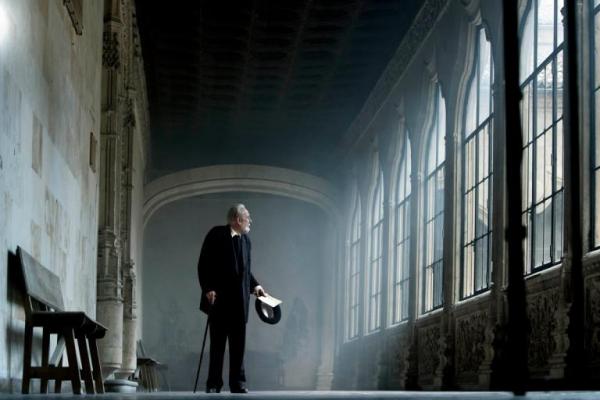 Unamuno (played too melodramatically for my taste by Karra Elijalde) is a walking illustration of Martin Niemöller's famous "First they came…" poem. The septuagenarian dean of the University of Salamanca – filmed in all its medieval architectural splendor – has thrown his influence behind the junta. As the ruling thugs progressively harass his friends – Salamanca's socialist mayor, a Protestant pastor, and a Communist literature professor – he mentally shuts out these events.
Amenábar skillfully, sympathetically illustrates Unamuno's ostrich-like ways: he closes his bedroom window to the faraway gunshots, he criticizes the awful writing style of the junta (ignoring the words' content), he vehemently argues with his friends. The director, again in the Q&A, stated his intention here was self-interrogation, speculating over what he would do in an era where rapid, radical change compelled him to take one extreme side or another.
Amenábar also feels an exploration of fascism is warranted in our time. I couldn't agree more, as I saw many parallels between events in 1930s Spain to those in 21st Century America. As in Spain 1936, American fascist elements (and make no mistake, I'm speaking of Trump, Republicans, and evangelicals here) wear a sham cloak of godly virtue and depend on support from religious leaders. Both play on a national mythology of past greatness: comparing himself to the 11th Century knight El Cid, Franco might as well have said, "Make Spain great again." Both foster programs of racial purity, while demonizing the left.
As a secular humanist, I'm always interested in what Amenábar has to say, as his films typically involve an interrogation into the degrading aspects of religious belief, either as focus or sidebar. Whether it's early Christianity's squelching of intellectual inquiry in Agora, the contemporary Catholic Church's efforts to take away a person's autonomy over their own body in The Sea Inside, or this film's consideration of how easily religion goosesteps in time with political oppression, there's plenty to ponder.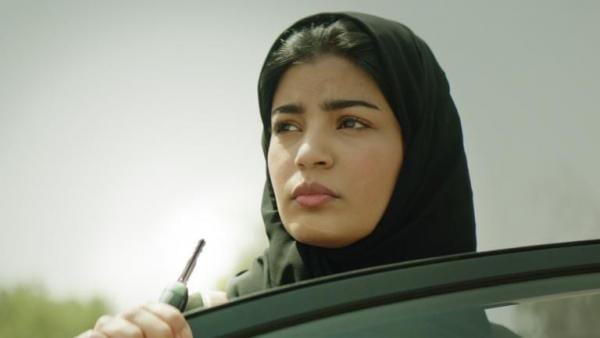 Haifaa Al-Mansour's 2012 film Wadjda is one of my favorite films of this century – and one of the most important, I would contend – so I wasn't going to miss a chance to see her latest. Breaking boldly through barriers as the first film shot entirely in Saudi Arabia, and the first feature directed by a Saudi woman, Wadjda sneakily wrapped an argument for feminine equality into a winsome story of a girl in Riyadh who only wants a bicycle of her own.
The Perfect Candidate's opening shot immediately reveals how much has changed in seven years' time: the lead character Maryam is driving on the outskirts of Riyadh. (Woman have only been permitted to drive in Saudi Arabia since June 2018.) Yet the film just as quickly shows the daily scorn and humiliation still suffered by Saudi women. As a clinic doctor, her first patient of the day angrily demands to be treated by a male nurse, rather than be examined by Maryam. Soon after, she's denied access to a flight to Dubai, because a male guardian can't be immediately reached to update her travel documentation.
Serendipitous events lead her to become a candidate for municipal office. At first, she's a one-issue candidate: seeing that deplorable road conditions hinder patient access to her clinic, she wants paved roads in her neighborhood. However, further experiences of misogyny lead her to demand more.
Al Mansour nicely segues Maryam's story with that of her father, Abdulaziz. A professional player of the oud (a lute-like instrument of the region), his band faces threats from religious extremists as they tour, for daring to sing popular romantic ballads. As such, Al Mansour shows how backwards ideas threaten both the advancement of women and free artistic expression.
Regrettably, The Perfect Candidate is not as strong a film as Wadjda. In her 2012 film, I felt totally immersed in the story, forgetting I was watching actors at work. By contrast, this is the first film role for Mila Al Zahrani, the actress playing Maryam, and it shows. She doesn't embarrass herself here by any means, but her skills fall short of the cast in Wadjda.
Similarly, the events of Wadjda had a genuine, organic flow to them, while there's a contrived feel to the start and close of The Perfect Candidate. Still, this is unquestionably a film worth your time; and the fact that it has yet to be approved for screening in Saudi Arabia and other Middle Eastern countries shows that Al Mansour has a long fight for social change ahead of her.
(Image credit for star rating: Yasir72.multan CC BY-SA 3.0 )