Before each TIFF film plays, we watch a promotional video, urging us to cast our votes for the People's Choice Awards. One of the three shows us head-on a young, stone-faced woman, with a voiceover of "Dani doesn't do dramas." But as she commences to ugly cry, the voiceover continues, "Except this one. That's why she voted for it."
Well, Andrew doesn't do romantic comedies. Except this one.
Like the fictional Dani, I was skeptical at the beginning of La Belle Époque. Right off the bat, it had a few things working strongly against it. Of the long-married couple at its center, the wife Marianne is sleeping with the best friend of her husband Victor. Predictable bedroom farce, here we come!
Even worse, the best friend is a patient in Marianne's psychoanalytic practice. And the done-to-death cliché of a patient sleeping with her therapist is Pet Peeve #1 for this psychiatrist/film critic. (It's one of the reasons I despise Scorsese's The Departed, though I normally adore his work.) Lastly, the parallel relationship we follow across La Belle Époque, between young entrepreneur Antoine and the actress Margot, is shown in an early montage to verge on mutually abusive.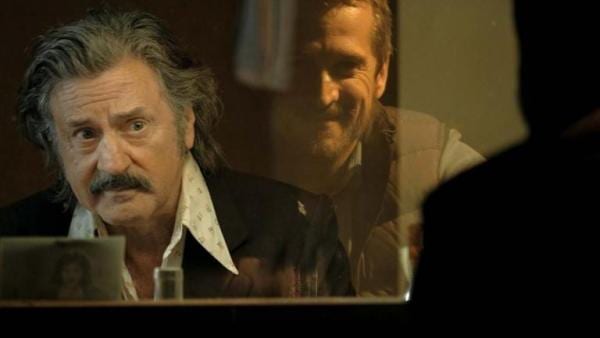 Yet this film's abundant positives overshadow these weaknesses. For one, how many romcoms are about older couples? If Marianne and Victor were American rather than Parisian, they'd have been eligible for AARP membership for a good 15-20 years.
And the acting! For merely his second feature, writer/director Nicolas Bedos landed two longtime fixtures of French cinema for his leads. Fanny Ardant starred in François Truffaut's final film in 1983, Confidentially Yours. Daniel Auteuil is probably the first French actor's name I learned, for playing the profoundly disturbed Ugolin in 1986's Jean de Florette and Manon of the Spring.
Both are exceptional here; given a smart script (more on that in a moment), they authentically invest both of their characters with layers of emotion and motivation, both conscious and unconscious. Auteuil plays a once-famous, now-fired political cartoonist, whose job disappointments cover a deep disenchantment with modernity, and still deeper, a lake of depression and betrayed optimism. Ardant's Marianne uses her quick intellect (a Freud quotation for any occasion!) and her fury over Victor's predictable haplessness to mask self-loathing and disappointment over the bitter woman she's become.
Bedos likewise elicits strong performances from his younger players. Guillaume Canet (Antoine) has been active in French film since the 1990s, while incredibly, this is only the third film for Doria Tillier (Margot). Such is the strength of Bedos' script and direction that both of them – as well as minor characters encountered briefly – have memorable, unique personalities.
La Belle Époque
's inventive plot is one part romcom, one part
Truman Show.
Antoine's business is staging historical re-creations for wealthy clients, who want to carouse for one night with Marie Antoinette or Ernest Hemingway. Margot had been his lover and part of his troupe, until his controlling tendencies onstage led her to take her talents and affections elsewhere.
Meanwhile, an exasperated Marianne has thrown Victor out of their apartment. Antoine, a longtime friend of their son, takes pity on Victor. As a distraction, Antoine gifts Victor with a night on one of his sets. Victor chooses the night 45 years ago in Lyon, when he first fell in love with Marianne.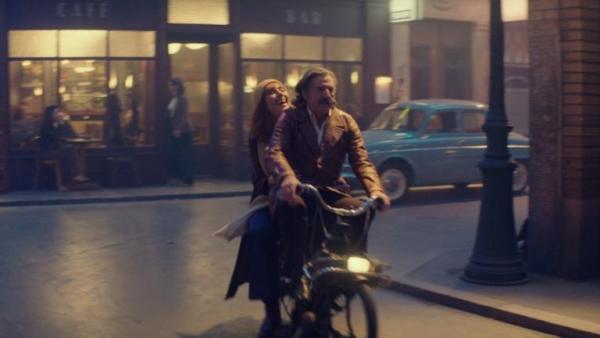 Antoine, surprised, hurriedly constructs a new set and persuades Margot to step into the role of young Marianne. For the re-creation, Antoine is a lot like Christof from The Truman Show, cuing the right music for maximum emotional impact, shining the spotlight on Margot/Marianne as she enters the scene, initiating a downpour as Victor leaves the café.
Bedos and his crew (the Christofs of La Belle Époque) edit their film in a way that is always coherent, seamlessly integrating flashbacks with present events. One moment, Victor is looking at the actress Margot across the table; the next he's seeing Marianne on their first meeting. These juxtapositions, and the way in which Victor starts to fall in love with Margot, illustrate the power of art to elicit profound, and profoundly true, emotion.
La Belle Époque's editing also gives the story terrific comic timing. Being a romcom, we know Victor will discover his wife's infidelity. But how he discovers it is perfect and hilarious.
And for a guy who isn't even 40 yet, Bedos knows a lot about aging love: how it can fall apart, how it can revivify. Victor's falling for Margot in imaginary Lyon shows the danger of living solely in nostalgia. Instead, Bedos is telling us oldsters to revisit the past with fondness, but simultaneously keep discovering what's wonderful in your partnership now.
(Image credit for star rating: Yasir72.multan CC BY-SA 3.0 )