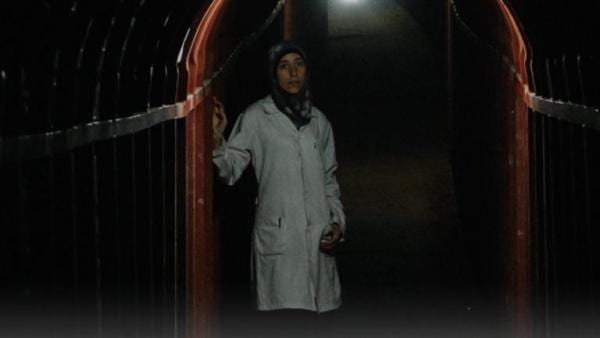 What a great dilemma for a film critic to have:  too many films to write about!  If I weren't at a festival, I'd be reviewing all six of the films I've seen in the past two days.  But since I need to stand in line for my next film in four hours, I have to be choosy, so here are my appraisals of the three best films of the past 48 hours.

Feras Fayyad's previous documentary Last Men in Aleppo earned an Oscar nomination.  It also made my Best of 2017 list, for its brave, on-the-ground portrayal of two men who risk their lives pulling victims from collapsed buildings bombed by Assad and his Russian allies.
For The Cave, Fayyad just as powerfully introduces us to a trio of heroic women (and one man) who run an underground hospital in a Syrian city under siege.  Fayyad's film focuses mainly on Dr. Amani, a 29 year old pediatrician and the hospital's manager, but we also get to know even younger Dr. Alaa; Samaher, the hospital cook and Jane of all trades; and Dr. Salim, an older male surgeon.
Fayyad's camera follows these four through their daily work, as they try to save the lives of those injured in the regular bombings.  The ground shakes, lights in the OR go out, and they ration medication in short supply.  All the while, they await with dread the possibility that Assad and Putin's forces will resume their use of chemical weaponry.
The urban panorama that opens this film – and later such scenes – shows a cityscape with scarcely a building that hasn't sustained at least moderate damage.  We also see the emotional wounds that this daily work inflicts on Dr. Amani and her colleagues:  they banter affectionately, but they're also exhausted and scared, breaking down and sobbing at times.
During the Q&A after The Cave's screening, Fayyad recounted that his editing crew had to pace themselves to limit their traumatic exposure, because the footage they were sifting through was so distressing.  I certainly believe him; my wife and I were exhausted after watching his film.  A video tableau of four injured children sitting on a hospital table in shock is one of the unforgettable images of my cinematic year.
But horrifying as it is, this is a necessary film for humanists to watch.  It's too easy to stay fixated on the spectacle of western democracy yielding to racist populism.  We need reminders of the genocide that Assad is inflicting on his country's people, aided by Trump's friend Putin.  And we need to vote for new leaders who will punish mass murderers and welcome refugees from lands like Syria.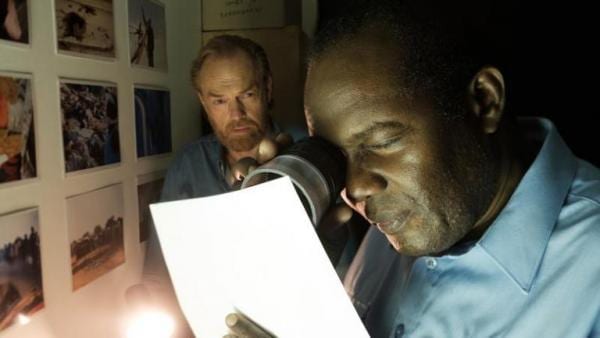 Australian director Ben Lawrence's fiction feature debut, Hearts and Bones, picks up on this theme of bearing witness.  His lead character Dan Fisher has been a war zone photographer for decades, returning home to Sydney and his long-time partner Josie after a stint in Iraq.
Sebastian, a taxi driver, hears a radio interview with Dan, promoting an upcoming photo retrospective.  Sebastian recognizes the name, for Dan had photographed the massacre of his village in South Sudan many years ago.  Understandably, Sebastian doesn't want any of those images exhibited.  Instead, having joined a men's chorus of trauma survivors from around the world, Sebastian wants Dan to chronicle the work of this group.
The resulting story successfully balances moments of immense pain with instances of meaningful connection.  It's quickly apparent that Lawrence and his co-writer Beatrix Christian comprehend trauma and its effects, not only in its overt anxiety and nightmares, but in how it can warp relationships and one's sense of self.
Hearts and Bones' technique is unshowy, but Lawrence's film contains a wealth of psychologically rich characterizations.  Both Dan and Sebastian carry heavy secrets, but desperately don't want to be remembered for their worst moments.
Likewise, the performances here are uniformly excellent.  I'll single out Hugo Weaving, who plays Dan, who has clearly been hiding his light under a basket, garnering fame for roles in the Lord of the Rings and Matrix movies.  In a fair world, he'd get an Oscar nomination for this complex, career-best performance.
The supporting cast is comparably good.  As the pregnant partners of Dan and Sebastian, actresses Hayley McElhinney and Bolude Watson excel in the film's most powerful scene.  Throughout Hearts and Bones, their characters Josie and Anishka show that trauma's effects are not a one-person show.  Along with the bond the men's chorus shares, they show that any healing comes only through community and intimacy.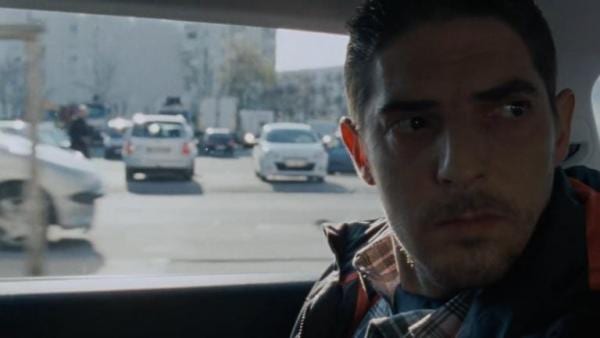 Victor Hugo's Les Misérables is the novelistic gift that keeps on giving.  Dominic West and David Oyelowo were the leads in a solid BBC adaptation that played on PBS earlier this year, and now Mali-born director Ladj Ly makes a breathtaking feature debut with his own Les Misérables.
Ly's version is more a variation on a theme than a true adaptation, though it is set in present-day Montfermeil, the same Parisian suburb where the vile Thénardiers had their inn.  However, instead of Inspector Javert, we have Chris, a hotheaded cop heading a trio who patrol Montfermeil's housing projects.  Instead of a pursuit through the sewers, the cops chase troublemaking children across high rises and through trash-riddled alleyways.
There are two candidates for Petit Gavroche, though:  Issa, chronically in trouble for his petty crimes; and Buzz, a drone-obsessed loner played by the director's son.  And the social ferment that led to the barricades in Hugo's tale is today just as ripe.
Ly's film opens on the day France won the World Cup in 2018.  The camera circles around Issa, as he hops aboard the Métro (without paying, naturally) to join the celebrating hordes around the Eiffel Tower.  Wrapped in a flag, he joins the mob bellowing out the Marseillaise.
Events the next day show this unity to be illusory.  The focus now shifts to the three cops, especially Stéphane, newly moved to Paris from the sticks, to be closer to his son.  As they patrol the projects, we meet a cast worthy of a sprawling 19th Century novel, that includes the neighborhood's unofficial mayor, drug dealers, a Romani circus clan, and ex-cons converted to Islam.
An ordinary patrol becomes anything but, as the hunt for a lion cub stolen from the circus pits various Montfermeil factions against each other.  And the bully-style policing by Chris only stokes these flames higher.
The pacing of Ly's story is relentless, the dialogue a non-stop bounty of French slang.  Ly only loses a point in my review, because the narrative trope of a cop losing his innocence on his first day has a "been there, done that" feel to it.
Otherwise, this is powerful storytelling that ends with a final haunting image.  And Ly raises a fair question: when governments and the adults "in charge" allow children to subsist in such deplorable, impoverished conditions, is another trip to the barricades necessary?
(Image credit for star rating: Yasir72.multan CC BY-SA 3.0 )