After 10 days, the Toronto International Film Festival has ended for my wife Jessica and me. Whether it's our luck and discernment, the choosiness of TIFF programmers, or the caliber of films released in 2019, this has been a better year than most. Out of 21 films, only two were subpar and one merely OK. As I hope my dispatches have shown, the other 18 films I can recommend without reservation.
Our final day brought us one last gem. Despite its unappealing title, Beanpole is aesthetically masterful, with excellent lead performances by a pair of newcomers to the screen. And at least for this U.S. film critic, it illustrated an aspect of the Second World War of which I was ignorant.
Beginning in Leningrad (today, back to being called St. Petersburg) in autumn 1945, the war has ended, but the city and its people have hardly recovered. The 900-day siege by the Nazis was lifted 18 months ago, but food is still scarce, malnutrition rampant.
Beanpole centers on its title character, so nicknamed for her height and leanness, as Iya stands one or two heads above everyone around her. She lives in a rundown apartment with Pashka, a toddler thought to be her son. Working by day as an attendant at a soldier's hospital, she's hampered by seizures that leave her standing frozen in place, but nonetheless loved by her patients and respected by the supervising doctor.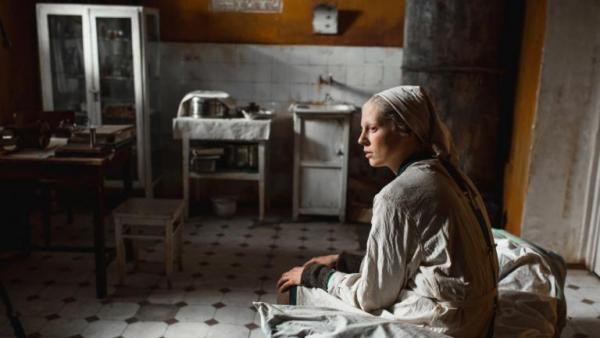 Soon after Pashka unexpectedly dies (a sequence depicted both discreetly and horrifyingly), Iya's closest friend Masha is demobilized from the army and returns to Leningrad. It emerges that Pashka was actually Masha's son, left in Iya's care when she was discharged from the same military unit due to the onset of her seizures.
On one level, Beanpole simply seems to be about a pair of female veterans eking out an existence in a time of great material deprivation. And the film is marvelous at world creation: it certainly appears as if contemporary St. Petersburg streets were weathered and uglified for the exterior shots. Indoors, the furniture is blocky and utilitarian, the clothing bulky and unattractive.
Together the women clean and warm up at the communal baths. In the apartment's communal kitchen, tenants bicker over stolen pots as Iya endures the leers of an older neighbor. As Iya and Masha walk icy streets to a dance hall, a pair of horny, wealthy youths in a rare automobile invite the women to join them.
As the movie advances, the distinct personalities of these two women solidify in our perception. Iya is meek and innocent-seeming, pushing back against any flirtation. Masha comes across as worldly, manipulative, and eager to further a relationship with one of those rich young men, at least in part for the foodstuffs he brings to each visit.
Yet, for reasons that are unclear, both women exist in a state of detachment. Masha doesn't overtly grieve the death of her son, while Iya numbly witnesses the tragic lives of the wounded soldiers under her care.
As I watched the film, I wondered: is their disengagement due to exhaustion and malnutrition? Is it from the national tragedy endured by the Soviet people across the past four years? After all, every family seems to have lost at least one child, whether from bombing or starvation.
Only a reveal in the film's final act makes clear the reasons for Iya and Masha's state. This is handled so skillfully that its emotional impact resonated with me for hours after the film ended. And, as I mentioned before, although these are the first feature roles for Viktoria Miroshnichenko (Iya) and Vasilisa Perelygina (Masha), they are both completely up to the challenge.
Incredibly, this is only the second feature by 28 year old director Kantemir Balagov. His first film, Closeness, is also worth tracking down: set in his home republic of Kabardino-Balkar in the poverty-saturated far west of Russia, it doesn't shy away from depicting the lawlessness, anti-Semitism, and religious oppression of his region.
Beanpole shows again that Balagov is unafraid to tackle uncomfortable topics. I have no doubt that – in Putin's Russia where the "glories" of Stalinism are increasingly lauded – the authorities would rather have World War II films of a more celebratory flavor.
Beyond this, Balagov's second feature shows a director barely half my age who continues to explore complicated lives, but now with a more assured aesthetic sense. There is no extrinsic music to tell us how to feel; there are ample cues in every scene without it. Balagov described Beanpole's color palette as "rusty" in a Variety interview. For me, the shadows, somber hues, and framing of the everyday beauty of Iya and Masha remind me of Vermeer's, Hals', and Rembrandt's Dutch Golden Age paintings of prosaic subjects.
Balagov won the best director prize at Cannes this year for Beanpole. Sometimes their committee choices are headscratchers, but not this time.
(Image credit for star rating: Yasir72.multan CC BY-SA 3.0 )