It's hard not to see Eddie Murphy in Rudy Ray Moore, the real yet larger-than-life character he plays in Dolemite Is My Name.  Moore came west with fantasies that the world would recognize his prodigious gifts as a singer or stand-up comic, but ended up stuck as an unfunny nightclub emcee in 1970s Los Angeles.
In similar fashion, Murphy dominated the 1980s, but has had a pretty crummy 21st Century.  With the exception of 2006's Dreamgirls, the announcement of a new Eddie Murphy film has only heralded disposable entertainment at best, but more typically groan-worthy awfulness.
As Dolemite Is My Name follows Moore's rise to fame, this role is a redemption of sorts for Murphy, too.  Near the start of the film, Moore's lame emcee jokes are vitalized by hearing the clever patter of some local winos, which he transforms into vulgar, hilarious braggadocio.  Soon, he's on the nightclub marquee, and his comedy records are cracking the Billboard Top 100.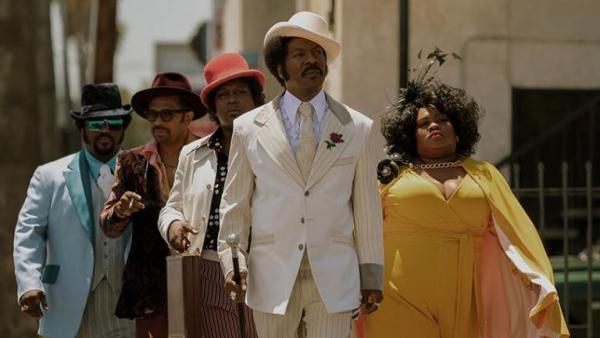 Likewise, it's a pleasure to see Murphy relishing a role with substance, and director Craig Brewer infuses his film with a vivid sense of place.  With a funky score by Scott Bomar, Murphy's onstage pimp attire and outlandish offstage plaids, and Blaxploitation posters in his producer's office, this feels like black L.A., circa 1974.
Supported by his stalwart creative friends, including a musician portrayed by the always fun Craig Robinson, Moore dreams bigger and aims to star in his own movie.  With acting and technical advice from an activist theater manager (Keegan-Michael Key) and a UCLA film student (Kodi Smit-McPhee), Moore starts shooting his bonkers action flick Dolemite. 
There is pleasure in being the fly on the wall as bad art is crafted, and this film generates several laugh out loud moments, even if it isn't as hilarious or poignant as the recent, parallel-themed
Disaster Artist. 
For one thing, much as I rooted for Murphy here, he's just not as good an actor as James Franco or his brother Dave.  I never forgot I was watching Murphy play Moore.
The remainder of the cast is hit or miss.  Snoop Dogg is a hoot as a record shop owner and DJ, while other cameos feel wasted.  Keegan-Michael Key borders on adequate as theater manager Jerry Jones, but Wesley Snipes is downright awful as D'Urville Martin, the Hollywood actor brought on to lend prestige as the in-name-only director of Dolemite.  I guess his booze-sneaking campiness is meant to be funny, but his eye-rolling and exaggerated mannerisms are distractingly bad.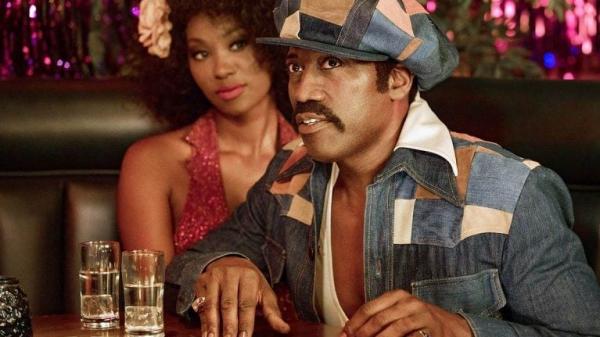 Dolemite Is My Name also becomes formulaic and loses much of its momentum in its final quarter.  Equally problematic, its writers and director seem uncertain about their final product's purpose.  Since many early rappers cite Rudy Ray Moore as a major influence, is it meant to be a rap music origin story?  Is it a chronicle of white Hollywood's exploitation of black talent?  A celebration of putting ordinary-looking people on the big screen?  A follow-your-dream empowerment story?
Sadly, the script is too diffuse to offer substantial commentary on any of these subjects.  But with its lovingly rendered setting and Eddie Murphy's obvious fun with a meaty role, it's mostly enjoyable to watch and learn about an oversized figure from the 1970s in danger of being forgotten.