If you want a good overview of the pedophilia scandal within the Roman Catholic Church, I recommend three films: Mea Maxima Culpa: Silence in the House of God, Spotlight, and now, By the Grace of God. The first one, by veteran documentarian Alex Gibney, gave us a bird's eye view of the scandal, presided over by Saint John Paul II and Pope Benedict XVI. Spotlight dramatized the scandal's uncovering by Boston Globe journalists, furnishing a wide audience with the helpful data point that an estimated 6% of priests were/are pedophiles.
By the Grace of God, from French writer/director François Ozon, tells a single clerical abuse story still unfolding in France, one that has implicated a cardinal and, by extension, Pope Francis. Unlike Spotlight, Ozon's film is told from the victims' perspective. What the new film shares with Spotlight is a portrayal of a contemporary church failing to police itself, such that journalists and victims have to do all of the legwork in exposing rapists and bringing them to justice.
For anyone familiar with Ozon's work (this is his 19th feature), the subject matter here is surprising, to put it mildly. Ozon is best known for creating sexually tense, Hitchcockian dramas, of which 2012's In the House is an excellent example. For his latest, Ozon wanted to craft a new film centered upon a sensitive male protagonist. As he brainstormed, he stumbled onto La Parole Liberée, an organization created by victims of a Lyon-based priest, abused in the '80s and '90s. (Their website is open to visitors; read away, but be prepared to have your heart crushed repeatedly by their narratives.)
After sitting down with two of the group's lead members, Ozon knew theirs was a story he must tell. For his script, he stuck closely to the facts, solely modifying a few details to protect the victims. The names of the offending priest (Father Preynat) and his sheltering cardinal (Barbarin) were kept, while only the last names of the three main characters were changed.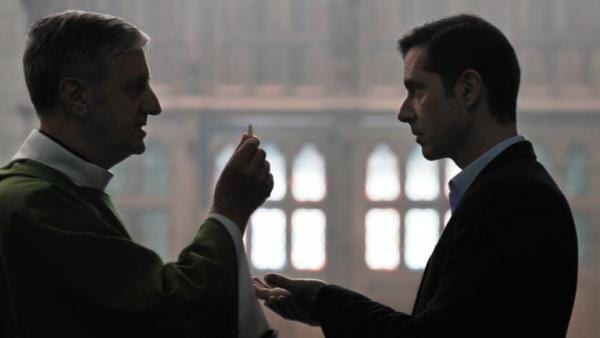 By the Grace of God is structured to introduce us to this trio sequentially. First, there's Alexandre (Melvil Poupaud): in 2014, he's a devout Catholic, a happily married banker with five well-adjusted kids. Horrified to learn that Preynat is still an active priest interacting with children, Alexandre takes his concerns to the Lyon archdiocese. Quelle surprise, the archdiocese is interested in placating Alexandre and keeping Preynat's abuse covered, taking no action to protect children from his predation. In a telling juxtaposition, Barbarin's office repeatedly postpones an in-depth dialogue with Alexandre; yet, in a divide-and-conquer move, the cardinal summons Alexandre's two confirmation-age sons to his office for a chat and a blessing.
Next, we meet François (Denis Ménochet), creator of La Parole Liberée. Like Alexandre, he's surrounded by a loving family. However, he's fiery where Alexandre is repressed, banging out his stress on a drum kit outside his rustic Beaujolais home. An atheist, he's uninterested in reforming the Church from within, keener on taking his information to journalists and law enforcement.
Lastly, there's Emmanuel (Swann Arlaud), in whom the toll of sexual trauma is far more apparent. Repeatedly boasting of his high IQ, which only underscores his failed potential, he's a neglectful father and explosive romantic partner, throwing himself into literal convulsions when stressed.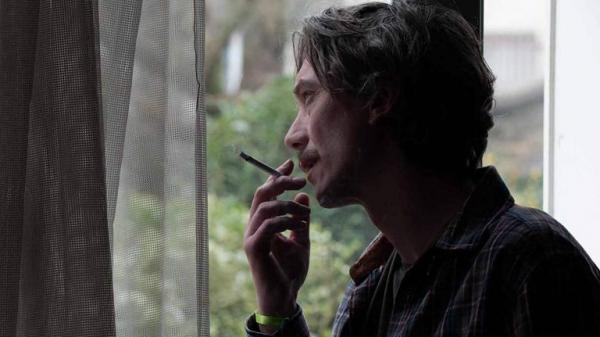 At first the manner in which Ozon introduces his second and third protagonists is disorienting, but once I got used to it, I appreciated the resulting narrative power from observing trauma's cost in three different families. As Alexandre, François, Emmanuel, and others band together and build their criminal case, we also witness the healing power of a survivors' community.
As a psychiatrist with expertise in diagnosing and treating trauma, Ozon's script and characterizations felt fully authentic to me. The victims' descriptions of a flush of pride at being singled out by Father Preynat, followed by shame and horror at their violation, ring utterly true. Similarly real are the varied responses from their parents in the present day: Alexandre's father resents the way he's "stirring up sh*t"; Emmanuel's dad thinks he should've gotten over something that happened so long ago; while his mother is riddled with guilt and fortifies her son's resolve to act.
And what an intelligent script, on every level! There's attention to the telling detail, as when François in his police report recollects Preynat's hot breath and shirt color. The brief traumatic flashbacks are necessary, yet handled with discretion, underlining the children's sense of entrapment without sensationalism. The dialogue is insightful and articulate; for instance, one survivor heartbreakingly relates that when he has sex, he makes love with three people: his wife, himself, and Preynat.
Likewise, the acting is uniformly excellent, both among the major protagonists and minor characters. In Poupaud's portrayal of Alexandre, we watch his I've-got-it-together façade slowly crumble as he first recounts his serial violations to Barbarin's representative, ultimately dissolving into tears. Across the course of the film, due to Alexandre's openness with his children, we witness his sons' devotion to the Church subtly transform into cynical hardening. Even the villains of the story, Preynat and Barbarin, are given dimensionality.
By the Grace of God is reminiscent of Spotlight, where many establishing shots included a church in their panorama, signaling the Catholic Church's pervasive presence in all of Boston's civic life. In parallel fashion, the events of Ozon's film are situated across events in the church year (confirmation, Christmas, Easter). And the director's legal staff must have done some serious sleight-of-hand, to obtain the permits to shoot scenes in and around Lyon's iconic (and trademarked!) Basilica of Notre-Dame de Fourvière.
Ozon's characters and dialogue bend over backwards to say they're not attacking the Church as an institution. Even François, the atheist, states at a press conference that "this is about morality, not faith," while a believing character relates in conversation that he's doing this "for the church, not against it."
By contrast, I suspect many viewers will be left wondering about the moral compass of a Church that continues to place image above transparency and safety. Pope Francis may have traded in Benedict's designer shoes for humbler footwear, and he's far more gifted than his predecessor at PR and media-friendly soundbites. But dig below the surface, and it's more of the same: "zero tolerance" of pedophiles in Lyon had zero bite to it. No doubt, that's just as true elsewhere.
(Image credit for star rating: Yasir72.multan CC BY-SA 3.0 )