Harriet Tubman is having an overdue cultural moment in the sun.  She was put forward to replace Andrew Jackson on the $20 bill (a move now in stasis, thanks to Trump's treasury secretary), and she has a major role in Ta-Nehesi Coates' novelistic debut, The Water Dancer.  Best of all, she now has an excellent biopic bringing her outsized life story to moviegoers.
Co-writer/director Kasi Lemmons delivers the full epic treatment in Harriet, and the results are uniformly terrific.  A large share of credit must go to Cynthia Erivo for her portrayal of Tubman.  Already possessing a Tony, Grammy, and Emmy for her lead in the 2015 Broadway revival of The Color Purple, I'd be quite happy to see her add an Oscar to her shelf for her superb work here.
Tubman's faith may have been straightforward – she heard God, and obeyed the directions – but in Erivo's depiction, Tubman is a woman of complex and often conflicting emotions.  In fleeing the Maryland farm of her enslavement, she shows incredible toughness and determination, yet is devastated on learning her free husband John has remarried, thinking her dead.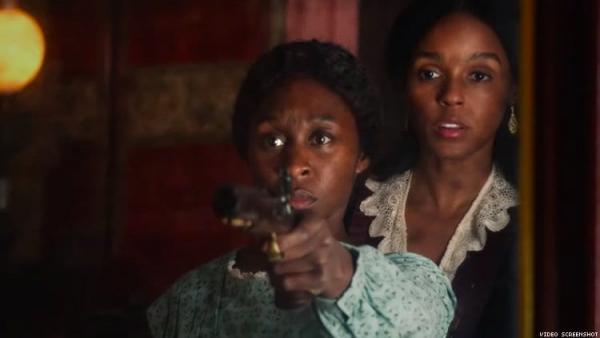 Reaching relative safety in Philadelphia, she needs to be told by a black sailor to "walk like you've got a right to…there are plenty of us here."  Marie Buchanon (Janelle Monáe), a prosperous woman born free, gives her further lessons in comportment, and we witness Tubman's courage transform into a greater mission.  In this, she's aided by abolitionist William Still, another true-life hero played by Hamilton's Leslie Odom Jr.  Initially doubtful that she possesses a conductor's skillset, how could he not be won over after she returns to Maryland alone and successfully brings her family to Still's doorstep?
Harriet spans 14 years of its hero's life, from a slave in her mid-20s, to lead conductor on the Underground Railroad, to her military service in the Civil War.  If you didn't know about that last bit, join the club:  Lemmons' film has prompted me to bump Catherine Clinton's well-regarded Tubman biography to the top of my reading list.  Another historian and Tubman biographer, Kate Clifford Larson, was brought on board by Lemmons as a consultant, and has since commended the film for its veracity.
Like any biopic, Harriet conflates some historical figures, for the most part unproblematically.  Tubman's former master Gideon Brodess (Joe Alwyn) serves as a villainous stand-in for countless white slaveholders and oppressors of the time.  As more of his "property" escapes north, he recruits hunters – white and black – to recapture slaves and hunt the mysterious Moses leading them to freedom.
Tubman's escape and subsequent rescue missions are handled masterfully and suspensefully.  Terence Blanchard's musical score, which alternates between stately horns and propulsive rhythms, nicely enhances the tension here, as does a nifty montage accompanied by a Nina Simone classic.  (Blanchard has long been Spike Lee's go-to guy for his soundtracks, whilst an opera composer and Grammy-winning jazz trumpeter in his spare time.)
And what visuals, too!  Veteran cinematographer John Toll – with films like
The Thin Red Line, Braveheart, The Last Samurai
on his lengthy résumé – magnificently melds nature and human drama.  The rural settings where
Harriet
's life-and-death struggles unfold are undeniably beautiful, and Toll can't resist framing Tubman heroically in "golden hour" lighting, even having her ride into the sunset for one scene.  Sequences where Tubman has visions and premonitions (which started after an adolescent head injury, prompting some to speculate she suffered from temporal lobe epilepsy) use a standout blue-gray color scheme in which water dapples marvelously.
In her storytelling, Lemmons achieves an admirable balancing act.  While giving Tubman a heroic monologue or two, Harriet successfully navigates between the comparable stasis of Spielberg's Lincoln and the action movie clichés and stereotyped characters of Glory.
In doing so, figures other than Tubman are given substance.  Besides Buchanon and Still, we empathize with slaves who choose not to flee, unwilling to abandon family in the risky journey north.
Like the best historical films, Harriet not only opens a window into the past, but motivates us to think about present-day battles.  In liberating slaves, legally considered property in the south and returnable to their owners under the Fugitive Slave Act, Tubman and her fellow conductors were breaking the law and undermining the work of U.S. Marshals.  Analogies today would be Trump's sadistic immigrant policies, where resisting and undermining the Schutzstaffel tactics of ICE agents are moral imperatives.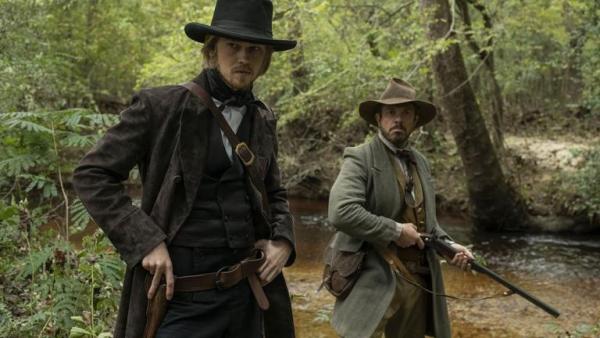 Similarly, when Gideon Brodess and his mother self-pityingly bemoan their plight as the real victims of Tubman's actions, their words and emotions were rightly greeted with derisive laughter at my screening.  Yet, white victimhood still flourishes in my corner of the world.  In recent days, a white nationalist or nationalists saw fit to deface a monument to the first black students at my city's university.  And following the 2017 violence in Charlottesville, my town newspaper unironically cited a local "historian" who claimed that slaves in Virginia weren't treated that badly, and asserted her opponents lack "moral guidelines to follow."  Obviously, more cinematic correctives to white fragility are needed.
As a godless American, it's interesting for me to contemplate the centrality of Tubman's faith.  Harriet handles this respectfully, while allowing wiggle room for a medical explanation of her visions.  Of course I'm glad belief was a positive motivation for Tubman's deeds, but I can't help recalling that slaveholders and Confederate officers were equally convinced the Christian god was on their side, and could quote Bible verses to justify their positions.  And after a week that saw "faith leaders" laying hands on our debauched President and the appointment of a Prosperity Gospel televangelist to a White House position, one could be forgiven for thinking we are long past a time when Christianity could be argued as a salubrious influence in American affairs.