It's a wonderful day at the movie house when a film both meets and defies high expectations.  Watching the previews for A Beautiful Day in the Neighborhood, I expected a touching film about an encounter with Fred Rogers that transforms a jaded journalist.  But how and why the journalist is transformed, and how director Marielle Heller chooses to tell her story:  those are both delightful surprises.
Heller's film opens with Tom Hanks, at the start of what appears to be another episode late in the 30-year run of Mister Rogers' Neighborhood.  Hanks wisely chose to embody not mimic the children's TV icon, so we don't get Fred Rogers' nasally intonations.  However, the familiar song is there, as he doffs his dress shoes and dons his sneakers, then ambles over to a picture board.
Hanks' slow, soothing delivery lets us know the show's theme will be forgiveness and releasing anger.  Only when Hanks opens a picture board door to a photo of distressed journalist Lloyd Vogel (Matthew Rhys), do we realize something unexpected is happening.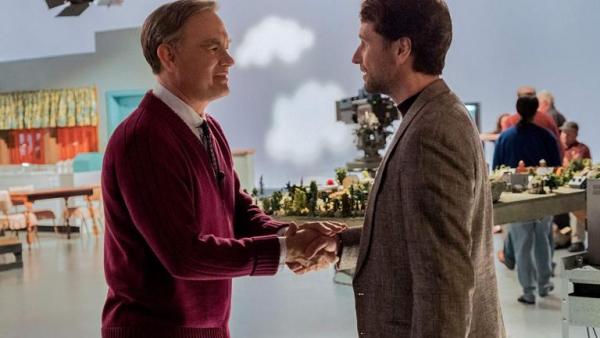 In one of several brilliant changes of perspective between our two leads, the film uses this photo to shift the narrative to Lloyd.  The camera pulls back from WQED's studio, where Mister Rogers' Neighborhood was shot, to reveal Pittsburgh in model form, just like the TV show's neighborhood.  From there, we move to a busy stop-motion animated bridge into NYC and a cityscape complete with a miniature Empire State Building and World Trade Center, to deposit us into Lloyd Vogel's world.  (As such quirks accumulate, we gradually discern that A Beautiful Day is oh-so-cleverly-and-effectively being framed as an episode of Mister Rogers' Neighborhood.)
An award-winning writer for Esquire magazine, famed and feared for his take-no-prisoners profiles, Lloyd is assigned to pen a mini-bio of Fred Rogers for a special "heroes" issue.  Known superficially to Lloyd as "the hokey kids' show guy," his wife Andrea (This Is Us' Susan Kelechi Watson) adores him and pleads with Lloyd not to ruin her childhood.
As played by Rhys, best known for his longstanding Russian spy role in The Americans, Lloyd wears his woundedness like a florid scar.  Like many a new dad, parenthood has stirred up painful recollections of his own childhood.  This hurt is only intensified by the clumsy efforts of his father Jerry (Chris Cooper) to reenter his life after years of estrangement.
When Lloyd first meets Fred, he's in journalistic attack mode, looking for any defect in Fred to amplify.  The closest he gets is a pained acknowledgement that Fred's relationship with his own two sons went through a rough patch in their early adulthood.  But, as expected, the tables are soon turned, and Fred is probing Lloyd and seeking to heal his injuries.
Going into A Beautiful Day, I expected to be wowed by yet another Oscar-worthy Tom Hanks performance.  And yes, he's excellent here.  But Rhys' performance is the one that brought me to tears.  His defensive anger is so palpable that his eventual catharsis becomes our own.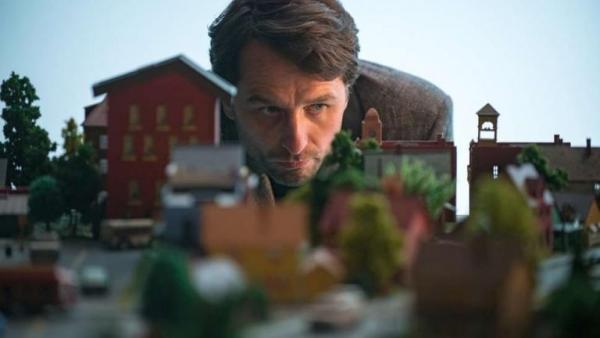 Marielle Heller and her cinematographer Jody Lee Lipes (whose fine work includes films as tonally different as
Manchester by the Sea
and
Martha Marcy May Marlene
) capture Lloyd's transformation stylistically, too.  Initially, through Lloyd's eyes, Fred seems strange, and not in a good way.  (A sequence where Lloyd observes Fred voicing the puppet Daniel Striped Tiger actually verges on horrific.)
Slowly, even if Fred still seems otherworldly, Lloyd recognizes the goodness at its core.  And one of the beauties of this film is that as we appreciate this otherworldliness, we also discern its attainability.  As Fred's wife Joanne (Maryann Plunkett) tells Lloyd in one scene, Fred is not a saint, and his goodness comes through practice and discipline.
Observing some of these practices, A Beautiful Day in the Neighborhood feels like the rare film that can not only deepen our understanding of the world, but transform the way we interact with it.  To name just two examples, I was impressed with Fred's way of giving undistracted attention to whomever was in front of him at any given moment.  Similarly, in a nearly throwaway line in a Pittsburgh restaurant, Fred gives Lloyd the simple reason for his vegetarianism:  he could never bring himself to eat something that has a mother.
Marielle Heller has now directed three films, linked by their commitment to tell engrossing stories of curious people.  The Diary of a Teenage Girl was a fictional coming-of-age tale of an oddball adolescent cartoonist who, among other missteps, has sex with her mother's boyfriend.  Last year's Can You Ever Forgive Me? adapted the memoir of biographer-turned-forger Lee Israel, about as prickly and misanthropic as they come.
In adapting a magazine piece by Tom Junod that was part profile, part autobiography, Heller has deepened her craft considerably.  Like last year's marvelous Mister Rogers documentary, Won't You Be My Neighbor, Heller's film has the cleansing feel of a session with a master therapist.  Like the documentary,  A Beautiful Day in the Neighborhood dares to break the fourth wall, pause the action for a minute, and allow a reflective silence in one of this year's most unforgettable moments at the movies.
In both films, Fred Rogers' stated goal of his TV program was to give kids a positive way to face their feelings about life's toughest challenges.  Heller's film shows that Fred embodied this in his relationships with adults, too.  And though it's been 16 years since he departed this life, he still inspires us to do the same.
(Image credit for star rating: Yasir72.multan CC BY-SA 3.0 )