While there's never been a shortage of compelling dramas set on death row – Dead Man Walking and The Green Mile come immediately to mind – it's rare to have two in cinemas at the same time.  So, while this review mainly considers Clemency, it's inevitable that some compare/contrast will be made to Just Mercy, too.
If you like more hope in your films, you'll probably prefer Just Mercy, which centers on the lifework of attorney superhero Bryan Stevenson (played with earnest gravity by Michael B. Jordan), and his early career battle to spring a wrongly accused Walter McMillian (Jamie Foxx, terrific as usual) from death row.  By contrast, Clemency is a grimmer fictional work that focuses most intently on the people who make a living off death row.
However, writer/director Chinonye Chukyu put in a lot of effort to make her film look and feel authentic.  Spurred by a Georgia execution in 2011, Chukyu spent what sounds like hundreds of hours with defense attorneys, death row inmates, wardens, and guards.  The result is an empathic portrait of people who are usually villainized in prison movies.
That's not to say that Chukyu lets the warden, guards, and chaplain off the hook.  In its own way, Clemency is just as strongly against capital punishment as Just Mercy.  Though we never see a prisoner beaten or abused by a guard, Chukyu's film implicitly condemns her protagonists for officiously doing their jobs in an immoral system.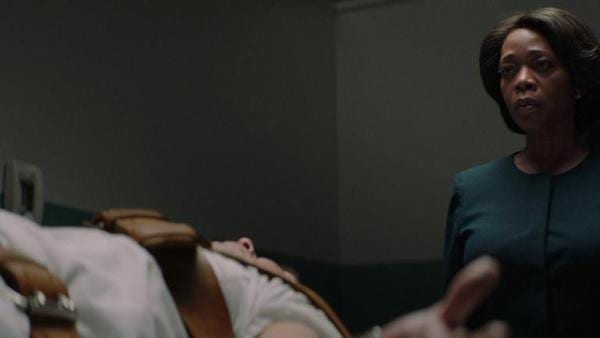 Near the start of Clemency, its main character, Warden Bernadine Williams (Alfre Woodard), asks a prisoner strapped to a gurney for a lethal injection if she can get him anything.  Bernadine's deadpan face doesn't register the cruel absurdity of her question.  Later, as another prisoner is prepared for execution, the chaplain – clearly unaware of the irony – tells him, "The love of God is everywhere around you."
After a squirmingly detailed prologue, in which Bernadine presides over a botched execution, the bulk of Clemency's narrative deals with the prison's preparation for their next, hopefully un-botched, lethal injection.  The next victim is to be Anthony Woods (Aldis Hodge), an accused cop killer who steadfastly maintains his innocence.  We observe Anthony's torment as his execution date draws closer, while his frazzled but caring attorney Marty (Richard Schiff) presses for clemency from the unnamed state's governor.
If it goes forward, this will be Bernadine's twelfth execution.  One doesn't have to be a therapist to note the signs of PTSD in Bernadine's daily non-functioning:  she's unfocused, can't sleep, has horrible nightmares when she does, and is disengaged from her husband Jonathan (Wendell Pierce), who unkindly but accurately calls her an empty shell.  She self-medicates with booze from a local watering hole.
Bernadine is also facing attrition by her loyal troops at the prison.  A traumatized guard requests a transfer, her deputy and friend Thomas has applied for a warden position at a jail without a death row, and the warmhearted chaplain is retiring.  Clemency generates suspense both through Anthony's appeal to the governor, and in observing Bernadine's psyche:  will she crumble, quit, or perpetuate the status quo?
Alfre Woodard excellently conveys Bernadine's numbed emotional state, only laughing when three sheets to the wind, only expressing affection when Jonathan threatens divorce.  Her footsteps through the prison, where she still is dutiful and responsible, are slow and leaden.  The color scheme of the film suitably reflects her headspace, beaten down by the sickly institutional paint job and deadening fluorescent lighting at work.  Even at home, the soothing browns and reds stay in the dark, the blinds constantly drawn, prison-like.
I do wish that Wendell Pierce, so great in TV series like The Wire and Treme, had been given more to do.  As a high school English teacher nearing the end of his career, we see that compassion fatigue is not only for prison workers.  Sadly, the film doesn't run far with this comparison.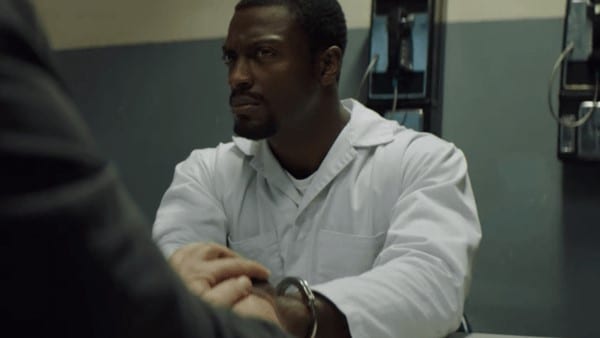 Aldis Hodge (solid in Straight Outta Compton) didn't convince me as Anthony.  He looks too unweathered for a man 15 years on death row, his suffering skin-deep.  By contrast, the actors playing death row denizens in Just Mercy wrung more sympathy from me; besides Jamie Foxx, Rob Morgan is powerfully tragic as a Nam vet tormented by both his stateside guilt and wartime PTSD.
Nonetheless, these two films complement each other effectively.  Just Mercy argues for the abolition of the death penalty, due to human error, institutional racism, and malfeasance in policing and courtrooms.  Clemency shows how death rows crush spirits on both sides of the prison bars.  And if anyone doubts the evergreen timeliness of these films, one should read the news a little more:  my own state electrocuted a blind man earlier this month, while Florida may well execute an innocent man in the coming year.
(Image credit for star rating: Yasir72.multan CC BY-SA 3.0 )