Regular readers know that I often find a toehold in my reviews by comparisons to other films. For Diane, a humble film that probably escaped your notice last year (as it did mine), that comparison is to the far more lauded and publicized Gloria Bell.
Doubtlessly, we owe much of the latter's publicity to the big-name star at its center, Julianne Moore. But I didn't feel that her film had much of significance to say, except maybe – as she sings along to vapid 80s pop tunes on her LA commute – that the unexamined life can be sorta fun? Gloria Bell also failed the authenticity test for me, exemplified by the Hollywood body we see in Moore's frequent topless sex scenes.
By contrast, Diane reeled me in from the start, when an opening scene shows Mary Kay Place's liver-spotted hand writing her daily "to do" list. Her title character's rapport with her extended family and her best friend Bobbie rang true as well, reminding me of the gatherings of my own family's older generations that I witnessed as a kid.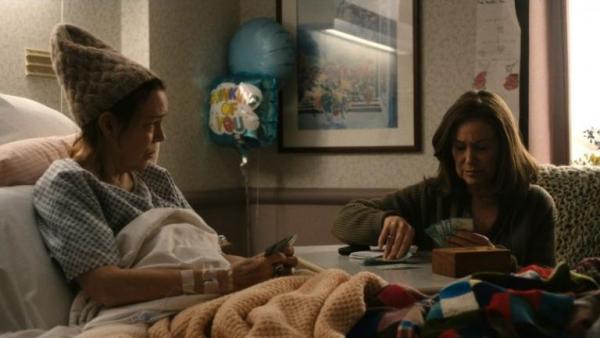 Diane is a decidedly ordinary person, one of the things that makes this modest film so special. After all, how many films are about ordinary people in everyday situations? (Answer: none at my local cineplex today, and none of the films I've reviewed in the past four months.)
But please don't mistake ordinary for boring. There is drama in Diane, albeit on an individual and family scale. Diane is a widow living in depressed, post-industrial Anytown, USA. She spends her days visiting her terminally ill cousin Donna (Deirdre O'Connell), fretting over her opioid-addicted son Brian (Jake Lacy), serving meals at the local soup kitchen, and decompressing over buffet lunches with her best friend Bobbie (Andrea Martin).
Looking to be in her 60s, Diane also drops in on older relatives, reminiscing around their kitchen tables as youngsters pop in to grab a cookie or two. When she allows herself to slow down, she takes pleasure in crafting poems solely for her eyes.
Observing her routine – its busyness emphasized by multiple brief shots of her on the road – we gradually accumulate knowledge about Diane, Brian, and Donna. After 10 years in and out of rehab, Diane and Brian circle each other in a tired dance of toxic codependency: Diane enters his apartment without knocking, leaves him groceries, and expresses doubts over his professed sobriety. Brian, in turn, yells his frustration over her mistrust and how no-one understands him.
Simultaneously, with Donna, we eventually learn of a twenty-year grudge between them. There's a suggestion that all of Diane's busyness may be an unconscious effort to atone for past misdeeds.
Yet, writer/director Kent Jones' subtle, empathic script passes no moral judgment on his characters. And in Mary Kay Place's comparably nuanced performance, we don't get the impression of someone resentfully doing good deeds. She is weary, yes, but there is authentic kindness in the warm hand she places on the shoulder of a soup kitchen regular.
Jake Lacy, as her son Brian, may lack some of Place's deft thespian shading, but his impulsive rush from addiction to Jesus is a common enough pattern. Likewise, his description of his first clean months – "my nerves are waking up…sometimes the air hurts" – expresses truth concisely and unflashily.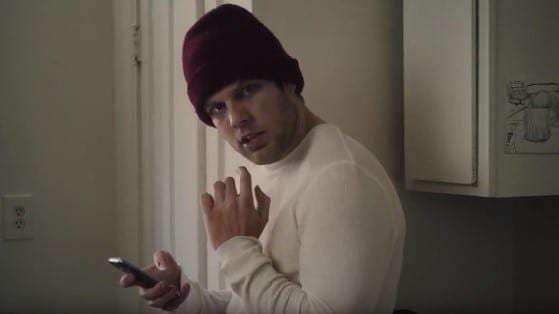 The musical score by Jeremiah Bornfield is a perfect accompaniment to this delicate film. The gentle piano and percussion, partially inspired by British composer Ralph Vaughan Williams' folk music arrangements, carries us pleasingly along.
What makes the sum of these parts even more impressive is that Diane is Kent Jones' feature-directing debut. An erudite yet accessible critic and director of the New York Film Festival, he'd previously helmed a handful of documentaries, mostly about prominent figures in cinema history (Hitchcock/Truffaut, Val Lewton: The Man in the Shadows).
Diane is a film of integrity, showing the burdens and joys of a typical life. Just as the seasons in the film slowly morph from snowy winter to hints of spring, Diane conveys the truth that transformation is normally not achieved in quantum jumps, but through the almost imperceptible changes effected by quiet conversation and moments of creative solitude.
(Image credit for star rating: Yasir72.multan CC BY-SA 3.0 )