With xenophobia on the rise throughout the west, any film humanizing the plight of refugees is welcome.  Midnight Traveler does this with excellence.
Remarkably, Afghan filmmaker Hassan Fazili shot this video journal of his family's westward flight from their homeland using only cellphones.  Such is the technologically progressive age we live in, when a device most of us own can create a powerful document.  Yet, such is the humanistically regressive age we still live in, when stacks of bureaucratic paperwork hinder and endanger lives.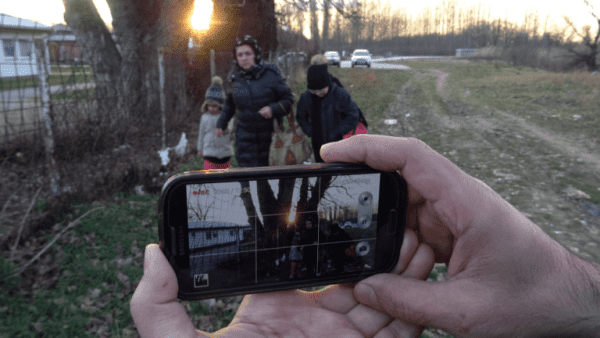 Midnight Traveler opens in Tajikistan in May 2016.  Fourteen months previously, Hassan and his family fled their country after the Taliban issued a death warrant against him.  His crimes?  He ran an arts café in Kabul and directed a documentary of a Taliban commander who laid down his arms.
On Day One of this documentary (the film uses titles for each day and location portrayed, to keep viewers on track), the Fazilis are packing up to return to Afghanistan.  Over a year's worth of paperwork to multiple nations pleading for asylum has been rejected, so the government of Tajikistan is deporting them.
It takes less than a week for them to realize that Afghanistan remains plenty dangerous:  on a road they'd crossed only a day prior, the Taliban take 50 hostages, whereabouts now unknown.  So by Day Nine, they've smuggled themselves across the border into Iran, one of six countries they'll traverse in their efforts to reach the European Union.
Besides Hassan, the Fazili family includes his wife and fellow filmmaker Fatima, their elder daughter Nargis, and their toddler daughter Zahra.  Along the way, thanks in part to the roughness and haste with which the cellphone footage is sometimes captured, we feel the stress and peril the four of them experience.
As Nargis' voiceover tells us at the beginning, this is "a journey to the edge of hell," but Bulgaria seems the most hellish stop of them all.  After an unscrupulous smuggler abandons them hungry in a "safe house," they sleep unsheltered on a roadside, before police take them to a refugee camp.  Conditions there are no safer, as they're physically attacked by nationalists, while cops stand by indifferently.
The emotional extremes of migration are seen in the faces and body language of all four family members, but most obviously in Nargis.  A bespectacled bundle of energy, she laughs excitedly when dipping her feet in the water at Istanbul's Bosporus strait.  She weeps from exhaustion when the strain of the journey overcomes her natural exuberance.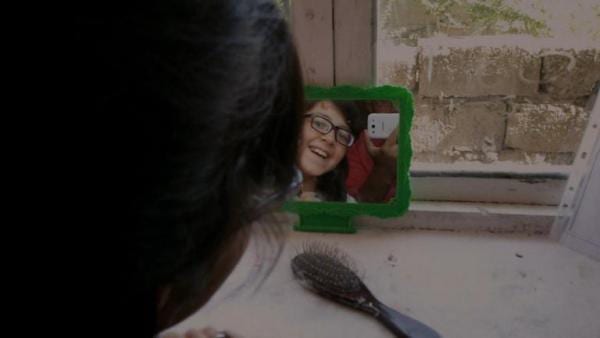 Hassan and Fatima's default mode of relating is affectionate banter, but various setbacks have them sniping at each other.  Who can blame them?  Even at UN refugee camps, conditions vary from comfy and clean, to filthily crowded, to prisonlike institutional.  I nearly wept in sympathetic frustration, as they were forced to sleep in the hallway of one overstuffed camp, their belongings handily packed in a plastic bag with the UN refugee commission's logo.
At times their nightmarish journey through bureaucratic hell reminded me of that seen in the great 2018 German feature Transit, which I described as "a life in limbo…of terrified disorientation alternating with dysphoric boredom."  While in Serbia, the family is directed to the wrong police station, where the officious staff inform them they're accepting "no papers today."  As a result, the four of them have to spend the night in a half-constructed building as snow flurries blow around them.
I would've liked to get to know the Fazilis in a deeper way, but through tight editing, Hassan (probably rightly) chooses briskness over exposition.  However, the bits we do glean are intriguing.  Hassan comes from a very religious family, in which his five brothers are mullahs.  In more intimate moments, Fatima tells her husband that she learned to not pray from him, while under her influence, Hassan has become more open-minded.  Although Fatima wears the hijab, neither parent bats an eye when Nargis informs them that she will not do so.
Midnight Traveler deserves wide viewership, both for its craft and the timeliness of its subject matter.  And hopefully it will receive one, now that it can be watched for free online.  I was heartened just this morning to read of my own state governor's choice to buck the majority of white evangelical Republicans and to continue accepting refugees into our state.  In doing so, Governor Lee cited his and his wife's experiences helping Kurdish refugees settle in Nashville.  While nothing can substitute for direct interaction like the Lees (and I) have had, an intensely personal film like this can still do much to open hearts to people who look or speak a little differently than us.
(Image credit for star rating: Yasir72.multan CC BY-SA 3.0 )