With no films emerging from Studio Ghibli for over 5 years, lovers of anime movies have rightly been wondering who could fill the gaping space left by their absence.*  My money up until now has stayed on director Mamoru Hosoda, whose lovely tales of childhood and parenthood (Wolf Children, The Boy and the Beast, Mirai) consistently bewitch me.
I've been aware of writer/director Makoto Shinkai since his 2004 release The Place Promised in Our Early Days, and he earned high praise for 2016's Your Name.  But with his latest, Weathering with You, Shinkai has attained a level of storytelling and visual beauty that reaches that of Hosoda's, giving me hope that strong anime films with continue to reach western shores, no matter what comes of Studio Ghibli.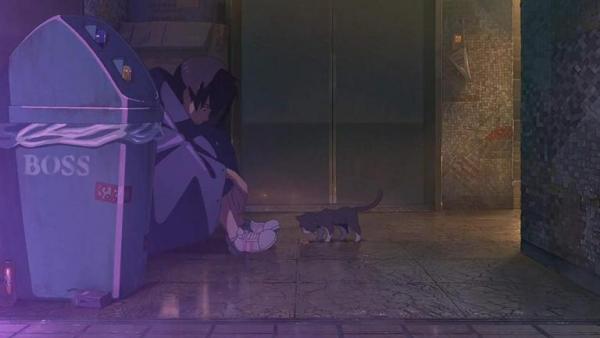 With its Tokyo setting, Shinkai delivers a broader, at times, grittier image of Japan than is typical for these directors.  His characters eat in forlorn McDonald's, sleep in sleazy bar doorways, shower in a manga café, and catch their breath in a luxury hotel.  Overhead shots furnish familiar views of the Shibuya shopping district and the Tokyo Tower, but also reveal equally untouristy neighborhoods with rundown tenements and abandoned shrines.  Additionally, we're given a ground level look at the rituals of quotidian Japanese life:  the pre-meal hand clap, death anniversary ceremonies, and the traditional graduation song.
Fittingly, for a film depicting all sorts of unnatural weather events (sudden typhoons, snow in August, flash flooding), Weathering with You plays with water imagery in countless creative ways.  With a photographic sharpness, individual raindrops rebound off neon-tinged pavement.  In the film's fantastical turns, water morphs into scurrying, evanescent fish shapes.
Shinkai animates his film brilliantly, with rotating and establishing shots, montages, and black screens mimicking live-action camera work.  At times, he imitates high drone views, most breathtakingly when his "camera" takes us through the smoke trails of fireworks over Tokyo.  Musically, Shinkai brought back the Japanese pop band Radwimps (they also lent their services to Your Name) for a pleasing mix of upbeat and mellow tracks.   
Shinkai's non-stop parade of surprising images serves an engrossing story, with well-developed, complex, sympathetic characters (aided by across-the-board superb voice acting in the subtitled version).  In a brief prologue, we see young Hina leave her dying mother's hospital bed and make her way to a shrine, to offer a prayer for one more sunny day with her mom.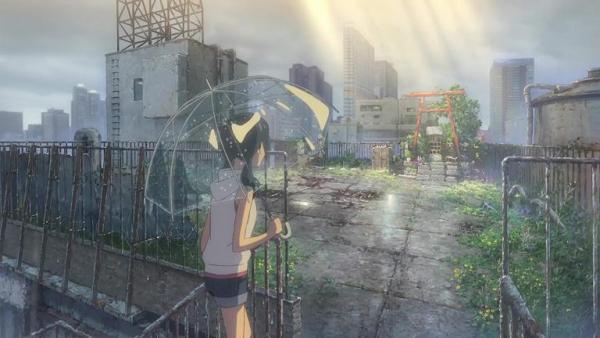 After the prologue's ambiguous end, we shift to a similarly aged runaway named Hodaka, on a ferry to Tokyo.  A massive downpour nearly sweeps him off the boat, but he's saved by the strong arm of the dissolute yet likeable Mr. Suga.  They part ways once the ferry docks, but after a few days of homelessness and hunger, Hodaka tracks down Suga again in hopes of employment.  It turns out Suga is a freelance tabloid writer, who hires Hodaka as his go-fer in exchange for room and board.
All of this unfolds under continually gray skies, as Tokyo suffers week upon week of steady rain.  Meanwhile, the paths of Hodaka and Hina cross a couple of times, and we learn that Hina's prayer in the prologue endowed her with the power to stop the rain around her for a few hours.  As her mother's death has forced her into a maternal role with her little brother Nagi, she's desperate for cash.  Together, she and Hodaka turn her "100% Sunshine Girl" talents into a business, giving customers a clear night for a festival or a sunny morning for a flea market.  Only gradually do they discover that her talent has a substantial downside.
Across Weathering with You's duration, Shinkai is a master of allusion and teasing exposition.  Characters we think we know – Suga and his mistress/helper Natsumi – reveal additional layers, hidden pain, deeper motivations.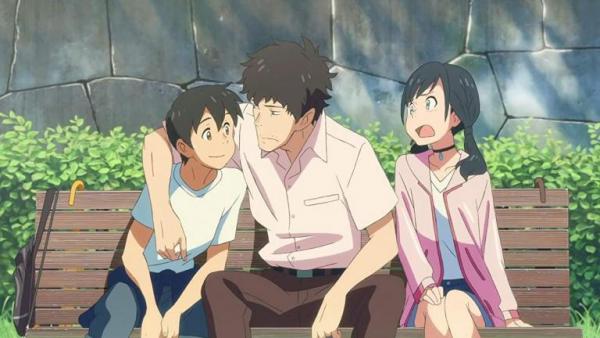 We never fully learn Hodaka's reasons for fleeing to Tokyo, but the multiple bandages he wears in opening scenes hint at unbearable bullying or abuse.  Yet, these haven't squelched the goodness at his core.  He's also (unlike characters in anime by Miyazaki or Hosoda) very much a hormonal adolescent, blushing furiously when Natsumi calls him out for gawking at her bosom.
Hina is a kindred good spirit to Hodaka, though we see the physical and emotional toll of her caregiving and magical moneymaking.  In contrast to the potent, unambiguous environmental messages of Miyazaki films like Princess Mononoke and Nausicaä of the Valley of the Wind, Shinkai does not use the bizarre weather events of Weathering with You as a call to arms against climate change.  To the contrary, his characters repeatedly say that life on earth has always been "crazy" and in flux, and one should not lose their mind over this reality.
Whereas the supernatural employment of Miyazaki's strong female characters in Kiki's Delivery Service and Spirited Away represents their moral and emotional maturation, Hina's labors to support her little brother symbolize a child forced by circumstances to grow up too quickly.  Feeling compelled to put on a strong, ever-happy front, the "100% Sunshine Girl" is in danger of losing herself.  No matter their circumstances, Shinkai is urging his younger viewers to put off adulthood and enjoy the freedoms of adolescence while they can.
*Though, oh happy day, 79 year old Hayao Miyazaki has un-retired once again and plans to release at least one more Ghibli film.
(Image credit for star rating: Yasir72.multan CC BY-SA 3.0 )