Did you know a summer camp could change the world? Until watching Crip Camp, I only thought of summer camp as a place where one of two things happened: religious indoctrination, or mischief and sexual awakening à la Meatballs.
Camp Jened, in the Catskills region of New York, had some of that good stuff from the second category, but was so much more. Started in 1951, it was a place where disabled teens could hang out with their peers. In a time before the Americans with Disabilities Act, that was huge. When kids were (at best) isolated at home and in basement special ed classes, or (at worst) institutionalized, Camp Jened was, in the words of one camper, utopia.
Through lots of footage shot at the camp in the early 70s, as well as present-day interviews with former campers and counselors, Crip Camp gives us a vivid sense of life at Jened. Run by hippie idealists, the counselors offered a welcome contrast to the rest of the world, bending to accommodate the campers, not expecting campers to bend to them.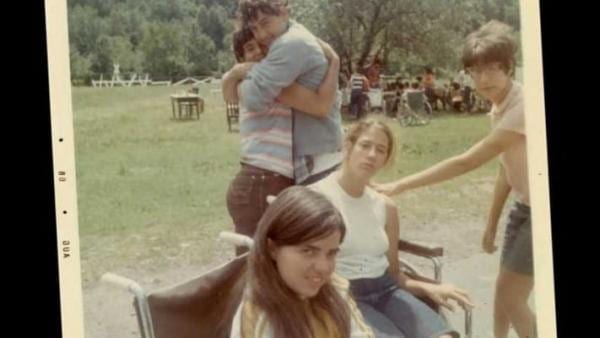 The predominant emotion was playful joy. During one set of introductions, as a camper explains she became disabled after being run over by a bus, another camper utters "congratulations!"
Yet, they could also expect to be seriously heard and understood. In outdoor rap sessions, campers discussed their universal experience of being seen as sick first and as a person second. Despite their parents' loving intentions, they lamented mom and dad's fear-driven overprotectiveness and their loss of privacy.
Rolling at a brisk pace, Crip Camp is divided into two parts: Jened and its aftermath. As one commentator puts it, after Jened was over, "camp traveled with them." For some, this meant getting a graduate level education or pursuing a dream job. (One of the film's co-directors, James Lebrecht, was a Jened camper who went on to work in sound design for theater and film.) Northern California became a Mecca for many, with several landing at Berkeley's Center for Independent Living, radically run by the disabled to provide services for the disabled.
For many others, this meant disability rights activism. Galvanized by the civil rights movement and following much of its playbook, campers fought for deinstitutionalization and for federally-mandated equal access to jobs, education, and services. Former Jened counselor Judy Heumann comes to the fore here, as the public voice of a long-running 1977 sit-in. Frustrated by the foot-dragging of Jimmy Carter's Secretary of Housing, Education, and Welfare, Heumann and countless others took over HEW's San Francisco branch, before bringing their fight to the nation's capital.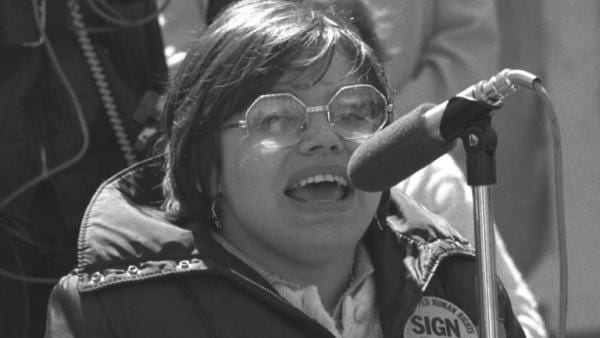 But Heumann was not the only Jened veteran protesting. Crip Camp cleverly adds names and arrows to footage, in order to point out the numerous campers we saw in the first half, who in the second half are holding up protest signs, blocking intersections, engaging in hunger strikes, and crawling up the U.S. Capitol steps. We see how protesting was far more than simply showing up for this cohort: in a time before accessible public transit, they were sometimes lifted into the back of U-Haul trucks for mass transport to protest sites.
Crip Camp is Lebrecht's directing debut, while it is co-director Nicole Newnham's fourth documentary. Together they've crafted a piece that is joyous, inspiring, and challenging, reminding us that every voice in our republic needs to be heard. They also picked a suitable, pleasing batch of contemporary tunes – from the likes of the Grateful Dead, Neil Young, Jefferson Airplane, and Buffalo Springfield – to accompany their tale.
Lebrecht and Newnham have a couple of famous executive producers on their side, in Barrack and Michelle Obama. The Obamas know how to choose worthy talent to support, as they were also involved in the most recent Oscar-earning documentary, American Factory.
Crip Camp won the audience award at this year's Sundance, before COVID-19 shut down the film fest circuit. I have no doubt it'll win you over, too.
(Crip Camp is available to stream on Netflix.)
(Image credit for star rating: Yasir72.multan CC BY-SA 3.0 )