I'll admit: I wasn't expecting great things from Becoming, the documentary that follows Michelle Obama as she promotes her autobiography of the same name. I came prepared with snarky comments to the effect that "it's Michelle, not Meh-chelle."
I should've known better. The Obamas have impressive style and taste: their White House was where the world got its first listen to a newly-composed song called "Alexander Hamilton"; the President's best-of-year lists of movies and books are above reproach; and the two documentaries released by their production company so far have been well-crafted and insightful.
This third documentary from Higher Ground Productions doesn't quite attain the excellence of American Factory or Crip Camp, but I think that speaks to the formal limitations of Becoming more than anything else. A film structured around a book tour can only be so innovative.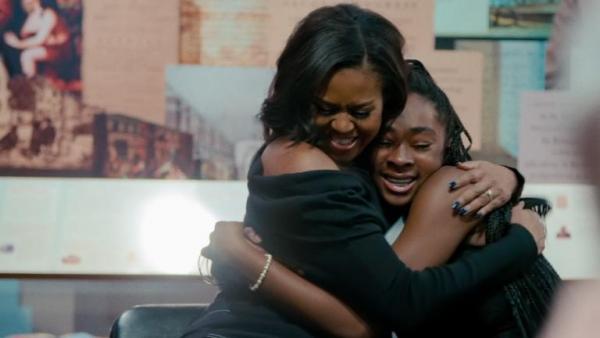 Despite these constraints, Becoming is an unalloyed pleasure. Most of this is attributable to the former First Lady's charisma and character. When she's onstage at one of her arena gigs, she's got a willing, rapt audience in the palm of her hand, whether they're laughing about her mixed first impression of Barack, the student she was assigned to advise at Harvard; or nodding empathically as she admits to struggling to uphold her "when they go low, we go high" mantra.
But beyond her magnetism, one comes away with a sense of goodness that can't be faked. Both Obamas habitually thank everyone as they proceed through a venue. They hold hands and kiss in a way that looks unscripted. At a Barnes & Noble, Ms. Obama makes long eye contact with each person who presents a book for signing, kindly talking one young lady through her hyperventilating OMG moment. At her big brother Craig's home, the two siblings banter for their mother's amusement over whose house serves the better wine.
In between gigs hosted by the likes of Oprah, Gayle, Colbert, and Conan, we're furnished with Ms. Obama's life story in mostly chronological order. Depending on the voracity of your news junkie habit, you may or may not learn new info here. I, for one, didn't know about her experiences with racial discrimination, including a Princeton roommate who moved out rather than share a dorm with a black woman. Nor was I aware the Obamas had gone to marriage counseling after their first daughter was born.
But even the familiar items are nicely served up through scrapbook photos and judiciously chosen news footage. We see the tightening of her facial features as the dissection of every word uttered on the 2008 campaign trail forced her to stop speaking extemporaneously and use Teleprompters. Magazine covers from that time show the prevalent caricature of her as an angry black woman, so disturbingly and potently satirized by the famous
New Yorker drawing
of Ms. Obama fist-bumping her husband in the Oval Office, while wearing camo pants and an automatic rifle strapped to her back.
A large part of Obama's 34-city book tour involved smaller interactions with mostly minority high school and college students. Her optimistic messages about self-empowerment and getting out the vote seem well-received, though they struck me as a bit glib in downplaying the continued structural injustice of our country, where a disproportionate number of African-Americans still live below the poverty line. I also wish the documentary had been more straightforward about what's next for Ms. Obama, although this may be a function of the First Lady's deliberate vagueness, and not a true fault of Becoming.
Prolific cinematographer-turned-director Nadia Hallgren does an excellent job of keeping her film bopping breezily along. Here, it's aided by an airy, major-key soundtrack that includes tunes by Frank Ocean, Drake, and Kirk Franklin, as well as jazz compositions by saxophonist Kamasi Washington.
The contrast between these former occupants of the White House and its current residents goes largely unspoken, but boy howdy is it felt nonetheless. There's the difference between Ms. Obama's gatherings, which are multihued and celebratory, rather than monochromatic, fear-stoking, and polarizing. Now, we have a President who prizes loyalty above all, yet has an unheard-of staff turnover, versus a First Lady who's had the same chief of staff for 12 years. Allen Taylor, the head of Ms. Obama's Secret Service detail, touchingly keeps a photo on his desk of the two of them at the Great Wall of China, while our current President's callous disregard of safety has led to 11 of his security detail coming up COVID-positive.
I could go on, believe me. Not that I idolize the Obamas as perfect, by any means; like Michael Moore, I still haven't forgotten the President's pretense that everything was hunky-dory with Flint's water supply. But one story from Becoming says plenty about the Obamas' family cohesion and our First Lady's core decency: on the 2015 day when marriage equality became the law of the land, as the White House was lit up with the colors of the rainbow, Ms. Obama and her daughter Malia sneaked outdoors to see and hear the revelers beyond their gates. These are folks whose hearts are with the American people, and in these dark days, it's good to be reminded of that.
(Becoming is now available for instant viewing on Netflix.)
(Image credit for star rating: Yasir72.multan CC BY-SA 3.0 )