"Children cannot be what they cannot see." – Marion Wright Edelman
"…each person's history unfolds through the need to be recognized, and recognized without reservation." – Robert Antelme
Disclosure, the wonderful new documentary on the history of transgender representation in movies and TV, contains the above quote from children's rights activist Marion Wright Edelman. Though French concentration camp survivor Robert Antelme is not quoted, his statement meshes more closely with Disclosure's mission. For, in its ambitious walkthrough, it argues that increased trans visibility and respect in our entertainment must be matched with increased social respect and safety.
This film covers so much territory that I won't even attempt to be comprehensive. But let me convey how important and splendid it is, by comparing it to two similarly groundbreaking documentaries, The Celluloid Closet and I Am Not Your Negro. The first is essential viewing for its survey of gay representation at the movies; the second uses a previously-discarded James Baldwin screenplay to track how black social mistreatment parallels abominable portrayals by Hollywood.
While Disclosure's script doesn't reach the pinnacle of eloquence achieved by James Baldwin's words (but what the hell else does?), I would nonetheless argue that it's of comparable civic importance. And it's impressive for its mix of erudition and emotional engagement.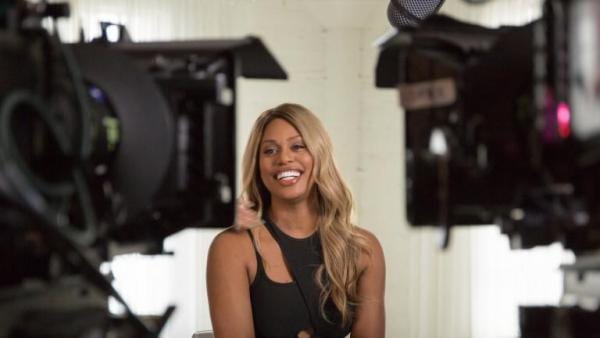 As directed by Sam Feder, a trans man whose crewing of his film is itself a model of trans representation, Disclosure is more thematic than chronological. However, it digs back as far as 1901, to reveal that trans characters were onscreen at the dawn of the cinematic era. Curiously, D.W. Griffith – most infamous for the racism of 1915's The Birth of a Nation – fixated not only on blurring racial boundaries with his white actors in blackface, but had an analogous fascination with the porousness of gender roles.
Using abundant television and film clips, we see how trans individuals were commonly portrayed as fake and laughable (The Jeffersons, Flip Wilson's 1970s variety show), or as criminally perverted (Psycho, Dressed to Kill, Silence of the Lambs). Prey to lazy writing on TV crime and hospital dramas, they were typically sex workers, murder victims, and/or dying of a terminal disease. On this last point, trans actress Alexandra Grey laughingly recounts how she was once booked on the very same day for two medical shows, essentially playing the same character in both.
From The Crying Game to Ace Ventura: Pet Detective, the disclosure that a lover was trans was reason for revulsion, narcissistically viewed as betrayal. At other times, the role of trans individuals in feminist and gay rights battles was scrubbed out of histories, as in the 2015 film Stonewall. As a further instance of intersectionality, black male comedians have long been expected to do stand-up in drag as a rite of passage, feeding white America's need for black men in the spotlight to be emasculated.
With a judicious mix of trans actors, directors, and historians offering commentary, Disclosure stays consistently engaging. Laverne Cox, who also executive produced, is a smart, amiable, and (let's be honest) glamorous guide and narrator. She includes a few personal touches, sharing that as a trans kid in Alabama, Yentl was "my bag." When pointing out Hitchcock's obsession with trans killers in his movies and variety TV show, she snarkily quips, "What's up, Alfred?" (My short answer: he was projecting his own Weinstein-esque cis/hetero creepiness onto these characters.)
While Disclosure is blunt about the entertainment industry's failures, its tone is far more hopeful than shaming. Using talk shows as an example, it demonstrates how prominent figures like Oprah and Katie Couric have evolved, from asking invasive questions about genitals to sensitive, constructive interviewing.
However, Feder doesn't shy away from instances where trans representation must still improve. Rather than giving Jared Leto and Eddie Redmayne Oscar-bait roles, these parts need to be given to trans actors (done in exemplary fashion in Sebastian Lelio's A Fantastic Woman).
Disclosure thankfully goes light on statistics, but a GLAAD spokesperson usefully points out that 80% of Americans don't personally know a trans individual, underscoring the importance of media representation. And since that 80% includes trans people who don't know another trans individual, their self-worth will be informed by what they're watching.
To their credit, Feder and Cox make it clear that their sights are aimed higher than just the entertainment industry. They are pressing for changes in Hollywood to translate into wider societal respect and acceptance – or, in other words, for recognition without reservation.
(Disclosure is now available to stream on Netflix.)
(Image credit for star rating: Yasir72.multan CC BY-SA 3.0 )