It's hardly atypical for artists to draw from their childhood for their first major work. Some, like François Truffaut in The 400 Blows, arguably never improve upon it. Others, such as Wes Anderson, instead tap into childhood experiences like divorce for perennial themes in their films.
We'll see if South Korean writer/director Bora Kim goes in either of these directions, or blazes a unique path for herself. But for House of Hummingbird, she leans heavily on autobiography to poignantly tell of an eighth grader during a year full of change, both personally and in her surrounding society.
My main ding against Kim's film is that most of the kids in her story feel more like sketches than fully individualized characters. However, she's found a wonderful young actress in Ji-hu Park to play her central character Eun-hee. In her patriarchal, shaming milieu, she has learned to keep her guard up. Yet, as played by Park and often seen in tight close-up, Eun-hee's glances, posture, and slight expressional shifts tell us everything.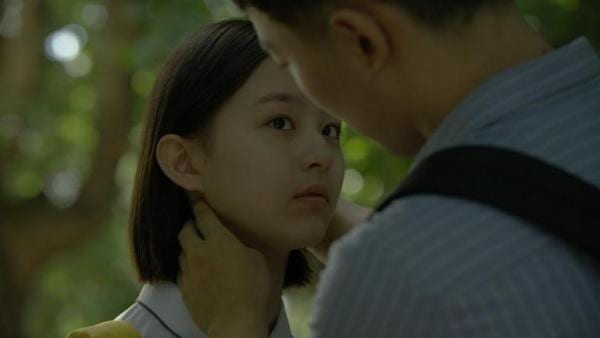 Kim also furnishes granular detail about Eun-hee's family and time period. Together, her parents run a rice-cake shop, each deeply unhappy. Her mother looks clinically depressed and emotionally neglects her kids, despite preparing delicious meals for them. Her father is hypercritical and verbally abusive, sneaking out periodically for his extramarital affairs.
Eun-hee's freest family moments are bouncing on a trampoline with her big sister Su-hee, with whom she shares a bedroom and a mattress. Their sullen big brother Dae-hoon she strives to avoid, as he occasionally beats her.
The family's lower middle class status is clear from their tiny high-rise apartment, where the five of them claustrophobically huddle around a crowded kitchen table. The writer/director additionally paints a detailed portrait of mid-90s Seoul, as the nation was clawing its way out of developing nation status. The buildings are uniformly ugly and look shoddily, hastily constructed. The only urban respite is found in bits of green space, where cicadas and crickets can still be heard.
Despite her grim home life, Eun-hee impresses as a resilient kid. She finds breathing space with her best friend, an on-again off-again boyfriend, and a female classmate who has a crush on her. Most importantly, she leans on a kindly young cram school teacher, Ms. Kim (Sae-byeok Kim), who lends her ear to Eun-hee's troubles as she doles out oolong tea. Ms. Kim listens more than she talks, but Eun-hee drinks in quiet comments like "it takes time to learn to like yourself."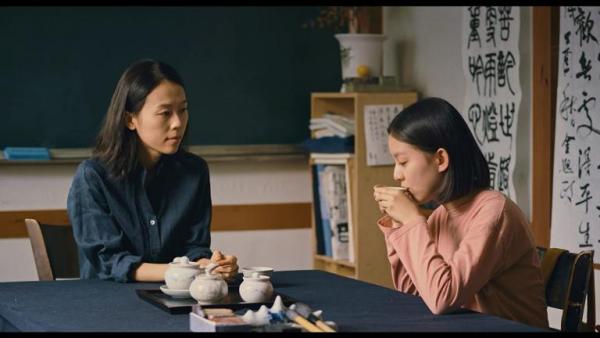 Though her debut feature, House of Hummingbird's writer/director has a seasoned professional's arsenal of tricks up her sleeve, to prevent her tale from becoming too grim. Her scenes are almost always brightly colored by summer light, her musical score (dominated by electric keyboard) airy.
Further augmenting this tone, Bora Kim seems heavily influenced by legendary Japanese director Yasujiro Ozu in her style, if hardly a carbon copy in her totality. Like Ozu, Kim mixes the melancholic with a cleansing, nonjudgmental quietness. She also uses two of his key stylistic devices. First, instead of depicting key plot events onscreen, her narrative ellipses prompt us to focus on her characters' reactions to these events. Secondly, she brackets her scenes with shots of empty rooms or a potted cacti, to allow us to pause and contemplate what we've seen.
But don't let Bora Kim's gentle style deceive you; she is pointedly commenting on her society's patriarchal ways. Eun-hee, just as her mother once did, is expected to sacrifice her own aspirations on the altar of her brother's academic success. Both Eun-hee and her best friend are beaten by their older brothers, with parents who refuse to intervene. Yet, ironically, the supposed beneficiaries of this preferential treatment – Eun-hee's alcoholic uncle, her big brother – if anything seem more miserable because of the pressure concentrated upon them.
(Please rent House of Hummingbird from one of the sites found here, and support indie movie theaters.)
(Image credit for star rating: Yasir72.multan CC BY-SA 3.0 )