Miss Juneteenth couldn't have dropped on streaming platforms at a better time. It's a moment when Black Lives Matter feels more like potential for structural change, less a desperately-held slogan. And I suspect more Americans than ever are beginning to comprehend what Juneteenth signifies, as the day when news of emancipation finally reached slaves in Texas in 1865.
I only wish a better film had the holiday in its title, though Miss Juneteenth is not without its merits. Its depiction of a black Fort Worth neighborhood shines a light on a corner of the world seldom seen in movieland. Its portrayal of how a community has long celebrated Juneteenth – with a beauty pageant and a parade including equestrians from America's first black riding club – is most welcome. I'm equally grateful for the feature debut of black female writer/director Channing Godfrey Peoples, who was mentored by the legendary black director Charles Burnett (To Sleep with Anger, Killer of Sheep).
Alas, the plot of Miss Juneteenth doesn't rise above the tired formula of countless Lifetime movies. There are no surprising turns to be had, no aha moments a viewer couldn't see approaching. And the central mother-daughter dynamic, despite its inhabitation by a pair of excellent actors, only sparks intermittently.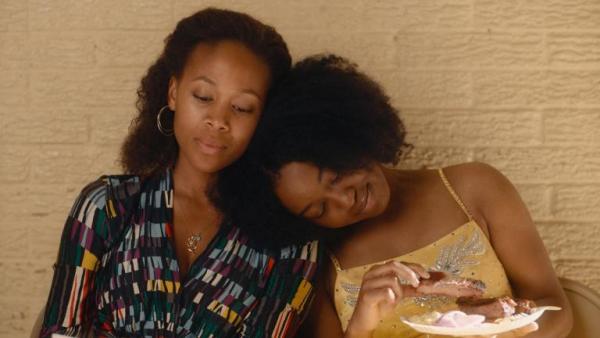 The mom in that dyad is Turquoise (Nicole Beharie, stern but affectionate). Once a powerfully self-motivated adolescent from a dysfunctional family, she won her own Miss Juneteenth crown back in the day. However, an accidental pregnancy derailed her, so she's barely keeping the lights on by working two jobs, while separated from her deadbeat husband Ronnie (Kendrick Sampson).
Now that her daughter Kai (Alexis Chikaeze, in a solid debut) is turning 15, she's eligible to apply for the pageant. (Most enticingly, pageant winners are awarded a full scholarship to a historically black college.) Though her interests lie elsewhere – her school dance troupe, her boyfriend – Kai yields to mom's pressure to enter.
Miss Juneteenth addresses a number of resonant themes. In Turquoise's overbearing but well-intentioned mothering, we perceive the alienating danger of trying to succeed vicariously through our children. (She even expects Kai to recite Maya Angelou's "Phenomenal Woman" for the performative section of the pageant, just as she once did.)
Turquoise's relationship with Ronnie illustrates how a toxic romance can drag a good person down. A very effective cut scene has Turquoise staring wistfully at a photo of her Miss Juneteenth crowning; next, she's entering a bail bond agency to rescue Ronnie from trouble again.
There's also pungent commentary on how the American Dream plays out differently for black versus white America, with doors opening much more readily for white aspirants. We see this in Turquoise's two bosses, both black. Bacon, a funeral home director, is swimming hard upstream and up to his eyeballs in debt to appear respectable. Conversely, Wayman's barbecue joint may look rundown, but with decades of long hours sweating over a grill, he owns it free and clear.
I just wish these themes had been undergirded by a stronger plotline. Still, Ms. Peoples' debut shows loads of potential, and I expect her storytelling skills will only grow with time.
(Miss Juneteenth is now available to stream. You can support indie theaters by renting it through sites like this one.)
(Image credit for star rating: Yasir72.multan CC BY-SA 3.0 )