Come for the main feature, stay for the after-party. Bloody Nose, Empty Pockets is (finally!) a film that benefits from a mid-pandemic streaming release. If you rent this story of a dive bar's final day through the link at the end of this review, it includes a delightful post-movie Zoom chat with the directors and lead actors. Accompanied by keyboard music from the main score's composer Casey Wayne McAllister, the cozy conversation offers insight into the making of the film and concludes with a song from a very welcome surprise guest.
Even without its coda, this film from brothers Bill and Turner Ross would've been an oddball treasure. It's not quite a documentary (though it played in that category at Sundance), nor fully fictional. Despite being set in Las Vegas, the actual bar (still in operation) is located in their home city of New Orleans.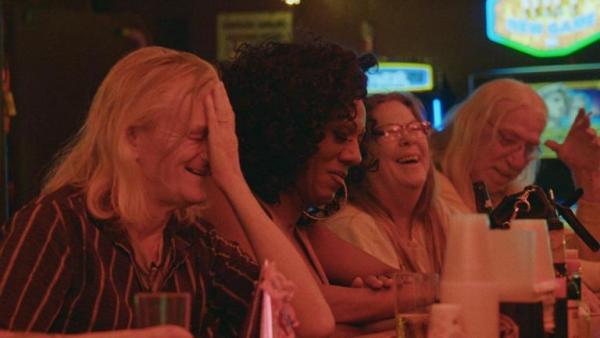 Their film's uniqueness and excellence have whet my appetite to track down their four preceding works. (I'm also spurred by discovering that they served as DPs on one of the best films of the 2010s, the incisively truth-telling James Baldwin documentary I Am Not Your Negro.)
In casting their latest, the Ross Brothers gave one actor (Michael Martin) a narrative arc.* The rest of the "actors" were regulars at nearby bars and instructed to improvise versions of themselves across 18 hours of shooting, as the directors gave them occasional story or musical cues.
During the after-party, the brothers speak of their intention to portray the egalitarian social structure that can thrive in a bar setting, a task in which they've succeeded. Black or white, twentysomething or AARP member, the "Roaring 20's Cocktail Lounge" accepts everyone. The affable first shift bartender Mark sporadically brings out his guitar to lead a singalong. His replacement gets a Cheers-like greeting of "Shea!" as she enters.
The brothers' shooting style is immersive, darting among overlapping conversations and to patrons dancing to jukebox hits from Michael Jackson and the Spice Girls. The changing TV images – from traffic reports, to Jeopardy!, to the black and white Titanic drama A Night to Remember – chronicle the passing hours. Intermittent external shots of Vegas streetscapes, lensed through harsh orange and purple filters, signal a less hospitable outside world.
On the "Roaring 20's" final night, some dialogue carries a melancholic, nostalgic tinge, as one woman expresses gratitude to another regular who supported her after her son died. Other verbiage feels like familiar retreaded territory, huffing over "these kids today" and our nation's pointless wars. But Bloody Nose, Empty Pockets is laced through with humor, exemplified by the party cake whose inscription in icing declares "this place sucked anyways."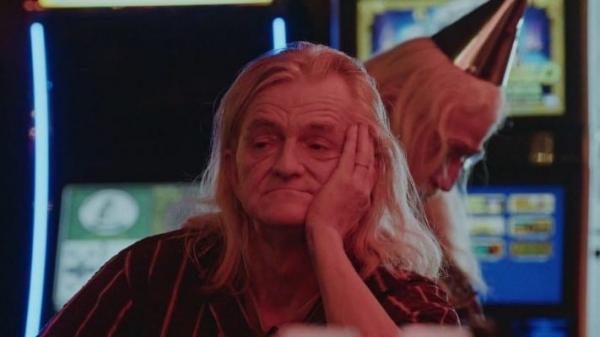 Michael Martin's character, also named Michael, is the central figure. A homeless ex-actor, he starts his morning by awakening on a barstool and shaving in the men's room, as the owner and employees fret over where he'll end up after today. A self-aware, articulate man who alternates shots of liquor with mugs of coffee, he proclaims his pride in the fact that he didn't become an alcoholic until after he'd ruined his life. Later, he urges an artist to get out while he's still a musician, because there's nothing more boring than a guy in a bar who used to do stuff.
Bloody Nose, Empty Pockets compassionately, nonjudgmentally captures the ambivalent social space that dive bars occupy. While enabling alcoholism, they're simultaneously welcoming places for people on the margins. An Aussie patron laments his "shitty family," identifying the bar as his home. In an unconscious echo of the Cheers theme song, a Vietnam vet named Bruce celebrates the lounge as "the place you can go where nobody else wants your ass."
*A correction graciously provided to me by Mr. Martin: "The Ross Brothers gave me the premise, and their sources of inspiration, but I gave myself my narrative arc."
(Bloody Nose, Empty Pockets is available to stream here.)
(Image credit for star rating: Yasir72.multan CC BY-SA 3.0 )