Hamilton, the live-capture film of the Broadway smash musical, is a welcome throwback to a better time in American history. It was a period when it seemed that aspirations for equality and virtue in leadership could outpace greed, fear, and power-lust.
I'm talking, of course, about the Obama Administration.
In hindsight, Lin-Manuel Miranda's show about the "ten-dollar Founding Father" feels inextricably tied to the Obama era. The world got its first glimpse of a musical in the works at a White House Evening of Poetry, Music, and the Spoken Word in 2009. And aptly, the last of a dozen Hamilton-inspired, Miranda-approved recordings – the "Hamildrops" – featured Obama reciting George Washington's farewell address from "One Last Time."
Thus, it's only right that this film brings together the best of three days' onstage shooting from June 2016, back when we hoped the first black American President would be passing the keys to the White House to the first female American President.
Thomas Kail, the show's original director, is on hand to lens the film version, and he's done an excellent job of it. Seldom do the cuts from one perspective to another feel excessive, and the scales tip towards a preponderance of wider shots. These choices immerse us in the welcome illusion of being present for the Broadway show.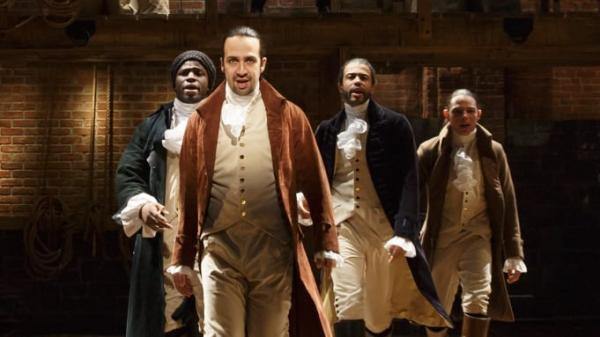 Kail is prudent and parsimonious in ladling out his close-ups, for maximal emotional effect. We get our first one when Miranda announces his name in the opening song. The next one lands on Hamilton facing the audience with his revolutionary band of brothers – Lafayette (Daveed Diggs), John Laurens (Anthony Ramos), and Hercules Mulligan (Okieriete Onaodowan) – at the end of "My Shot." Later in the first act, a close-up on the face of Leslie Odom Jr. exposes the nervous caution of his opportunistic, unprincipled Aaron Burr.
But the wider shots permit us to revel in Andy Blankenbuehler's magnificent choreography. The two-level stage is used thrillingly for the Battle of Yorktown, more playfully for Jefferson's journey from Monticello to NYC in the boogie-woogie "What'd I Miss?" that opens the second act. The rotation of the lower stage allows us to follow the vocal trade-offs in the dueling sequences; it also potently illustrates Hamilton's feelings of entrapment, as the outside world spins around him while he attempts to write his way out of political and marital collapse.
I expect Hamilton will be enjoyed both by those who saw the Broadway show and those who've merely listened interminably to the soundtrack. I land somewhere in the middle, having seen the traveling version in San Francisco in 2017. Back then, I was surprised by how funny the show is, something that comes through far less on the soundtrack. This film version captures the comedy satisfyingly, whether in Jonathan Groff's hilarious petulance as King George, or Daveed Diggs' villainous foppishness as faux man of the people Thomas Jefferson.
For those who've only heard the soundtrack, the rougher sound of the voices in the film will be noticeable, but for me, this just serves as a reminder that we're watching once-live performances. More problematic is Disney's decision to paper over Hamilton's two f-bombs in such a distracting manner that it lifted me out of the performance both times.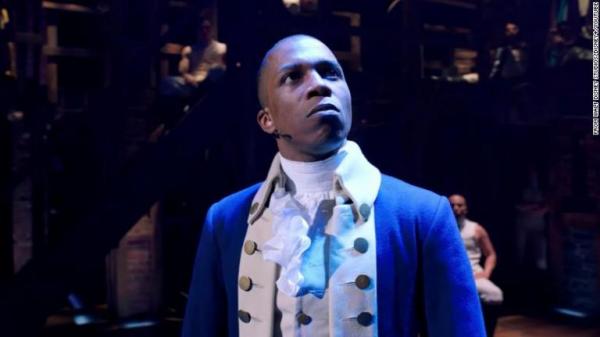 But Odom's smooth tenor is still a pleasure to hear, as are Phillipa Soo's pure clarity (as Alexander's wife Eliza) and Renée Elise Goldsberry's expressive power (as Eliza's sister Angelica). We're also reminded that there's serious acting talent behind those voices. Miranda conveys Hamilton's jittery tentativeness on first landing in New York, as well as his hubristic drive to prove himself the smartest in the room. Chris Jackson's George Washington carries himself with authority and vulnerability; the instantly regretted belligerence between him and Hamilton during "Meet Me Inside" contains real pathos.
In the second act, Anthony Ramos' portrayal of Hamilton's son Philip broke my heart with his desperate need for dad's approval, as did the rupture and reconciliation between Alexander and Eliza. (Yes, I was crying through much of Act Two; the run of songs from the "Stay Alive" reprise to the very end moves me like no other set in the Broadway repertoire.)
Looking back to Hamilton's off-Broadway debut, Miranda's decision to cast every main character with a non-white performer was genius, emphasizing the need for the American origin story to involve every shade of American. Almost as valuable, his portrait of our Founding Fathers is refreshingly free of hero worship. His George Washington is a contradictory jumble of virtue and vice: wearing the mantle of military and political power with humility and ambivalence, yet with a grotesque blind spot about owning other human beings.
In dramatizing an era when war and politics were games for men only, Miranda also gave us two strong female characters. Angelica is literate and self-possessed, eager for a society when all men and women will be deemed equal. And it's fitting that Phillipa Soo gets the final solo in Hamilton, singing of Eliza's abolitionist work, decades after Alexander's passing.
Though composed and first performed during Obama's eight years in office, Hamilton maintains its relevance. The literally dueling impulses of pragmatism and idealism are just as evergreen now as when Aaron Burr fired his shot 216 years ago. Hamilton's interrogating lyric – "if you stand for nothing, Burr, what will you fall for?" – could be asked of every Republican and plenty of Democrats today. And when George Washington sings "history has its eyes on you," I don't think it's coincidence that Thomas Kail lensed this moment with Chris Jackson looking directly into the camera, at us.
(Hamilton is now streaming on Disney Plus.)
(Image credit for star rating: Yasir72.multan CC BY-SA 3.0 )