If anyone has cause to despair, it would be civil rights activist and US Congressman John Lewis. Lewis has fought for black voting rights since the 1960s, suffering a skull fracture on the Edmund Pettus Bridge in Selma in the process. As the documentary John Lewis: Good Trouble jumps back and forth from the 1960s to the present, we see he's still fighting the same battle, as states like his own Georgia flagrantly disenfranchise minority voters.
There's plenty of "same sh*t, different day" to go around in this film from black director Dawn Porter, no doubt more than Porter could've imagined as she was shooting. The footage of racist cops firing tear gas and beating peaceful marchers in Selma is uncannily echoed by the brutality unleashed on Black Lives Matter demonstrators today (720 documented incidents and counting, since George Floyd's murder by Minneapolis cops on May 25th).
Yet, Lewis is adamantine in his hope, while unblinkered about the forces of evil threatening to set us back 50 years. Though optimism is clearly his default mode, John Lewis: Good Trouble shows us tangible reasons for his sanguinity. The 2018 elections saw a record number of black candidates entering Congress, his fighting spirit passing to younger generations. All four members of "The Squad" go on record here about his influence, Ayanna Pressley asserting that Lewis gave them the blueprint to follow. (The talking heads in Porter's film are a who's who of US politics, including both Clintons, Nancy Pelosi, Cory Booker, and Eric Holder. Only the Obamas are conspicuously absent, probably too busy producing their own documentaries.)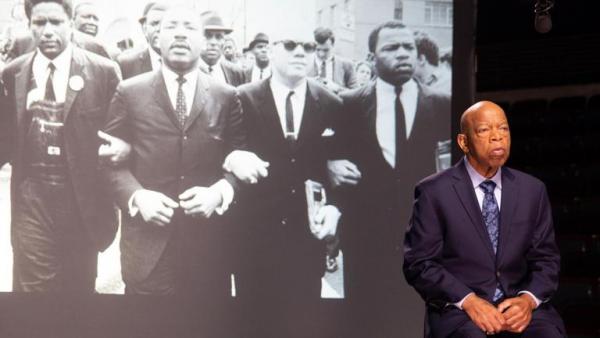 Porter provides a serviceable overview of Lewis' civil rights activism and subsequent congressional career. Shut out of Alabama's university system due to the color of his skin, Lewis instead received an education in nonviolent, interracially cooperative resistance in Nashville, where he also participated in lunch counter sit-ins. He was one of the original Freedom Riders, and spoke at the 1963 March on Washington, where MLK delivered his "I have a dream" speech.
John Lewis: Good Trouble deviates a bit from the standard documentary format of alternating period footage, talking heads, and present-day activity, by showing Lewis reacting to video of his 1960s activism, some of which he'd never seen before (and some quite upsetting in its violence). Since even these brief shots are affecting, I wish Porter would've included more of them. And there would have been room, as some of the contemporary scenes feel like filler. Meanwhile, the coverage of Lewis' congressional career zips past too hastily, with mere fleeting glances of his advocacy for fair housing, gun control, gay rights, and the Affordable Care Act. One gets the impression that Lewis has been on the right side of most every issue, including opposition to war in Iraq. The only blemish seems to have been his mudslinging to first win that congressional seat in 1986.
Across 60 years of activism, Lewis has exemplified his conviction that if you witness injustice, you're obligated to speak out. And with over 40 arrests to his name, Lewis has lived out a favorite adage of his, to "make good trouble, necessary trouble." Given our democracy's punch-drunk condition, his life and example couldn't be timelier.
(John Lewis: Good Trouble is now streaming on major platforms like YouTube.)
(Image credit for star rating: Yasir72.multan CC BY-SA 3.0 )