I guess I still have Hamilton on the brain. As I sat down to compose this review, a line from "Take a Break" – borrowed in turn from Macbeth – was on frequent replay in my mind: "Tomorrow and tomorrow and tomorrow creeps in this petty pace from day to day."
Those words summarize the stuckness of Palm Springs two protagonists. Nyles (Andy Samberg), visiting the eponymous California resort city for a wedding, cheerlessly utters a variation on that line as he lounges in a pool and passes a beer to another guest. After the nuptials, he meets the sister of the bride, Sarah (Cristin Milioti), who's spinning her own gerbil wheel of unfulfilling romantic flings and self-sabotage.
And that's as far as I'm venturing into plot summation, because Palm Springs' narrative goes in a completely unexpected direction. The less you know, the better. Let's just say that Nyles and Sarah become trapped in a mutual predicament, into which the always-welcome J.K. Simmons is sporadically enfolded.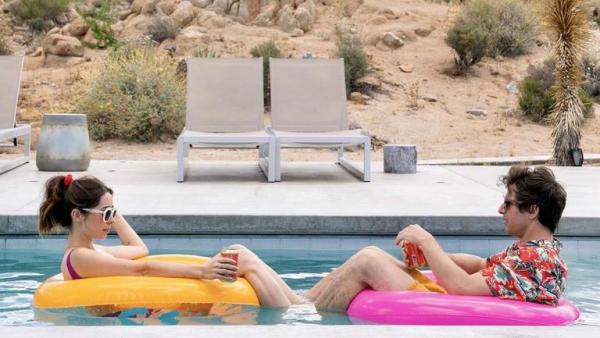 As the debut feature for both director Max Barbakow and writer Andy Siara, this is an impressively confident beginning. Even though it will no doubt remind you of a classic 1990s comedy, the fact that its plot device hasn't been trotted out in a movie for over 25 years makes it close enough to original for my satisfaction.
Multiple moments of physical humor, including a couple of laugh-out-loud dance sequences, vie with the verbal sparring for best in show. The spry, intelligent dialogue has whet my curiosity about Siara's other major work thus far, the AMC TV series Lodge 49.
In Palm Springs, Nyles plays the clown (and Samberg's elastic comedian face helps immensely here), but underneath his hammy exterior, he's a man in existential crisis. Through a series of repeated disappointments, he's concluded that nothing matters: the best one can do is figure how best to suffer alone. Despite an unfulfilling life so far, Sarah tries to counter Nyles' despair. In portraying her, Cristin Milioti infuses her with a somber weariness that hasn't yet been squeezed dry of optimism.
Barbakow inventively alternates between their points of view, often starting one day through Nyles' eyes, the next through Sarah's. Palm Springs' desert setting is also put to excellent visual use. Samberg's gaudy Hawaiian shirt fits with the bright daytime palette. Overhead shots of swimming pool oases are hypnotic with their rippling aqueous reflections. At night, rocky outcroppings believably morph into animal shapes.
When sheltering in place and social distancing compel our weeks to creep at a petty pace, the themes in Barbakow's film couldn't be timelier. Though its conclusions – we hunger for meaningful relationships, which we ought not take for granted – are hardly revolutionary, we could use those reminders right about now.
(Palm Springs is now streaming on Hulu.)
(Image credit for star rating: Yasir72.multan CC BY-SA 3.0 )