If you read "Charlize Theron" and "action flick," and hoped for another Mad Max: Fury Road, prepare to be disappointed. The Old Guard gets a few things right, but it's no George Miller masterpiece.
Since its release in 2015, I've watched Fury Road annually and am still just as captivated by its action choreography worthy of Buster Keaton, dazzling world-creation, and critique of the capitalist patriarchy. The Old Guard dabbles in existentialism but wants for Fury Road's profundity. Short of deep ideas, it lacks even the vacuous giddiness of a guilty pleasure like Michael Bay's The Rock. Instead, it dwells in the DMZ of blandness between these extremes.
At least it's a win for representation in the entertainment industry. Its quartet of immortal warriors is led by Theron's character Andy. Under her command are the comfortably gay couple Joe (Marwan Kenzari) and Nicky (Luca Marinelli), plus alcoholic loner Booker (Matthias Schoenaerts). And one of its key plotlines involves the discovery of a new immortal played by KiKi Layne (sooo good in Barry Jenkins' If Beale Street Could Talk).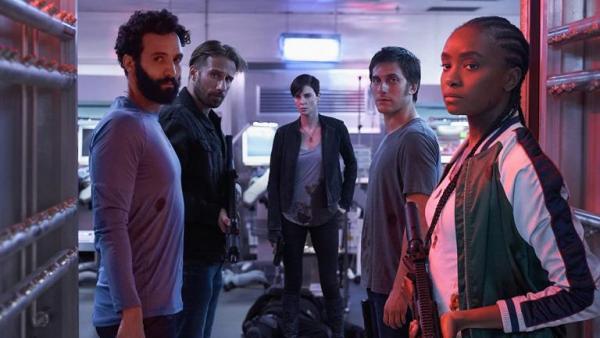 It's also welcome to see another Hollywood product directed by a black woman: Gina Prince-Bythewood, best known for 2000's Love & Basketball. Based on the comic book series by Greg Rucka and Leandro Fernandez – who wrote the screenplay, too – The Old Guard is built on an interesting premise. Its quartet has been together since the War of 1812, when Booker joined their group, though Andy's origins are far earlier. But their immortality has a hitch, as at some unpredictable point after a millennium or three, their bodies stop regenerating, such that they've lost troop members over the centuries.
Quickly reviving if killed in combat, they've perfected their fighting skills. They've also added discernment to their list of proficiencies, only joining causes they deem just. (In a hit-or-miss script, it's clever when they candidly admit the perception of whether they were the good or bad guys in a given fight has evolved over the centuries.)
In our surveillance age, their talents have regrettably been noted by a Big Pharma douchebag (played by Harry Melling, the actor formerly known as Dudley Dursley) who sees beaucoup dollar signs if he can crack the secret to their longevity. As the quartet dodges his goons, they simultaneously detect a new immortal in KiKi Layne's Nile, a US Marine who comes back to life after dying at the hands of the Taliban.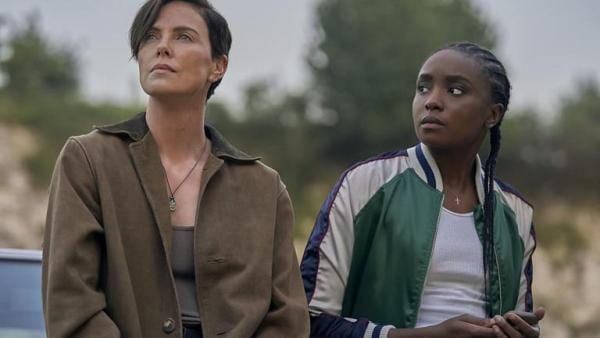 Nile is a feisty foil to Andy's Weltschmerz. Even if the Germans didn't capitalize their nouns, Andy's weariness is so pronounced, it would deserve an uppercase W anyway. She's seen enough loved ones die – sometimes quite horribly, as we witness in dreams and flashbacks – as the world at large becomes ever more brutish, that she despairs over whether her actions have made a difference. She perceives no ultimate meaning or higher power, while twentysomething Nile believes in both (meant to be symbolized by the cross worn around her neck).
This battle of worldviews takes place as The Old Guard inevitably builds to a showdown with the Martin Shkreli wannabe. But Andy's battle fatigue infects the entire film with a lassitude abetted by a Theron performance that feels phoned-in, when placed next to her superb work in Bombshell, Monster, Tully, Young Adult, and, yea verily, Fury Road. Until a balletic closing sequence, the action choreography is dull and pedestrian; and crisp digital cinematography, a pop-heavy soundtrack, and cool settings can't rescue this movie from the blahs.
(The Old Guard is now streaming on Netflix.)
(Image credit for star rating: Yasir72.multan CC BY-SA 3.0 )