As someone raised and schooled in the most conservative wing of the Lutheran Church (Missouri Synod, if you're keeping score), the Roman Catholic setting for Yes, God, Yes rang plenty of bells. We didn't have the "mortal sin" scare talk or the extreme belief that sex is only for procreation, but the rest was there: the slut-shaming rumor mill, the weekend retreats for the extra-holy, and the guilt-inducing hectoring about extramarital sex.
Many of the particulars in writer/director Karen Maine's debut feature were equally familiar. Like the Catholic high school in the film, mine held chapel services in the gym. Akin to Father Murphy (Veep's Timothy Simons), the lead ecclesiastic here, some of the teacher-student interactions at my school were creepily intrusive in hindsight. And just as Murphy ruins a great pop song by making it God-centered, I remember being urged to do the same, as a teen youth group leader. In my case, it was "Drive," by The Cars, answering every rhetorical question asked by Ric Ocasek with "God." (Though come to think of it, that is the correct answer for "who's gonna hang it up when you call?")
Given all these details, it's no surprise that Yes, God, Yes is substantially autobiographical, with Maine stating that 80% of what her lead character Alice experiences was drawn verbatim from her life. Set in 2000, Alice is a junior, seen by her teachers as a paragon of adolescent wholesomeness until baseless gossip of weekend sexplay makes its rounds.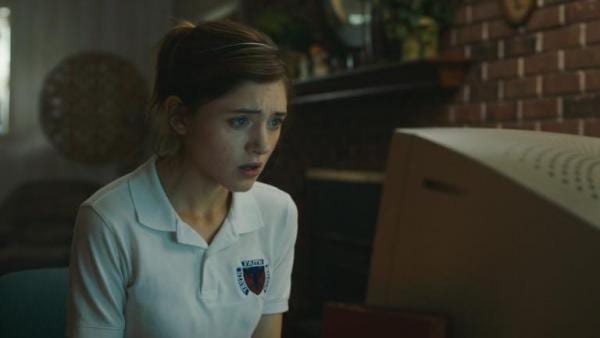 Unfortunately, Alice's shaming at school amplifies her guilt over her solo sexual exploration, through basement AOL sessions on the family PC when no-one else is home, and in discovering the vibrating pleasures of certain household implements. Natalia Dyer (Nancy Wheeler in Stranger Things) plays all of these scenes excellently, with a plausible mix of clueless innocence, eyes-averted-shoulders-hunched furtiveness, and lagomorph jitteriness.
Tossed back and forth by her inner desires and the repressive teachings in Father Murphy's Morality class, Alice hopes to find tranquility at a four-day lakeside retreat. But wherever you go, there you are, and Alice is embarrassingly turned on by the jock body, kind smile, and hairy arms of senior leader Chris.
Much of Yes, God, Yes' humor is of the cringey variety: its discreetly portrayed sexual activity happens in spaces where it could be easily discovered, and we wait nervously for Alice and her libidinous campers to be found out. Other laughs are at Alice's expense, made empathic through a filter of recognition for our earlier selves, as she maladroitly tries out sexual slang or attempts to fit in with half-hearted God talk.
Despite the title's promise of bawdy, irreverent content, this is a pretty tame film. Its visual style is bland, with uniformly bright scenes, and its musical score is similarly unremarkable. Maine's script – and perhaps her movie's short run time of 78 minutes – keeps every character but Alice thin as a Host wafer.
Nonetheless, Maine scores some palpable hits with her story. The unending "we're watching, Jesus is watching" reminders by Father Murphy and the camp counselors are downright oppressive, with a theocratic police state vibe. The prohibitions against masturbation and all premarital sexual activity are rightly seen as a denial of biological reality, dooming teens and adults to needless shame.
A late-film introduction of an ex-Catholic character makes it clear that Alice will have to step out of her toxic milieu to get a reality-based perspective on sexuality and the rightful place of guilt and shame in a healthy psyche. Though the packaging of Yes, God, Yes is average at best, this is a helpful message for teens and adults alike.
(Yes, God, Yes is available to stream through major online services like Apple and Amazon.)
(Image credit for star rating: Yasir72.multan CC BY-SA 3.0 )