It delights me to no end that, as Werner Herzog approaches the milestone of 50 feature-length films, he shows no sign of exhausting his curiosity or inspiration. In the past five years alone, he's interviewed a world leader (Meeting Gorbachev), traversed the world to explore the anthropological impact of volcanoes (Into the Inferno), and contemplated the internet's impact on humanity (Lo and Behold: Reveries of the Connected World).
For his latest film, Family Romance, LLC, Herzog takes us to Japan, using a national phenomenon to consider universal questions. In recent years, businesses there have offered fake friends and family members for funerals, weddings, and even long-term stand-ins for absent family.
To help him craft the storyline of this fictional but inspired by reality film, Herzog spent two afternoons with Ishii Yuichi, the founder of one of the largest such companies, Family Romance. By the end of their conversations, the writer/director asked Yuichi to portray a version of himself. Nearly all of the cast here are non-actors, many of them Family Romance employees, and they all more than ably perform their roles. I can see why Herzog so quickly gravitated to Yuichi: there's a similarity to their facial features and mannerisms, and like Herzog, he's nonjudgmental as he emanates a cheerily mild temperament.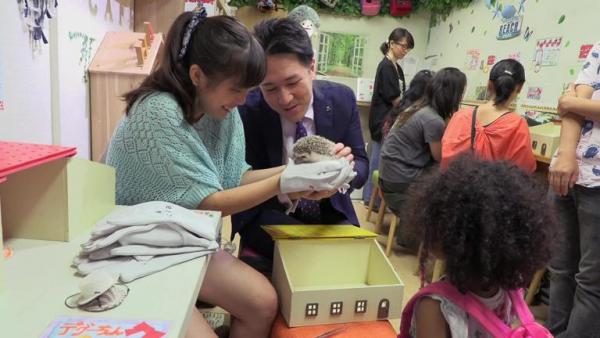 Family Romance, LLC opens with Yuichi making first contact with a client in Tokyo's cherry blossom bejeweled Yoyogi Park. Mahiro (Mahiro Tanimoto) is a pre-teen whose single mother has hired Yuichi to play the girl's long-absent father. Shy yet endearing in her devil-horned hoodie, Mahiro is slow to warm to Yuichi, but by the end of the afternoon, they're snapping happy selfies together.
In between meetups with Mahiro and separately with her mother, we observe Yuichi on other assignments. One day, it's providing a father of the bride, since the real dad is a shameful alcoholic. Later, he plays a railroad worker, to take a humiliating browbeating in place of the actual employee who screwed up. (In vintage Herzog form, this scene was shot guerrilla-style in barely over a minute, since filming isn't permitted on bullet train platforms.) Depending on the job, Yuichi dons the garb of entertainer, morale booster, or healer.
Family Romance, LLC is thoroughly grounded in Japanese culture, but in ways essential to the film's themes, not in service to exoticism. A café for cuddling hedgehogs speaks to Mahiro's longing for affection and touch. An overhead shot of busy Shibuya Crossing conveys the loneliness and lack of significance felt in the most crowded of places. Scenes in Yoyogi Park of swordsmen re-enacting samurai battles double for the playacting nature of Yuichi's vocation.
The idyllic first encounters between Yuichi and Mahiro are perfectly underscored by airily joyous piano music from Herzog's longtime collaborator Ernst Reijseger. As Yuichi starts to question the intensity of their bond – saying at one point, "We're not allowed to love or be loved" – the piano is replaced by gnarly strings. Similar disquieting music accompanies his visit to a hotel staffed by robots (its aquariums too are populated with robot fish). Does he see himself in their artificiality, or does he merely envision a near future where his task will be accomplished by machines? Continuing Herzog's meditations on the role of imagination in meaningful existence – whether it's our prehistoric ancestors in Cave of Forgotten Dreams or the artificial intelligence of Lo and Behold – his script has Yuichi inquiring about the robots: "In the future, will they have dreams?"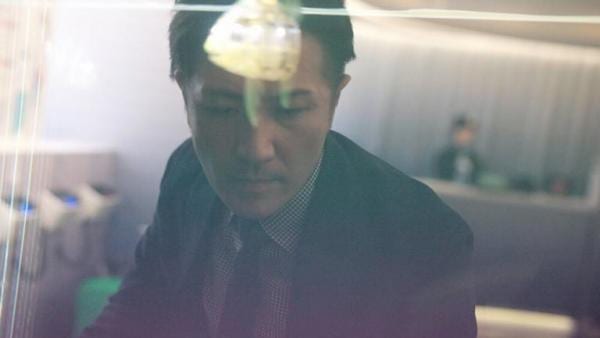 A small-scale production, Herzog handled all of this film's on-the-ground camerawork, as his son Simon took care of the overhead drone imagery. Most of the shots are intimate close-ups, their overall tone gentle like our protagonist.
But it would be an error to confound small-scale and gentle with insignificant. In his narrative of humans-for-hire, Herzog is prodding us to consider the performative and deceptive elements of every relationship. As he has in so many of his films, he's additionally spurring examination of how we manage our existential aloneness in a cosmically indifferent world, a dilemma unmitigated by a growing population and 24/7 online connectedness.
In the introduction to this film when it first dropped on the MUBI streaming platform last month, Herzog described Family Romance, LLC as one of his essential works, ranking it with Aguirre, the Wrath of God and Cave of Forgotten Dreams. While his latest hasn't grasped me relentlessly like those two indisputable classics, I'm nonetheless haunted by it. I anticipate its rewards will only grow with repeat viewings.
(Family Romance, LLC is available for streaming through MUBI and Apple.)
(Image credit for star rating: Yasir72.multan CC BY-SA 3.0 )