Features by Polish director Jan Komasa are nothing if not ambitious. I lauded his release from earlier this year, Corpus Christi, for its topicality, engrossing character studies, superb lead performance, and imaginative visual style. His 2011 film, Suicide Room, was even more audacious visually, though it bit off more than it could chew, in exploring how the dark corners of the internet can nourish teenage despair.
Unfortunately, his newest film The Hater isn't on a par with either of those films, falling short in two major ways. First, its plot breaks through the envelope of plausibility, in charting the rise of its amoral protagonist Tomasz (Maciej Musialowski). It's beyond credible that a naïve country bumpkin, expelled from law school for plagiarism in the film's opening sequence, could so quickly gain the wiles to rise to the top of a PR firm and Warsaw mayoral campaign. Likewise, after creeping out Gabi (Vanessa Aleksander), the troubled daughter of a wealthy power couple, it's equally unbelievable that this family would let him back into their good graces.
Second, I'm unconvinced that a film melding the stalker narrative of You and the ruthless rise to power of House of Cards is the best context for earnest social commentary. The Hater takes place in a city roiled by far-right street demonstrations, as Tomasz's sleazy company pushes anti-immigrant content onto social media platforms in support of a populist mayoral candidate. Komasa clearly laments the death of honest dialogue and the rise of dirty, racist politics in his country; I'm just not sure he's chosen the best story and genre to convey his concern.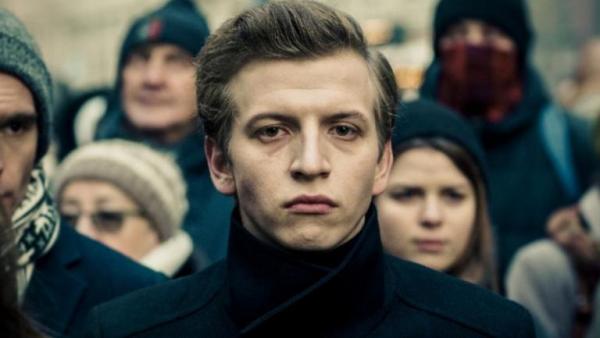 Despite these shortcomings, Komasa – pairing again with his scriptwriter from Corpus Christi, Mateusz Pacewicz – has crafted a captivating tale. Though less interesting visually than his aforementioned films, The Haters' gray color scheme is totally apt for this (im)morality tale, making the infrequent splashes of color (a red-tinged protest, a neon-flecked silent disco) stand out all the more.
The soundtrack is also one of the best I've heard this year, mixing intimate pieces by Fauré, Paderewski, Bach, and Purcell, with original music by Polish classical/electroacoustic composer Jacaszek. From the slowly dripping piano of the opening scene, to the string and vocal duet of the closing credits, the accompaniment is beautifully haunting.
As Tomasz, Maciej Musialowski is versatile and always enjoyable to watch. Able to switch from icily calculating to fluidly seductive at a moment's notice, he can turn on the waterworks to manipulate his audience, but only seems to experience authentic emotion in his pursuit of Gabi. His features remind me of a younger Ben Mendelsohn: both actors are good fits for villainous roles, with mouths that so readily twist and set themselves cruelly.
Ultimately, these strengths are enough to put The Hater into the category of "fatally flawed, but intriguing." Like Suicide Room, however, Komasa's latest left me morally queasy. This earlier work contained a shout-out to the Trevor Project, inadequate to redeem it from feeling like a suicide snuff film in places. The Hater similarly veers into a bloody sensationalism that serves up a tawdry aftertaste.
(The Hater is now streaming on Netflix.)
(Image credit for star rating: Yasir72.multan CC BY-SA 3.0 )