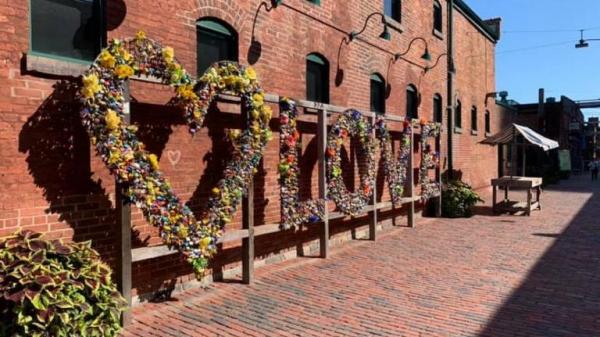 In a normal year, when the weather turns cool, my wife and I head north for the Toronto International Film Festival. We relish the chance to see international films that may not get a US distributor, and savor world premieres followed by actor/director Q&As. But times aren't normal, and a US passport is as welcome abroad as a kiss from a stranger with a herpes mouth sore. So what's a stuck-at-home cinephile to do?
After a brief interlude of inert melancholy, I made the happy discovery that many domestic venues are opting for virtual festivals this year. Still better, US programming overlaps considerably with what's already played in Toronto and Europe. So I've cobbled together my own shelter-in-place fest from a couple of sources. And if you're yearning for variety in your viewing, you can, too.
For my schedule and budget, I found that combining the offerings from the New York Film Festival (NYFF) and the Chicago International Film Festival was the way to go. For Chicago, membership and the 20 film package cost me about $15 per film, less than a night at the cinema with my better half.
If you want to create your own DIY festival, this Screen Daily page has a decent listing of upcoming events. However, it's hardly complete, so supplementing it with a Google search for festivals in your state or region isn't a bad idea. In my area, Screen Daily missed North Carolina's Film Fest 919 (unfortunately, in-person only this year) and Virginia's Middleburg Film Festival (a wiser hybrid of in-person and virtual events).
One caution: before entering your credit card info, make sure the films you want will be available in your state. For instance, I loved the slate for this Maine film festival, but most of their offerings are geoblocked to New England. But if you live in the Granite or Green Mountain State, have at it!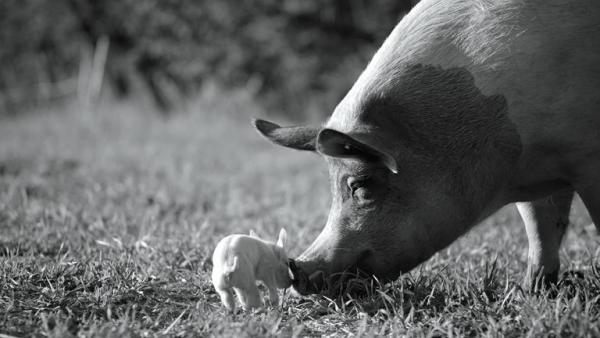 My first two forays into stay-at-home festing – Victor Kossakovsky's Gunda and Pedro Almodóvar's The Human Voice – arrived courtesy of NYFF. Gunda is the type of film you dream of seeing at a festival, imparting the joy of discovering an unfamiliar director whose craft you trust immediately.
If you're thinking 90 minutes of watching barnyard animals would make for dull viewing, you'd be wrong; my wife and I were captivated throughout. In Gunda, human involvement is implied, through the setting, distant machinery noises, and one crucial scene of intrusion, but the ground-level cameras remain on the pigs, chickens, and cows.
Gunda opens with a long take of a sow framed in a barn door, before the indoor cameras reveal she's giving birth. We watch her newborns scramble for a place at a teat; we discern piglet personalities, as some are more assertive, others slower and passive. A lingering shot of the mother's eyes shows a clear intelligence in them.
The pigs are the stars of Gunda: Kossakovsky and his crew filmed them for five days after their birth, returning twice at monthly intervals. In between the pig scenes, we meet a flock of chickens and a herd of cows. With no voiceover, we're left merely to observe. We witness the determination of a hopping one-legged chicken, and cows positioned in pairs. Before this film, I didn't know that bovine duos will line up in a pasture, one's head to another's tail, the better to swat flies off each other's face. Smart!
Kossakovsky shot Gunda beautifully in crisp black and white. His lighting outlines his protagonists in a beatific halo, reminding me of the cinematography of great Danish director Carl Theodor Dreyer, in classics like Ordet and The Passion of Joan of Arc. The way his camera lingers and migrates around his characters recalls the wordless dignity Godfrey Reggio imparted to his subjects in his Qatsi trilogy.
Minus narration, Kossakovsky isn't preaching here, but the takeaway from his splendid film is no less apparent. But I'll leave that for you to discover.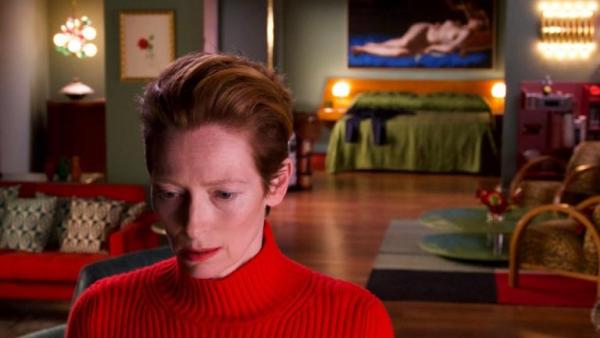 A new Almodóvar film is always cause for jubilation, but truth be told, The Human Voice is one of his lesser works. Nonetheless, it's a pleasure to bathe in his stylistic trademarks: bright primary colors (especially red), tastefully detailed interiors, and a gorgeous Romantic score by Alberto Iglesias.
Shot quickly over the summer and lasting a scant 30 minutes, The Human Voice is essentially a one-woman melodrama. Aside from a brief scene with minor characters, it's all Tilda Swinton as an unnamed actress in crisis. Even her conversation with her parted lover is conducted with earbuds in place, so we just hear her side of their dialogue.
Adapted loosely by Almodóvar from a theater piece by Jean Cocteau, we observe Swinton over the course of a day or so, as she awaits her lover's return to claim his belongings. From their conversation, we learn they've had a passionate four years together, which are now ending. Swinton flirts with suicide, whether in reality or as a grand gesture.
Swinton plays her fascinating character well, convincingly distraught and given to extremes of pleading and fury. Her grief-stricken monologue ("at one time we dreamed the same") conveys the intense exclusivity of an affair at its terminus.
What's missing from The Human Voice is the interpersonal chemistry that crackles in Almodóvar's best works, like Volver, Talk to Her, or last year's superb Pain and Glory. Still, this isn't a bad fix until his next full-length feature arrives.
(Image credit for star rating: Yasir72.multan CC BY-SA 3.0 )