Watching David Byrne's American Utopia, I cried – hell, I wept – more than I have during any other 2020 film. Being a psychiatrist and movie critic, I naturally had to analyze why Spike Lee's filmic capture of a Broadway show was so affecting.
So…it's not because I'm a huge Talking Heads fan. My adolescent musical tastes were too Philistine to savor their brilliant wordplay, masterful arrangements, and polyrhythms. That appreciation came much later.
You'd be getting warmer if you said watching a festive crowd bopping and dancing prompted a realization that I miss in-person events more than I'd previously admitted. However, most of all, my tears were ones of joy and pathos from bathing in a superbly choreographed concert that feels both timeless and perfectly timed.
This timelessness and timeliness is reflected in two of the songs that moved me most. "I Zimbra" is early 20th Century word salad put to music; in Byrne's intro, he says that Dadaist poet Hugo Ball was employing nonsense to make sense of the world. Later, a gut punch of a protest song is the only spot where Spike Lee overtly displays his trademark style, with visuals that wouldn't have been out of place in BlacKkKlansman or Da 5 Bloods.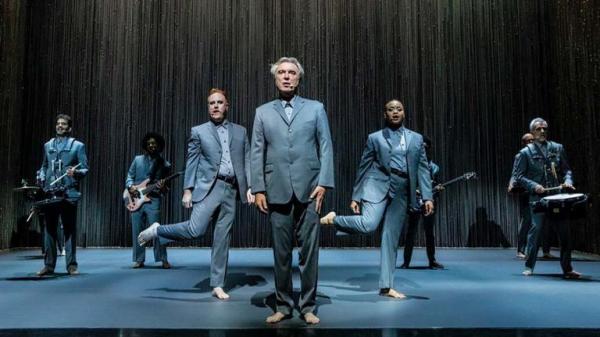 Otherwise, Lee conveys his mastery of the medium by staying out of the way. Byrne, choreographing with longtime collaborator Annie-B Parson, was aiming for an unmediated concert experience: no cumbersome wires or bulky props, only musicians and their handheld instruments. Lee carries their mission forward, his cameras visible just briefly during the encore.
Reminiscent of Stop Making Sense, Jonathan Demme's Talking Heads concert film of 1984, American Utopia opens with Byrne alone on stage for the first song. Like the earlier film, other band members arrive as more songs are performed, until we have two background vocalists, two guitarists, and seven drummers. All are barefoot and wearing the same blue-gray suits, set against a blue-gray chain curtain that allows stealthy entry and exit.
The 21 songs comprising American Utopia are a mix of popular and obscure Talking Heads tunes, Byrne solo pieces, and collaborations with Brian Eno, St. Vincent, Brighton Port Authority, and Fatboy Slim. A couple of tunes are frivolous crowd pleasers, such as "Burning Down the House" and "Lazy." (The latter, from Byrne's 2004 solo album "Grown Backwards," has the irresistibly peppy chorus of "Oh, I'm wicked and I'm lazy/Oh, don't you wanna save me?")
However, there's an overall mission and trajectory to this show, to illustrate how connecting to other people makes for a better world. We hear this in the first two songs, "Here" and "I Know Sometimes a Man Is Wrong," with lyrics like "Raise your eyes to one who loves you/You're safe right where you are" and "I'll be wrong until you're next to me."
Later, these sentiments are given the added weight of agitating for societal evolution, as befits the concert's aspirational title. As Byrne and his band perform "I Should Watch TV," they take a knee in solidarity with a projected image of Colin Kaepernick, to lyrics of "How am I not your brother?/How are you not like me?/Maybe someday we can stand together/Not afraid of what our eyes might see."
In the Q&A that accompanied American Utopia's screening at the New York Film Festival, Byrne stated that he aimed to show, not tell, how great it feels to be together. He achieves this goal many times over. The elaborate, varied choreography reveals the beauty of a dozen people working in synchrony. (At 68, Byrne may not have the vitality to run circles around the stage as he did in Stop Making Sense, but this is still a highly kinetic performance.) The exuberant crowd – mostly seen in silhouette, as Lee avoids the excess of reaction shots that mar so many concert vids – exemplifies the joy of communal celebration. And Byrne makes a point of introducing his multihued band as a gathering of immigrant musicians from South America, Europe, Atlanta, Toronto, and NYC.
It's safe to assume Byrne is not a religious believer, at least not in a traditional Western sense. His latest album includes lyrics like "we're only tourists in this life…and we're never gonna go back home." A song from the same album ("Every Day Is a Miracle") relativizes religion by positing that chickens believe in an elderly rooster Father, with eggs in the Jesus role, while "the Pope don't mean sh*t to a dog."
But I think progressives, no matter their religious label or lack of one, will find bliss and respite here, and probably shed some tears like me. American Utopia is a blast of sunlight and optimism in what has objectively been a terrible year. How welcome it is to watch a show whose final lyrics are "I have hope."
(American Utopia drops on HBO October 17th. Meanwhile, for help in creating your own DIY Virtual Film Fest, please read my earlier column.)
(Image credit for star rating: Yasir72.multan CC BY-SA 3.0 )