The New York Film Festival has ended, so I've migrated online to the Chicago Film Festival, whose lineup this year is comparably strong. And it's hard to top their pricing: a virtual pass for one of their offerings costs less than two mainstream cinema tickets.
I opted for a crowd-pleaser their opening night, and didn't regret it for a minute. I Am Greta is Nathan Grossman's debut feature, but he directs with a veteran's choices and instincts for this up-close profile of teenaged climate activist Greta Thunberg. The concluding uplift, complete with swelling strings (in an otherwise lovely musical score), is predictable. Excepting this, I applaud nearly all of Grossman's stylistic choices.
Besides an occasional backtrack to early home movies, I Am Greta is mostly chronological, across 13 months that would be unbelievable if they weren't true. In August 2018, 15-year-old Thunberg started a lone protest outside Stockholm's Parliament building, with a simple sign reading "School Strike for Climate." Her initial plan to stand vigil daily until the upcoming elections morphed into weekly Friday protests for political action on climate change.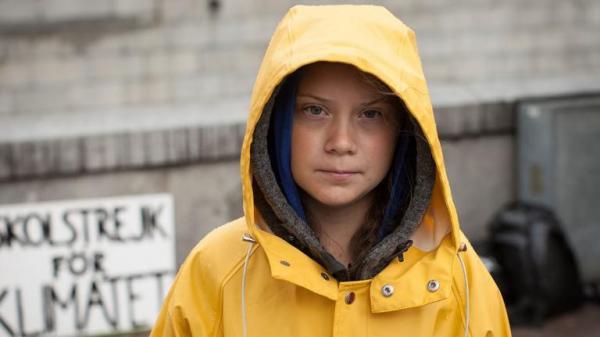 Slowly, her presence attracted more protesters. Local media attention morphed into worldwide news coverage. Thunberg was invited to speak at the United Nations Climate Change Conference in December 2018, which led to more invitations, culminating in her New York speech at the UN Climate Action Summit in September 2019.
Simultaneously, fellow youngsters were spurred by her example and took to their streets to protest climate inaction by their politicians. Ultimately, demonstrations occurred on six continents, with over 7 million protesters on a single day. (Here, it would've been nice if Grossman had explored the synergy of youthful activism, as Thunberg was inspired in part by US teenagers leading the outcry against gun violence in their schools.)
On this skeleton of a plot, Grossman hangs plenty of biographical and personal detail. Thunberg has courageously chosen transparency about her Asperger's diagnosis: when an interviewer asks her about "suffering from" it, she corrects them and says "I have Asperger's." Thunberg in fact credits Asperger's with fostering her incisive ability to see the black and white immorality of humanity's self-destructive course.
I Am Greta, however, reveals that her mental illness has caused her to suffer. For three years of Thunberg's childhood, she was selectively mute, speaking only to her family. For much of her school career, she's felt ostracized. She's struggled with intense anxiety and depression.
Nonetheless, Grossman's film inspires by showing how Thunberg has battled and largely surmounted these challenges. Her parents can take much of the credit here: we see a lot of her father Svante in I Am Greta, as he accompanies his daughter on her travels, while mother Malena tends the farm back home. Thunberg's parents are impressively savvy on knowing when to bolster, when to intervene, and when to step out of the way.
Thunberg's crusade also looks therapeutic for her, as her depression and anxiety seem intimately wed to an existential helplessness over humanity's treating the planet as (in her words) "a bottomless bag of candy." Here again, her family has been supportive, in simplifying their lifestyle, turning vegetarian, and foregoing air travel.
I Am Greta charms with its portrait of an activist who still is a kid. She shrieks with delight when her mom tilts the camera during a Facetime chat to show their dogs at play. She loves to dance. She hushes her dad as he offers unwelcome commentary on a speech she's writing. She giggles uncontrollably at her goofy facial expression in a photo from her meeting with Pope Francis.
One thing that fascinates me – and frankly, bewilders me – is the response of world leaders to Ms. Thunberg. Why do the UN, the European Union, Emmanuel Macron, and others keep inviting her to their forums, when all she does is scold them? She preaches truth, but it ain't pretty: they act like selfish children, they've smothered her dreams, they're inert when they ought to be panicking.
On one level, I comprehend better the response of authoritarian, misogynist jackasses like Putin, Bolsonaro, and Trump who predictably, patronizingly dismiss her. But more liberal leaders? I don't think the good PR from feigning attention is adequate to explain their reactions. I suspect they know at the core of their beings that they're failing young people and our planet, and unconsciously they crave her castigation.
Regardless of the reason, it's impressive to witness Thunberg's impassiveness in the face of finery, pomp, threats, and belittlement, and to hear her scorn for those who proclaim loftily while doing nothing. I, for one, am rooting for her superpowered focus for the sake of Earth to continue.
(Image credit for star rating: Yasir72.multan CC BY-SA 3.0 )