It's a critic's dilemma: how to rate a film that soars in some areas but flags in others? I find it's best to split the difference and err on the side of generosity.
One Night in Miami is a case in point. With a script adapted by Kemp Powers from his stage work of the same name, this film still feels too much like a play. Regina King, in a fine feature directing debut, does her valiant best to break single-set confinement with interludes in clubs and boxing rings, but her efforts aren't enough to make this fully cinematic. Likewise, a postscript has an artificial look to it, probably due to budgetary constraints.
But let's move on to the positives, which far outweigh these liabilities. First, this is an actors' showcase for its quartet of leads, from which we ought to see an Oscar nomination or two. Kingsley Ben-Adir has the toughest job, assuming a role previously made great by Denzel Washington. But in playing Malcolm X, Ben-Adir gives emotional depth and immense gravity to a man who in 1964 perceived that his end was near.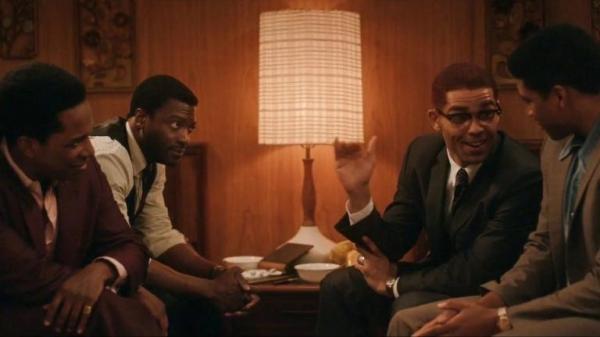 Eli Goree is another actor who till now has cut his teeth on television parts. But as Cassius Clay about to change his name to Muhammad Ali, Goree convinces as an unformed 22 year old, caught between worldly braggadocio and Islamic piety. (He also struts his stuff in a couple of breathtakingly choreographed fight scenes.) Aldis Hodge will be more recognizable to moviegoers, with meaty roles in Clemency and as the title character of Brian Banks. Here, he portrays football legend Jim Brown, contemplating retirement from the NFL to give acting a try.
Lastly, Leslie Odom Jr. plays "King of Soul" Sam Cooke, writer and velvety crooner of classics like "You Send Me" and "Twistin' the Night Away." Indisputably, this is Odom's most complicated role since his run as Aaron Burr in Hamilton, and he proves he's got the acting chops to match his gorgeous voice. (As an added bonus, he wrote a lovely number that he sings over the closing credits.)
These four men were friendly with each other in real life, a fact that One Night in Miami runs with, to invent a wordy, thought-provoking encounter. On the evening in February 1964 when Clay wrested the heavyweight title from Sonny Liston, they all gather in Malcolm X's hotel room afterwards to celebrate. One claims in the afterglow that they're "young, Black, famous, unapologetic [and] safe to be ourselves" – a contention belied by the prologue, in which Clay, Brown, and Cooke collide against unmoving racism.
The remainder of the film grapples with this disparity, as well as the responsibility borne by Black men of (relative) privilege towards the rest of Black America. The sparring is particularly intense when Malcolm accuses Cooke of selling out, by performing and producing music to get White folks tapping their toes.
Through various plot contrivances – Malcolm's phone call to his wife and daughters, a trip by Ali and Cooke to a liquor store – the men pair off at different times for dialogue. Regina King and her cinematographer Tami Reiker frame these discussions in close-up and with a shallow depth of field, permitting us to intimately gauge reactions. Terence Blanchard's score is affectingly melodic as always – in this case, mostly rolling, jazzy solo piano – but King keeps long stretches music-free, the better to listen to the words.
King, Reiker, and the set designers also made One Night in Miami handsome to behold. The nocturnal shadings, with the variations of brown, orange, and yellow, smartly complement the men's beautiful faces.
When Malcolm and Cooke are going at each other, Brown drily comments that "y'all pulled out the knives." Yet, King and Powers love their characters too much to pass judgment on them. Each blazed his own admirable path in response to the historical moment.
(Image credit for star rating: Yasir72.multan CC BY-SA 3.0 )
(For help in creating your own DIY Virtual Film Fest, please read my earlier column.)