In the US press – and my social media feed – attention on the alliance between Donald Trump and evangelicals has not lingered much on its impact upon Israeli and Palestinian lives. While understandable in this moment, since a character from The Handmaid's Tale will soon be joining the Supreme Court, I'm glad a solid documentary is here to help rectify this neglect.
Still better, 'Til Kingdom Come is about as balanced as one could hope for this hot-button subject. Only in its waning moments does Israeli director Maya Zinshtein reveal her own bias of sympathy for Palestinians, rather than Prime Minister Bibi Netanyahu's aggressive policy of Israeli settlement of Palestinian territory. And even that is done through the morality of the editing room, not overt proselytizing.
This balance results naturally from the bifurcated focus of Zinshtein's documentary. 'Til Kingdom Come first introduces us to Boyd Bingham IV, third-generation pastor of a fundamentalist Baptist church in Appalachia. Both he and his father, the senior pastor of their church, zealously promote a pro-Israel agenda from the pulpit and in their classrooms. Their ongoing generosity towards the International Fellowship of Christians and Jews (IFCJ) is material proof of their passion.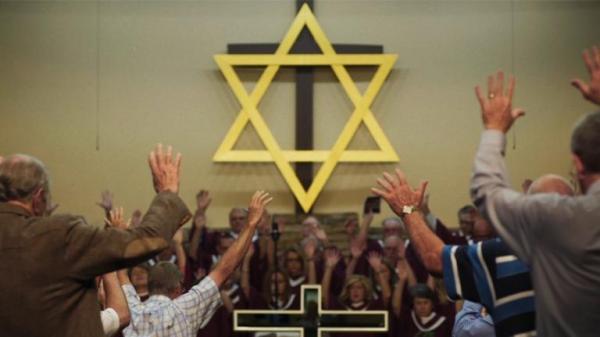 The second focus of 'Til Kingdom Come is IFCJ and its new leader, Yael Eckstein. Founded by her rabbi father in 1983, IFCJ is the largest charity in all of Israel, with annual donations of $120+ million going to over 100 projects around the country. In its infancy, IFCJ was a penny-ante operation, until they garnered on-air support from televangelists like Pat Robertson and John Hagee.
Zinshtein eventually shows us her interviews with Robertson and Johnnie Moore, the spokesman for Trump's evangelical advisory board. In addition, her cameraman scored up-close footage of seminal events involving Trump and Netanyahu. But by keeping our eyes mostly on Bingham and Eckstein, Zinshtein's documentary stays easy to follow, on a subject where one could get lost in an alphabet soup of names, charities, and political organizations.
Bingham, Robertson, and Moore lay out the Christian fundamentalist rationale for aiding the nation of Israel and their colonization of Palestine. In their worldview, Israel's statehood and recognition of Jerusalem as its capital (symbolized by Trump's moving the US embassy there in 2018) are fulfillments of end-times prophecies and will hasten Jesus' Second Coming.
Meanwhile, Eckstein sees evangelical support and Trump's actions as strengthening her country. Besides using IFCJ funds to lift Jews out of poverty, they donate millions to the Israeli military. If she's personally triggered by hearing Christians insert Jesus into the Torah, it's a small sacrifice for the greater good.
Though this is only Zinshtein's second full-length feature, she knows how to assemble an engrossing narrative. Doubtless, she was helped in this process by veteran screenwriter Mark Monroe, contributor to well-regarded docs like The Cove, Icarus, and Chasing Ice. Talking head segments are brief, with prominence given to activity, including religious services, visits to occupied Palestinian territory, Eckstein's trip to Bingham's church, and his reciprocating tour of Israel. The sole major shortcoming here is the tuneless synthesizer accompaniment, more fitting for a CSI spinoff than an important documentary.
To fill in some perspective that Bingham and Eckstein omit, Zinshtein gives screen time to a Palestinian Lutheran pastor and the leader of a progressive peace organization. They inform us that two million Palestinians now live in occupied territory, and as Trump has pushed his pro-Bibi agenda, impoverished Palestinians have lost hundreds of millions in funding. In addition, Israeli settlers currently depend more upon US evangelicals than American Jews for political support.
However, Zinshtein primarily, and sagely, allows Bingham and Eckstein to hang themselves with their own words. Eckstein admits the US embassy move to Jerusalem will escalate violence, but hey, there's always been killing of Palestinians, so what do scores of extra corpses matter? (I'm paraphrasing, but not unfairly.) Likewise, after Bingham has a fruitless dialogue with the Lutheran pastor, he tells the camera afterwards that he didn't want to break it to the minister, but there's no such thing as a Palestinian. (That's not a paraphrase.)
For a godless guy like me, 'Til Kingdom Come is a reminder of how coldly transactional the monotheistic religions are, in their purest, most traditional incarnations. Pat Robertson, Pompeo, and Pence see Jews as hell-bound, but if their statehood prompts Jesus to return sooner, who cares? Eckstein, Bibi, and the Jewish occupiers of Palestinian land are okeydokey about hopping into bed with anti-Semitic con artists like Hagee if it'll augment their political and military might in the short run. And it doesn't get any more anti-humanistic than Bingham's denial of an ethnic group's existence.
(Image credit for star rating: Yasir72.multan CC BY-SA 3.0 )
(For help in creating your own DIY Virtual Film Fest, please read my earlier column.)