From the unleashed Victorian libido of Bram Stoker's Dracula, to Jordan Peele's Get Out and Us, horror can be a potent conveyor of social commentary or communicator of subconscious fears. British director Remi Weekes solidly continues this tradition with his debut feature His House.
At the same time, Weekes uses his story – co-written with Felicity Evans and Toby Venables, in their first full-length script – to progress beyond tired clichés of refugees as a mass of helpless victims lacking distinctive personalities. In His House, Weekes' two leads have histories. Like all of us, they have traits to be proud of, and deeds they'd rather forget. Perhaps most importantly, they have agency.
In a brisk, fragmentary prologue, we see Bol and Rial fleeing South Sudan, first by foot, then by truck, then by boat. Rial promises protection to their frightened daughter Nyagaka, but the next scene shows them flailing in the sea after their crowded boat breaks down mid-transit. Nyagaka drowns, while husband and wife are rescued and taken to a British detention center. There, a chilly bureaucratic trio tells them they've been granted a trial settlement period, with placement in a residence of the panel's choosing.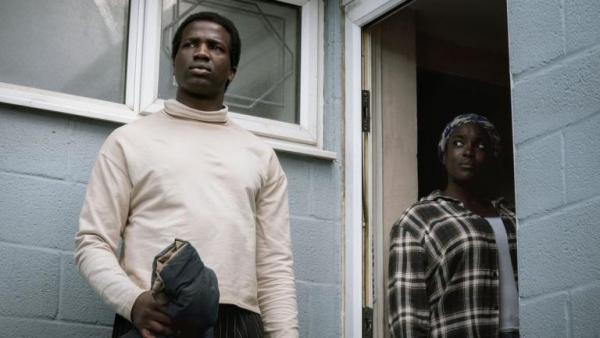 The movie proper starts with their social worker (a shabby-looking Matt Smith) dropping them at an even shabbier house. A depressing two-story cinderblock unit in a soulless housing project, trash is strewn about its cheaply built interior and exterior.
Immediately we perceive the differences in the pair's reactions towards their circumstances, embodying the dialectic tug at immigrants. Bol is the energetic optimist, diving into home repairs and joining pub regulars in cheering during a football match. In an excellent portrayal by Sope Dirisu, Bol epitomizes the urge to assimilate and block out the past.
By contrast, Rial is depressed, fearful to step outside. Bol nags her to speak English, as she persists in wearing traditional garb and is loath to part with anything they brought from South Sudan. Wunmi Mosaku shows her impressive range here, playing a timid, subdued character who's the polar opposite of her fiery, unstoppable Ruby Baptiste in HBO's mind-blowing Lovecraft Country.
The music from prolific cinematic composer Roque Baños highlights the forces tearing the couple between old home and new home. Sometimes we hear a lilting melody from a small ensemble of koras, West African stringed instruments. In other places, more typical horror sounds – screeches and ominous rumbles – set us on edge.
Weekes and his crew also succeed in creating a hostile environment both inside and outside of Bol and Rial's new home. A chain-smoking neighbor glares at Bol, ignoring his smile and wave. When Rial finally ventures outdoors, the pathway to the local clinic is an intimidating maze, as obnoxious loitering teens taunt her with contradictory directions.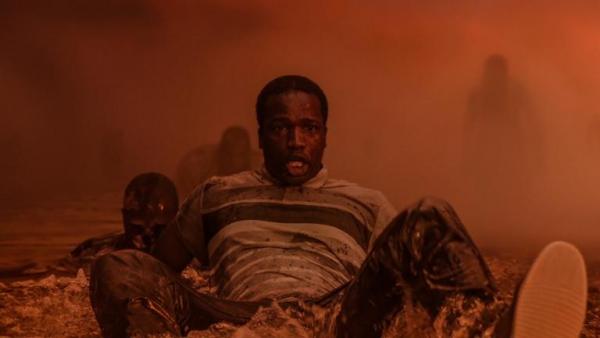 But it's indoors where the creepiness looms largest. When apart from one another, Bol and Rial hear whimpers, humming, and skittering inside the walls. Damp footprints appear on the floor, before far worse things materialize, courtesy of an imaginative visual effects department. Is the couple haunted by their daughter, did a witch pursue them from Africa, or are they losing their minds?
Like many a good horror movie, His House blurs the line between nightmare and reality. This is more apt than usual here, since our couple is clearly afflicted by post-traumatic stress, which can feel akin to madness. I also like how Weekes' camera often lingers on his characters' hands: touch offers a route to healing, while its refusal deepens alienation. If some of the final dialogue is too on-the-nose, this is still a satisfying horror excursion where the scares have a point to them.
(His House is now streaming on Netflix.)
(Image credit for star rating: Yasir72.multan CC BY-SA 3.0 )