If you're seeking a film with villains and life-or-death conflict to resolve, keep looking. If you crave a film with sympathetic, interesting characters you'd likely never meet in real life, with enough beauty and goodness to bring tears to your eyes, then look no further than Nomadland.
It's not surprising that Nomadland's writer, director, and editor Chloé Zhao describes an affinity with Terrence Malick (who was reportedly rapturous over this film after a private screening). Both directors have a gift for enfolding geography into their dramas, though Zhao strikes me as having a greater interest in character study.
Yet today's American West deserves second billing after Frances McDormand, who will quite probably score a third Oscar for her performance here. As her character Fern directs her van to different temporary jobs – beet farming, campground custodian, line cook at a tourist trap – we partake in her wonder at the desert, badlands, mountains, and wild coasts outside her window. This beauty, however, is grounded in a granular reality, with actual worksites, camping locations, and non-actors portraying versions of themselves onscreen.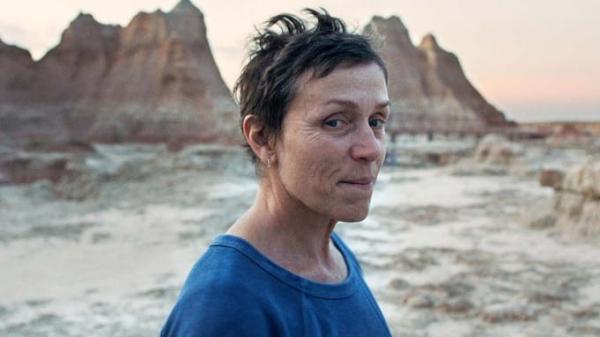 Nomadland's plot is simple enough on the surface. As the film opens, Fern is splitting from Empire, Nevada. When US Gypsum terminated operations there in 2011, the town was so gutted, it handed over its zip code designation. Losing the company home she shared with her now-deceased husband, Fern is forced to live out of her van, taking a seasonal job at an Amazon warehouse.
There she's befriended by a fellow CamperForce employee, Linda (Linda May) who sings the praises of the nomadic life, moving from campground to campground, from one low-paying gig to another. Initially unpersuaded, but out of necessity, Fern follows Linda's lead.
Though met with pity or condescension from family and former neighbors, Fern discovers a love for this lifestyle. Shy of intimacy since her husband's passing, she finds the here-today, gone-tomorrow road friendships meet her social needs.
One of the highest praises I can bestow on a director is that they love their characters. This was evident in Chloé Zhao's equally marvelous second feature, The Rider, and it's no less apparent here. Zhao's camera observes Fern and the rest of the cast affectionately and nonjudgmentally. The reasons for the migrations of this mostly AARP-eligible group are varied. Some feel irresistible wanderlust, refusing to defer their travels till they're too old or sick to embark. Others have found nomadism to be the best way to manage grief or mental distress. For others, it's not a choice but a necessity, thanks to our country's failed safety net.
Whatever their reasons, they've built a "true community and tribe" of generous people who share meals and music, supporting one another through illness and flat tires. One cast member is Bob Wells, who in actuality is an evangelist of vandwelling, founder of the club Rubber Tramp Rendezvous, and star of an informative YouTube channel. One of the few professional actors besides McDormand is David Strathairn, playing one of his trademarked gentle melancholic souls, whose love-smitten attention to Fern is scarcely concealed.
Nomadland is based on a book-length journalistic report of the same title by Jessica Bruder (also credited as a producer for the film). To understand this social phenomenon, Bruder embedded with vandwelling societies, whose membership she numbers conservatively at tens of thousands of older Americans.
Though focused primarily on Fern, Zhao's film succeeds as a sympathetic portrait of this movement. It's equally a splendid work of art. Zhao's DP is once again Joshua James Richards, who lent The Rider its marvelous color palette. From Nomadland's opening scene, where the faded blue and tan of Fern's wardrobe blends into the landscape, we know we're in capable hands. A later scene, where a purple hat and overcoat meld with the sunset overhead, deserves similar plaudits.
Richards knows how to balance landscape shots with close-ups. A journalist once compared McDormand's face to a national park, and indeed, Richards beautifully explores her wrinkles and close-clipped DIY haircut.
And what music! I'll be tracking down recordings by Ludovico Einaudi, after reveling in his quietly joyful piano and string compositions here. Their melodies aptly possess a wandering quality, the better to accompany our onscreen nomads.
I have to admit, my heart sank when I first read Zhao had signed on to direct a Marvel movie: The Eternals, now in post-production and penciled in for a theatrical release next November. But on the strength of her last two films, I have some hope that she can infuse an oftentimes cookie-cutter franchise with warmth and humanism.
(Nomadland will have a limited run December 4-11 through the Film at Lincoln Center Virtual Cinema, before a wider release on other platforms.)
(Image credit for star rating: Yasir72.multan CC BY-SA 3.0 )