For all that's been awful about 2020, it's been gratifying to see a steady trickle of well-made, trans-affirming documentaries flow across the viewing year. There's always room for more, but it started with Netflix's upbeat, enlightening consideration of trans representation in American entertainment, Disclosure. Next came the most aesthetically satisfying of the bunch, Little Girl, a year-in-the-life portrait of a kid addressing her gender dysphoria, with the help of her splendid family and empathic professionals, despite the hindrance of a transphobic community.
Now we have Transhood and Born to Be. As if by design, they pick up timewise where Little Girl left off. Little Girl privileged us with a look at a pre-adolescent initiating her social transition. (This is the stage when a gender-dysphoric individual begins to publicly identify with their self-perceived gender, through such things as clothing choice and pronoun use. Hormone therapy cannot begin until the start of puberty, while surgical correction in the US may commence at 18.)

Transhood follows four Kansas City kids across five years. Two (a girl named Avery and a self-labeled "girl-boy" named Phoenix) are still in the social transition period. The other two, Jay and Leena, are adolescents who've progressed to hormonal treatments.
This film doesn't do anything special stylistically – its scenes are unrelentingly brightly lit – but it's a solid feature directing debut for Sharon Liese. It would've been easy to get tangled in the leaps across time and families, but Liese keeps her narratives easy to track.
The parents and children depicted here have the struggles of families everywhere. One married couple divorces; a single mom finds new love. Teens grapple with choices of career versus college, and chafe when autonomy feels trampled upon. The parents of younger kids navigate the flighty moods and fleeting interests typical of elementary school.
Compounding these, however, are the challenges unique to trans kids and their parents: when to come out to their peers, the heartbreak of romances ruptured by transphobia. Jay battles depression and suicidal thoughts. Multiple parents sever ties with intolerant grandparents, though Leena is lucky to have a doting, unfiltered grandma who bubbles excitedly about how her granddaughter will have a new "playpen" after her upcoming vaginoplasty.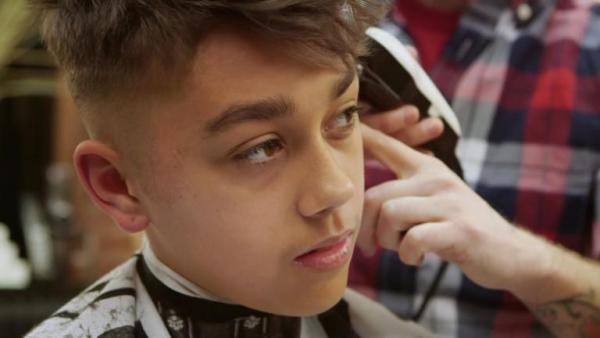 Liese commendably grounds her film in its time and place, too. The families grieve the murder of a local trans Latina in 2015 and protest a bathroom bill. Jay rules out a career in the military, thanks to Trump's transphobic edicts. (These parents and kids by necessity appear to have many more hard conversations on painful topics, compared to cis-hetero families.)
The single aspect of Transhood that might prove controversial in the trans community is its inclusion of a parent who morphs from affirming her child to pathologizing them. As someone constantly striving to be a better ally, I'll defer to trans voices for the final say on this. For what it's worth, I found this parent's involvement in this documentary sadly instructive, demonstrating that moms and dads can break either good or bad across their child's journey.

Born to Be grabs the chronological baton from Transhood, its subjects in various stages of contemplating, starting, or completing gender affirming surgery. This third feature directed by Tania Cypriano is centered on Mount Sinai's Center for Transgender Medicine and Surgery (CTMS) in New York City, and its lone over-busy surgeon, Dr. Jess Ting.
In welcome contrast to the predominantly white protagonists of the other two documentaries – Jay, a Latino, is the sole exception – the staff and clientele at CTMS are a mixing bowl of ethnicities. The first four patients with whom Dr. Ting interacts are Latinx, and we closely follow Cashmere, a black survivor of the drag culture so memorably lensed in 1990's Paris Is Burning.
Many of the same themes of Little Girl and Transhood are sadly replicated on a grown-up level, however. We hear of parental ostracism, threats of sexual violence, depression, and suicide attempts from several, though not all, of their clients.
Happily, CTMS is an affirming oasis for its patients. Its staff don't hesitate to touch or hug their clients and significant others. One black patient on a return visit cheerily tosses out that she's friends on Facebook with most of the nurses there.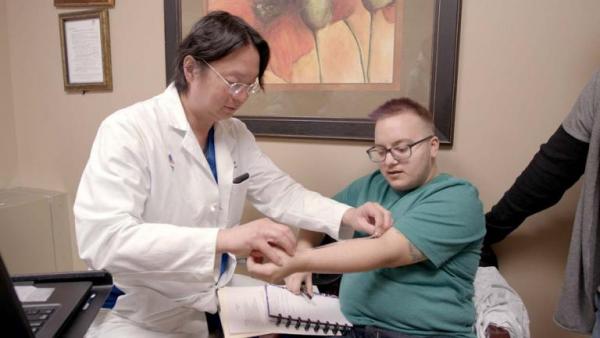 In exemplary fashion, Dr. Ting makes a point of nonjudgmentally asking every newcomer for their gender identity, preferred pronouns, and sexual orientation. (In a nice touch, Cypriano mirrors this by including similar info onscreen for every staff member or patient, when they first appear in her doc.) His patients are clearly at ease with him, grinning on his arrival in their exam room, responding in kind to his optimistic banter, grateful for his willingness to answer every question they pose.
Ting is a fascinating documentary subject, too. A Juilliard-trained double bassist, he diverted to med school under parental pressure, but then made damn sure he was head of his class. When CTMS opened in 2016, after New York became the ninth state mandating insurance coverage of gender affirmation surgery, he was the only plastic surgeon on Mount Sinai's staff willing to change his subspecialty.
In the four years since, Ting has become a surgical innovator, devising new and improved methods for phalloplasty and vaginoplasty. He also created the nation's first transgender fellowship training program.
Despite this intense professional drive, Ting impressed me with his humility. He is manifestly aware that surgical success is never guaranteed, and of the high stakes of his work. As he sincerely, endearing puts it, "Terror is a great motivator."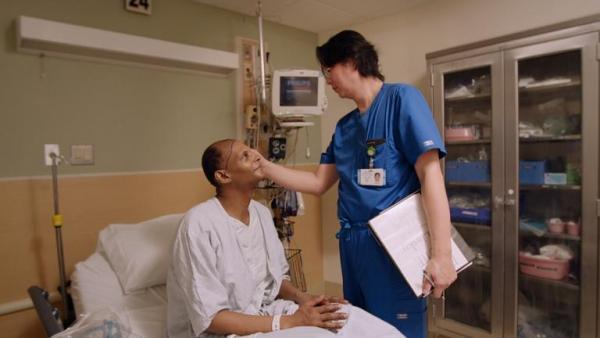 Viewers of Born to Be will come away with a better understanding of gender-confirming surgery. We observe the before/after of chest surgeries and facial feminization. And though Cypriano's camera demurs from showing genital operations, we hear them discussed aplenty, pre- and post-surgically.
Most importantly, we empathically discern the humanistic element of CTMS' labors. In Mahogany's story, we learn it was worth sacrificing a career as a male supermodel, in order to overcome life-threatening gender dysphoria. After Jordan's phalloplasty, we witness joy and relief as inner and outward self-perceptions finally, mercifully begin to overlap.
(Transhood is now streaming on HBO. Born to Be is available to rent through arthouse cinema websites like this one.)
(Image credit for star rating: Yasir72.multan CC BY-SA 3.0 )