Ma Rainey's Black Bottom is a film I wanted to love. It features Chadwick Boseman's final performance. It's an adaptation of an August Wilson play. And its title character, the Georgia-born "Mother of Blues," is the stuff of legends.
But wishing something doesn't make it so. I want my COVID vaccinations now. I wish Boseman were still alive. And can't Joe Biden be President already?
Unfortunately, as directed by George C. Wolfe, Ma Rainey doesn't succeed in leaping from the confines of the stage to possessing a cinematic feel. After a teasingly spacious beginning – of eager fans racing through Georgia woods to witness Rainey raucously own a stage – the remainder of the film almost totally limits itself to a pair of indoor sets.
In addition, while Viola Davis modulates her emotions for the camera as Ma Rainey, Boseman plays her ambitious trumpeter Levee in a fashion that would impact a Broadway viewer with a balcony seat, but is overdone here. (My comfort in looking honestly at Boseman's disappointing performance as Levee is my gratitude for his unambiguously great turn as Stormin' Norman earlier this year in Spike Lee's Da 5 Bloods. There, he's got my nomination for Best Supporting Actor.)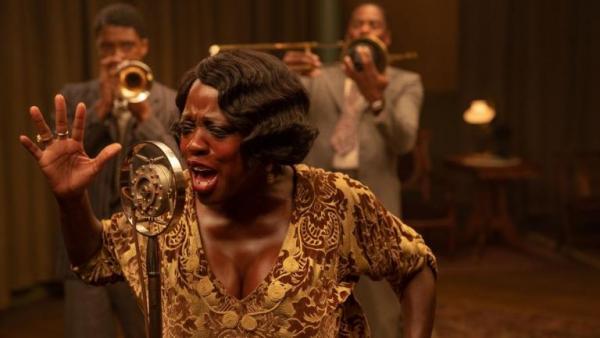 The director's greatest claims to fame are his Broadway efforts, with a trio of Tonys to his name. So Wolfe is no doubt superb at blocking a scene onstage, but at times in Ma Rainey, he doesn't seem to know what to do with his camera, swirling it busily around characters for an artificial liveliness.
Truth be told, this also feels like a lesser Wilson work, when I contrast it with the story and characters in Denzel Washington's 2016 adaptation of Fences. While Rainey and Levee overflow with spunk and vigor, the remaining cast are vague outlines of human beings. The play's themes likewise are conveyed in a more heavy-handed manner. The musical performances and the score by Branford Marsalis, however, are the best I've heard in a movie this year.
Ma Rainey's Black Bottom unspools across a momentous 1927 day in the lives of Rainey and her backing band. Her bassist, pianist, trumpeter, and trombonist arrive early at a Chicago recording studio. As they set up shop in the basement rehearsal space, they spend more time bantering than making music. Meanwhile, Rainey times her departure from her hotel in a manner ensuring a grand entrance, showing her white manager and studio owner who's really in charge that day.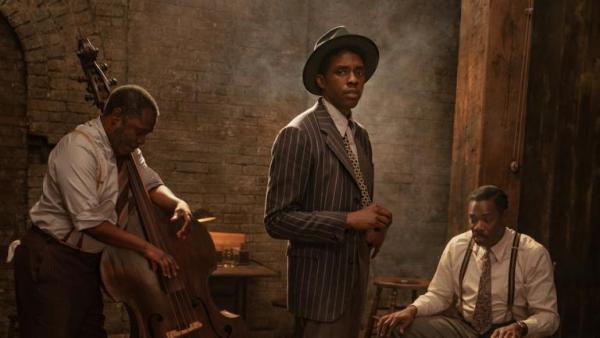 Tension smolders between Rainey and Levee on a couple of counts. Levee believes his trumpeting should be on equal footing with Rainey's vocalizing. Also, when the music isn't playing, Levee openly flirts with Rainey's girlfriend Dussie Mae (Taylour Paige).
It's a shame the film doesn't cohere as a strong drama, because it contemplates perennially relevant themes. Levee's blasphemous utterances, in Ma Rainey's most powerful scene, challenge Black America's traditionally tight embrace of Christianity. Levee's and Rainey's attempts to "handle" the white men in the story reveal who really called the shots in their time. Lastly, Rainey's words about the power of the blues apply to all great art: it doesn't exist to narcotize our pain, but helps make sense of the world and our purpose in it.
(Ma Rainey's Black Bottom is now streaming on Netflix.)
(Image credit for star rating: Yasir72.multan CC BY-SA 3.0 )