Gone are the days you could guarantee the latest Pixar movie would be the best English-language animation you'd see that year. Their stellar run of ten top-notch films, from Toy Story to Up, caved to the inspiration-sapping lure of sequelitis. And even an original premise can yield mixed results: for every delightful Coco, there's a disappointing Onward.
So I'm happy to report that their second release of 2020, Soul, is one of the animation studio's best yet. Still better, Pixar continues with their good-faith efforts to broaden their diversity, both in terms of who's creating and who's featured in them. Kemp Powers is their first Black director, sharing the responsibility with Pixar vet Pete Docter. On screen, middle-school music teacher and aspiring jazz virtuoso Joe Gardner (voiced by Jamie Foxx) is the studio's first leading Black protagonist.
Soul is one of two films this year (American Utopia is the other) that had me grinning from start to finish. In the case of American Utopia, the combination of great music, inventive choreography, and embodied humanism filled me with joy. With Soul, it's a story stuffed with surprises, breathtaking visuals, and moments of wonder and laugh out loud hilarity.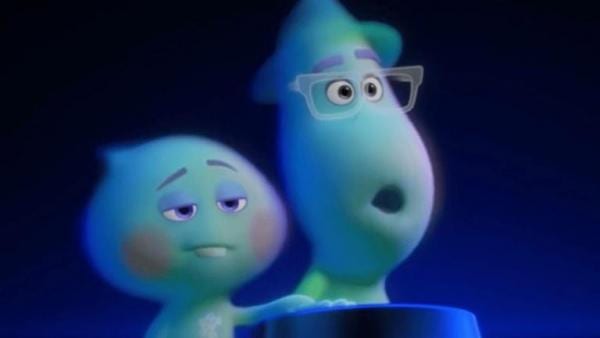 The film opens with middle-aged Joe conducting a disinterested gaggle of students in an NYC classroom, the sole bright light a teenaged trombonist embarrassed by her talent. Rescue arrives in a phone call from Curley (Questlove), a former student now jazz drummer, offering him a chance to sub on piano in an ensemble led by legendary saxophonist Dorothea Williams (Angela Bassett). His audition proceeds so swimmingly that a euphoric Joe doesn't mind his steps going home and falls down an open manhole cover.
In an eye's blink, Joe awakens on an escalator in a blackened expanse, ascending towards a giant, all-absorbing light, the Great Beyond. Not ready to untether himself from life, Joe leaps off the escalator and lands in a lush green meadow populated by sentient cotton-candy puffballs, shepherded by adults resembling Joan Miró sketches brought to life. This is the Great Before, where unborn souls are guided to find the spark permitting their entry into newborns on Earth.
Dodging an afterlife accountant who wants to claim him for the Great Beyond, Joe pairs with Soul 22 (Tina Fey), an incorrigible pre-youngster who's burned through centuries of despairing mentors. With one afraid of dying, the other afraid of living, they make an unlikely but effective anti-authority duo.
And that's basically the first 15 minutes of Soul. It's a lot of plot adeptly packed into an easily digestible form by Docter, Powers, and their co-writer Mike Jones. To say more of how their tale unfolds would spoil your own pleasure of discovery.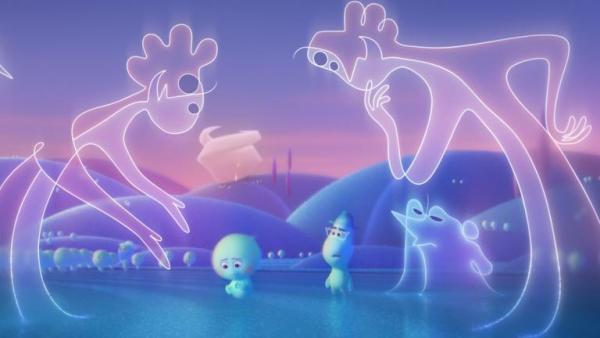 The visuals are never less than terrific, with inspiration drawn from psychedelia, surrealism, and William Blake's mystical drawings. A purplish aurora borealis designates "the zone," the dissociative bliss when you're lost in the thing you do best. Conversely, sandy, semi-scary "lost souls" illustrate when a passion turns to suffocating obsession. Back on Earth, the New York sequences brim with colorful urban detail.
Aptly, for a film with a jazz aficionado at its heart, the soundtrack incorporates a delightful who's who of late 20th to early 21st Century Black American music. Consultants and performers include Herbie Hancock, Questlove, Daveed Diggs, and Jon Batiste (who also served as the hand model for Joe's pianistic proficiency). And while Nine Inch Nails bandmates Trent Reznor and Atticus Ross wouldn't have been my intuitive choices to compose the airy, major chord music for the pre- and post-life scenes, they (forgive me) nail it.
Soul joins the ranks of Inside Out, Coco, and Up, as one of Pixar's top films to combine worldly insight with visual splendor and brisk adventure. Its view of the non-material world is decidedly nonsectarian (though probably closest to a Buddhist perspective), and for materialists like me who are certain this life is all we've got, it can readily be appreciated as fable and metaphor.
In quieter moments, as when Joe and Soul 22 observe a whirligig dropping from an autumnal tree, we're reminded to soak in the joy of embodiment. Throughout Soul, Joe fears he's led a meaningless existence. By film's end, through his eyes we're shown that passion and purpose flourish not in a search for a perfect moment, but by richly experiencing our everyday moments.
(Soul premieres on Disney Plus on December 25th.)
(Image credit for star rating: Yasir72.multan CC BY-SA 3.0 )