Once again, it's that magical, hectic time of year for film critics, deluged with screeners as we compose our "best of" lists. So don't be surprised if I craft a few more double feature columns before 2021 rolls around.
This week's favorite is Sound of Metal, an audacious feature directing debut with the best sonic design of 2020. To immerse us in the sensory world of a metal drummer rapidly going deaf, about a third of this film is heard through his ears. What could've been gimmicky in weaker hands is authentic and empathic here.
Although director Darius Marder spent more time on sound mixing (23 weeks!) than the actual shoot or editing, the acting and visual qualities emphatically did not suffer by consequence. Riz Ahmed and the supporting cast all play characters that feel lived-in, whom the viewers just happen to be meeting for the first time.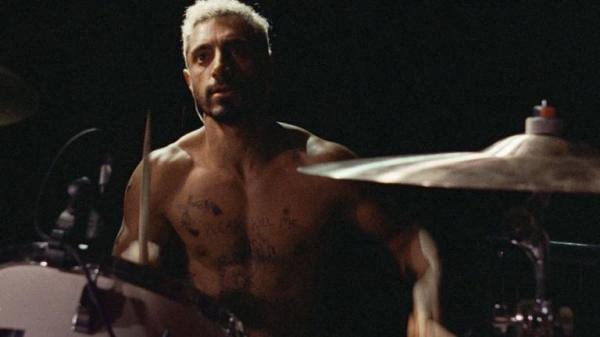 As Sound of Metal opens, Ruben (Ahmed) is mid-tour with his artistic and romantic partner of four years, Lou (Olivia Cooke). Awakening one morning in their trailer, Ruben can only discern muffled ambient noise and conversation, and it quickly deteriorates from there. Fearing this decline will trigger a heroin relapse, Lou calls Ruben's sponsor, who hooks him up with a deaf residential rehab community and its tough but kind leader Joe (Paul Raci).
Communicating via chalkboard and voice-recognition software, Joe tells Ruben that his job over the coming months is to learn how to be deaf. Initially shut out from the flurry of sign language conversations around the dinner table, a series of narrative segments lasting a few minutes apiece show Ruben learning ASL and rediscovering joy with the help of a warm teacher and a classroom of upbeat kids. These sequences are interspersed with moments of Ruben sneaking off to a forbidden PC to correspond with Lou and research cochlear implant surgery.
Ahmed – quite good in The Sisters Brothers and HBO's limited series The Night Of – shines in the leading role here. Like many a young addict in early recovery, he's well-intentioned but hasn't formed constructive habits for facing adversity. It's an open question whether his rage and low frustration tolerance will prevail over Lou and Joe's kindness and help.
Cooke and Raci are equally strong in their supportive roles. Judging by the multiple cuts on her arms, Lou battles self-destructive urges, too. Walking her own emotional tightrope, she's right to fear that Ruben's slippage could trigger a fall for her.
Raci's mentor character embodies the tension within hearing-impaired communities between those seeking restoration through cochlear implants and those who don't perceive deafness as a disability. A child of deaf parents, long active in deaf artistic circles, Raci was a perfect choice for his part.
With the aid of many deaf cast members and creative consultants, Sound of Metal has a strong foundation in reality. Thankfully, an engrossing narrative and aesthetic excellence weren't sacrificed in the quest for authenticity.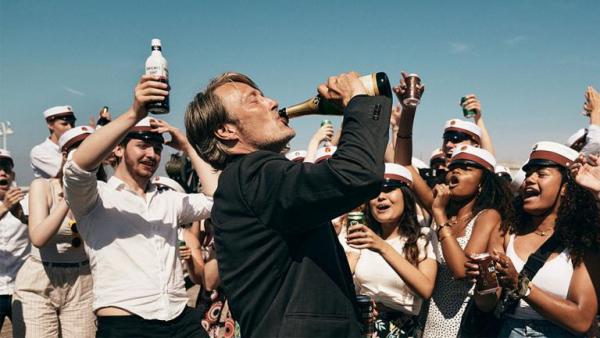 Thomas Vinterberg is the Danish director best known for his unsettling dramas The Celebration and The Hunt. Another Round is a lighter work, a feature-length enactment of Homer Simpson's classic utterance: "To alcohol! The cause of, and solution to, all of life's problems."
In Vinterberg's latest, Mads Mikkelsen plays Martin, a high school teacher stuck in middle-age doldrums. His students dread his tedious classes, his wife and two sons find him disengaged and lusterless.
At a birthday party with his three best friends and work colleagues, the quartet's conversation comes around to a philosopher/psychiatrist's hypothesis that humans were born with a suboptimal concentration of alcohol in their bloodstream. Each coping with their own midlife discontent, together they embark on an experiment, to see if their lives will improve with a steady 0.05% blood alcohol content.
As they day-drink through the work week, the results are initially encouraging (and comical to watch). Their students are galvanized by their gusto and optimism, as they become semi-inebriated Mr. Hollands. Martin's family remarks that they have their once-passionate husband and dad back.
Not surprisingly, as the quartet escalates their consumption – all in the interest of science, of course – their research takes a darker turn. Alas, with tragedy comes predictability, with one major event visible ten minutes out.
Still, Another Round is an entertaining ride, with space for a career-topping performance by Mikkelsen. So often typecast as villain or antihero thanks to his unconventional looks, Martin's emotions here convincingly and sympathetically range from clinically depressed to expansive to completely uninhibited. Mikkelsen's performance concludes with a scene of exuberant physicality I never saw coming and of which I didn't know he was capable. Even in a mediocre film – which this most certainly is not – it'd be worth sticking around for that alone.
(Sound of Metal is now streaming on Amazon. Another Round will premiere December 18th on major streaming platforms.)
(Image credit for star rating: Yasir72.multan CC BY-SA 3.0 )