With another life to live, I could've happily been an archaeologist. When traveling (remember when we could do that?), some of my peak experiences have been entering a Neolithic mound in Wales, gawking at Mayan cave relics in Belize, and marveling at the bones of a pre-Christian chieftain under a cathedral in Switzerland.
All that to say I'm probably a member of the target audience for The Dig, an engrossing if imperfect period drama now on Netflix. Based on the historical novel of the same name by John Preston, it recounts the discovery of a 6th Century burial mound on the eve of World War Two. The site at Sutton Hoo, in Sussex, England, is considered one of the great archaeological finds in the British Isles, for the wealth of material found and for revealing the sophistication of Anglo-Saxon culture in the Dark Ages.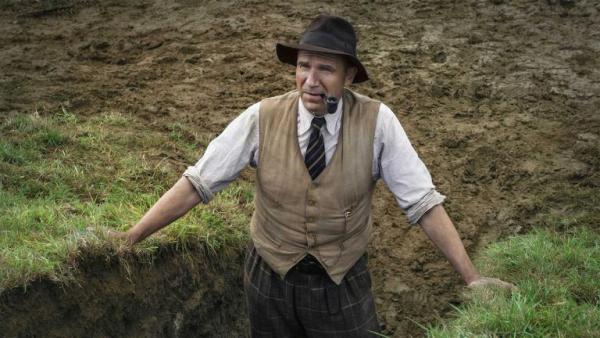 The Dig opens with Basil Brown (Ralph Fiennes) making a river and bicycle journey to reach the home of Edith Pretty (Carey Mulligan), the widow on whose estate the grassy mounds are located. Brown, calling himself an excavator rather than archaeologist due to a lack of formal education, has been sent by a local museum to discern if the mounds merit exploration. After a tentative dance around one another, a mutual respect is quickly found: both Brown and Pretty are diligently self-taught, having been denied an education due to socioeconomic status (Brown) and gender (Pretty). It helps, too, that Brown takes a liking to Pretty's inquisitive, enthusiastic son Robert (Archie Barnes), as he and his wife May (Monica Dolan) are regretfully childless.
As 1939 unfurls with a background hum of ominous radio broadcasts and RAF training sorties overhead, we observe the slow but clear progress of Brown's efforts. When the frame of a 90 foot long sailing vessel starts to show itself, a herd of London archaeologists descends and attempts to muscle Brown and his crew of local help out of the way. Only Pretty's intervention permits a détente between the groups.
For his sophomore feature, Australian director Simon Stone has managed an engrossing tale. Even as the supporting cast expands to a potentially cumbersome crowd – with parts for familiar cinematic faces like Johnny Flynn, Lily James, and Ben Chaplin – Stone and his screenwriter Moira Buffini succeed in imbuing them each with distinct personalities.
The Dig is also aesthetically pleasing, the Sussex countryside so gorgeously shot that the local tourism board must be grateful. The figures heroically in silhouette or looking their best in the golden gloaming may be a tad overdone, but it sure is pretty.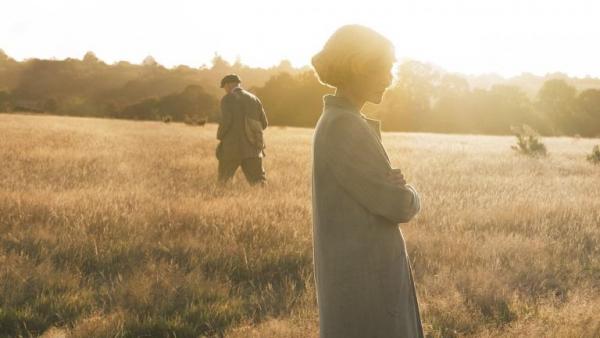 With so much repressed British emotion, these are certainly not the most exacting roles taken on by Fiennes or Mulligan, but they play them quite well. Though Mulligan is getting the most notice lately for her lead in the rape revenge tale Promising Young Woman, I would choose in a heartbeat to re-watch this film over that cynically edgy, shallow, overhyped saga.
Impending or actual death saturates the edges of The Dig. Soldiers desperately kiss their girlfriends goodbye in many a shot. Little Robert is fatherless, while his mother Edith suffers from a debilitating heart ailment. And of course the archaeologists and excavators are exposing a burial mound to the light of day for the first time in 1400 years. The Dig won't strain your neurons, but it contains some gentle meditations on mortality, seizing the moment, and what lives on after we die.
The main drawback to this film is that, after a just-right pace for 95 minutes, it bolts to the finish line for its final act. Perhaps this is a flaw of the novel's as well – which I'm now curious to read – but Stone and Buffini leave too many strands unresolved as the credits roll. You could argue that's the nature of mortality (the end arrives so inconveniently!), but I'm doubtful this was the director and writer's intent.
(The Dig is available to stream on Netflix.)
(Image credit for star rating: Yasir72.multan CC BY-SA 3.0 )