Derek DelGaudio's in and of Itself opens atypically, with an appeal to home viewers: please turn off your cellphones. No doubt, the same request was issued at the start of its 552 off-Broadway performances. Well, even at home you'll be glad if you pay heed, for this is a show that deserves your complete attention.
If you're like me, you'd never heard of DelGaudio before, but it speaks volumes when an act starring a relative unknown is propped up by more famous folks esteemed for their artistry. DelGaudio's show and this film are directed by Frank Oz. Its music is provided by Mark Mothersbaugh (Devo member turned prolific movie composer) and David Harrington (founder of the groundbreaking Kronos Quartet). The film's producers include Daryl Roth, 10-time Tony winner. And after being bowled over by a performance, Stephen Colbert and his wife Evelyn McGee Colbert signed on as producers, too.
After watching in and of Itself, I see why these luminaries were drawn to DelGaudio. Not only is he a superb illusionist and magician, but his one-man show (with lots of audience participation) movingly explores some pretty substantive psychological territory.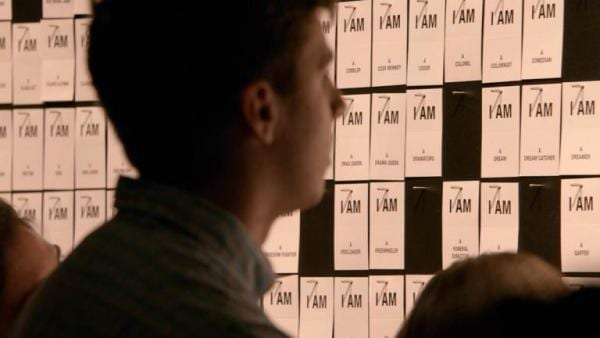 Each off-Broadway performance opened with the 150 ticket holders in the lobby facing a wall with over 1000 alphabetized tags, about half the size of a playing card. Each tag had the words "I AM" followed by a short descriptor, such as idiot, contrarian, peacemaker, father, or iconoclast. Theatergoers had to choose one before taking their seats.
This exercise primed the audience (and us viewers at home) for an extended meditation on the confining nature of labels, even the ones we pick for ourselves. After we observe this prologue, DelGaudio commences the show proper with a story about a descriptor once affixed to him in a Spanish bar, where a stranger called him a rouletista, a player of Russian roulette.
The stage's simple design reflects this naming, as the wall behind DelGaudio contains six alcoves, roughly approximating the shape of a revolver's six chambers. Each recess holds an object – the scales of justice, a ceramic wolf's head, a shiny manikin – whose meaning is revealed as the show progresses.
DelGaudio is a marvelous storyteller, his autobiographical and folkloric tales unflaggingly engrossing. Lending his film a cinematic cast, his chapters are interspersed with live-action, home movie, and animated snippets. In addition, the portions with audience participation have been edited to display how different volunteers played their part on a given night.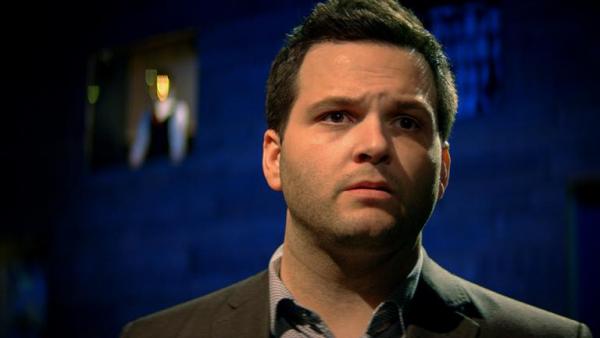 In one segment, DelGaudio speaks of traveling the world to learn from the best, and the "thank yous" in the end credits include magician greats like David Blaine and Ricky Jay. So, not surprisingly, his illusions and sleight of hand elicited gasps of wonderment and "how the hell did he do that" befuddlement. But DelGaudio lends a pathos to his performance that I can't recall seeing in a magic show before. Whether it's real or acted (it looks authentic), his eyes appear as wells of sorrow, his silent tears in a climactic segment unaffected.
In spite of this, in and of Itself's overall tone is cathartic, hopeful, and insightful. DelGaudio uses illusions as metaphors for identity and the ways we view the world. Sometimes our perceptions conceal as much as they reveal. The labels we fasten to others (and ourselves) are both liberating and constricting.
(Derek DelGaudio's in and of Itself is available to stream on Hulu.)
(Image credit for star rating: Yasir72.multan CC BY-SA 3.0 )