Directors don't always succeed in crossing their borders to make films in other lands. For Japanese auteur Hirokazu Koreeda, concern seemed warranted, since his prior 13 features (sensitive masterworks like Nobody Knows and The Shoplifters) were so granular in their attention to his country's less privileged citizens.
Fortunately, these worries were unfounded. Had I not known, I wouldn't have guessed The Truth was written and directed by Koreeda. Its marital and mother-daughter dynamics remind me of light yet serious European dramas such as Things to Come. Its behind-the-scene look at French moviemaking recalls Truffaut's Day for Night, though it's far more realistically portrayed here. And Ethan Hawke's character is cut from the same cloth as those he depicts for Richard Linklater.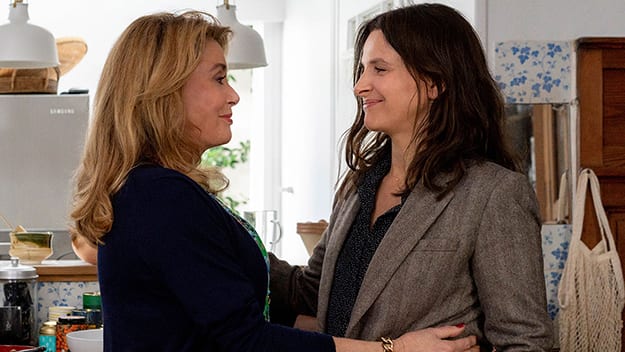 Evidently, we have Juliette Binoche to thank for The Truth, as she kept pestering Koreeda to come to France and shoot a movie. However, it's screen legend Catherine Deneuve who takes first billing, still going strong in her 70s, with a résumé that's included leading roles with equally legendary directors François Truffaut and Jacques Demy.
In The Truth, Deneuve plays fictional film actress Fabienne Dangeville, presiding imperiously over a Paris home that includes her new lover Jacques (Christian Crahay) and her long-suffering assistant of 40 years, Luc (Alain Libolt). Just arrived from the states are her daughter Lumir (Binoche), son-in-law Hank (Hawke), and bilingual granddaughter Charlotte (Clémentine Grenier, charming and believable in her acting debut). Ostensibly there to celebrate the release of Fabienne's memoirs, Lumir is more interested in chastising her mother for failing to give her a pre-publication look at the autobiography, as promised.
As Fabienne and Lumir resume their sparring over decades of grievances, the mother is preparing for her part in an arthouse sci-fi flick, Memories of My Mother. Its star Manon (Manon Clavel, another impressive feature debut) reminds Fabienne of a long-deceased best friend and erstwhile rival for plum film roles.
In Koreeda's intelligent script, these characters are complex, difficult, true to life. Fabienne is clearly a narcissist, redeemed by flashes of selflessness and the evident reality that her armor is a vain attempt to ward off past pain and regret. Lumir's signal memory of Fabienne is her failure to show up for a school play. Her tight hold to this grudge blocks her recognition of how alike they are.
Every actor here is in top form, but Deneuve wowed me in particular. In one of my favorite scenes, as Fabienne is being filmed for Memories of My Mother, recollections of ancient interactions with Lumir are playing across her mind's movie screen. We never see any flashbacks, but Deneuve conveys this through her subtle shifts of expression. What a rare talent!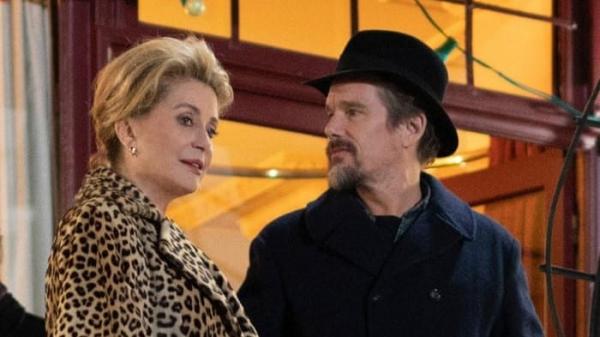 Themes that could've been lugubrious are handled with a light touch by Koreeda, aided in part by a cheery, piano-forward score from Alexei Aigui. The interplay between Fabienne and her granddaughter brightens the tone, the youngster believing her grandma is a witch capable of turning her foes into animals. Ethan Hawke's quintessential American character – ever-optimistic, gregarious, constitutionally incapable of learning a second language – is also a fun foil to the mother-daughter dueling.
Koreeda and his crew are similarly deft at creating lived-in settings. Epinay Studios, where Memories of My Mother is being shot, is actually older than Hollywood. From the food tent to the sets, it seems as though movie-makers are truly at work. Likewise, in a year when onscreen homes of the well-to-do felt unnecessarily showoffy (I'm looking at you, On the Rocks, The Nest, and French Exit), Fabienne's mansion emanates a weathered authenticity.
As his title implies, Koreeda's script concerns itself with the unattainability of "the Truth," given the imperfect apparatus within our noggin, coupled with our tendency to remember ourselves more flatteringly than we ought. Yet our internal narratives, with their blend of reality and fiction, are all we've got. Meanwhile, the stories outside ourselves enrich us immeasurably, whether it's Charlotte's belief that her grandmother turned her ex-husband into the backyard tortoise, or another thoughtful gem of a film from Koreeda.
(The Truth is available to rent on YouTube and Google Play.)
(Image credit for star rating: Yasir72.multan CC BY-SA 3.0 )