Talk about a missed opportunity. At least to this White reviewer, we seem to be in a peak time for the cinematic storytelling of Black lives. Harriet. Small Axe. One Night in Miami. MLK/FBI. The Good Lord Bird (a TV miniseries, I know, but damn, was it excellent.) The upcoming Underground Railroad and Obama-produced Frederick Douglass biopic.
So I turned on my screener of Judas and the Black Messiah with high hopes. Ryan Coogler – director of Fruitvale Station, Black Panther, and Creed – is one of its producers. Its two leads are Daniel (Get Out) Kaluuya and LaKeith (Sorry to Bother You) Stanfield. Its DP, Sean Bobbitt, has lent his skills to films by Spike Lee and Steve McQueen.
Courtesy of Bobbitt, this is a pretty film to look at. And I have no doubt that Kaluuya and Stanfield gave it their all, as Black Panther Fred Hampton and his head of security/ultimate betrayer Bill O'Neal. But under Shaka King's direction, from a script he co-wrote, these characters and their narrative feel static and undeveloped. A subplot involving the death of a fellow Panther in a shootout with police is poorly handled, its connection to the main story murky.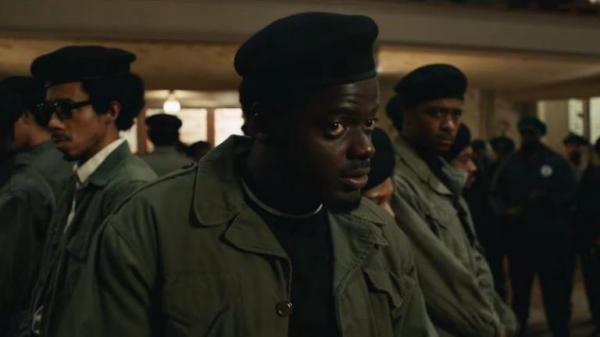 Even a strong supporting cast – Jesse Plemons as O'Neal's FBI handler, Martin Sheen as J. Edgar Hoover, and Dominique Fishback as Hampton's intellectual and romantic partner Deborah Johnson – can't raise this above mediocrity. It's seldom a plus when the written epilogue carries as much emotional weight as the visual drama beforehand.
And this should've been powerful, with multiple resonances for our present day. As head of the Illinois chapter of the Black Panther Party in the late 1960s, Hampton's oratory is still timely, when he states the footage on the nightly news represents rebellion, not rioting. His intersectionality and multiracial outreach were admirably prescient. His assassination by Chicago cops and FBI agents is mirrored by the murder of Breonna Taylor in Louisville.
Just as significantly, the character arc of Bill O'Neal could've been a forceful cautionary tale on the corruptibility of the ignorant and uncommitted. When Plemons' agent asks him how he felt about the deaths of Malcolm X and Martin Luther King, Jr., O'Neal indifferently replies that he never gave them much thought. From there, the slope isn't terribly slippery for him to use his FBI connection as a "get out of jail free" card.
The director does nicely play up the comparisons between Hampton's martyrdom and the biblical passion play, especially from "the night he was betrayed" onwards. About all that was missing was a kiss from O'Neal.
(Judas and the Black Messiah is now streaming on HBO Max.)
(Image credit for star rating: Yasir72.multan CC BY-SA 3.0 )