Of the making of coming-of-age stories there is no end. The countless iterations of Little Women, the best Studio Ghibli films, the fact there's one of those blocky multisyllabic German words for it (Bildungsroman): all attest to this fact.
In such a crowded field, a story has to stand out to be more than disposable entertainment. Happily, my favorite film of 2021 so far is one such tale.
A major distinctive aspect of Kuessipan is its placement among the Innu. Not to be confused with the Inuit, the Innu are an indigenous group numbering about 28,000 in Québec and Labrador. Director Myriam Verreault set her film in the Innu community around Sept-Îles, close to the mouth of the Saint Lawrence River.
Based on the novel of the same name by Innu author Naomi Fontaine (who co-wrote the script with the director), Kuessipan is nearly tone-perfect. It's not quirky, an attitude so many tales of adolescence desperately flail for. It's not a dark story of poverty and addiction, something we too often anticipate in films involving indigenous peoples. Though it doesn't shy away from tragedy and conflict, Kuessipan is ultimately optimistic, even joyful.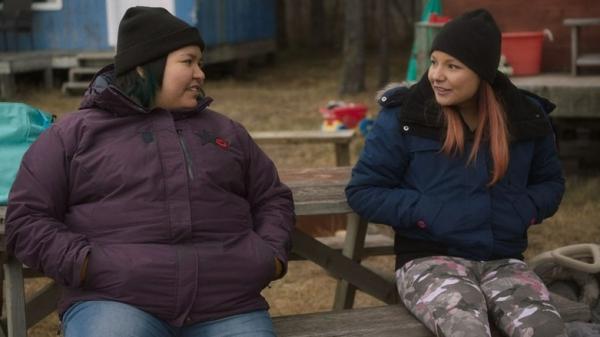 This tone is boosted considerably by Verreault and Fontaine's selection of protagonists. Mikuan and Shaniss have been next-door neighbors since birth, lifelong sisters by choice. As an elementary school prologue demonstrates, they are literally inseparable, no matter their circumstances. Now adolescents, their paths threaten to diverge. Mikuan is a high school senior, attending optional writing seminars on weekends with her sights on university in Québec City. Shaniss dropped out long ago, living with her explosive boyfriend Greg and raising their infant daughter. Further complicating matters, Mikuan is smitten with her white boyfriend Francis, while Shaniss believes you should pick your man from the options available on the reservation.
A white Québécoise, Verreault immersed herself in reservation life at Sept-Îles, courtesy of Fontaine's invitation. The result is a feeling of deep authenticity. The surrounding beauty – rushing waterfalls into the Saint Lawrence, night fishing on the lake – is splendidly captured. So are Mikuan and Shaniss' contrasting home lives. Three generations dwell under Mikuan's cheery roof: she administers insulin injections to her grandmother, her mother crafts beaded jewelry, and her exuberant brother aspires to a pro hockey career. In the meantime, Shaniss and Greg make due with bedsheets for curtains, with empty beer bottles strewn around their kitchen from late nights with buddies.
With the exception of the actor playing Francis, Étienne Galloy, every major character is portrayed by a non-professional. While this can be a risky casting decision, the outcome in Kuessipan is superb. Until a melodramatic turn or two late in the film, I never felt pulled out of the narrative, sensing I was watching real people who happened to be on camera. Sharon Ishpatao Fontaine plays Mikuan with an optimistic openness; her giddiness over her new romance with Francis seems completely genuine. Yamie Grégoire, by contrast, lends Shaniss harder edges, a seriousness mixed with fierce loyalty.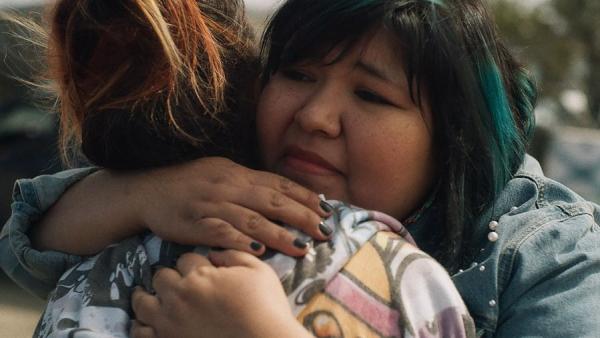 Like using non-professionals, a voiceover is a perilous stylistic choice, sometimes a lazy escape for screenwriters from the arduous demands of character development and exposition. Here, as delivered by Mikuan, it feels natural in coming from an aspiring poet, striving for the right words for her inner experience. Words, plotting, and characterization strongly complement each other, for themes of Bildungsroman both universal (crafting a unique identity in a community) and particular (finding reservation life simultaneously affirming and constricting).
Kuessipan is Innu for "it's your turn." I'm thrilled that Myriam Verreault and Naomi Fontaine gave these Innu women a turn to tell their stories. They deserve the widest possible audience for their beautiful, affecting achievement.
(Kuessipan is now available for home viewing through arthouse cinema websites like this one.)
(Image credit for star rating: Yasir72.multan CC BY-SA 3.0 )