One of cinema's most alluring attributes is the chance it offers for vicarious world travel. I've felt this draw since my teenaged years, when repeated viewings of Diva had to stand in for the streets of Paris, after a life-changing summer as an exchange student. I feel it again during the pandemic: stuck at home, I've been enriched by visits to Norway, Québec, Turkey, and seaside England in just these past couple of months alone.
In that spirit, here's your chance for a slice of Icelandic life, courtesy of Grímur Hákonarson's latest feature The County. Did you know that Icelandic farmers are suffocated by an oppressive co-op system, originally begun in the 1890s as a socialist ideal, now turned plutocratic? Me either, until watching this film and reading an interview with the director afterwards.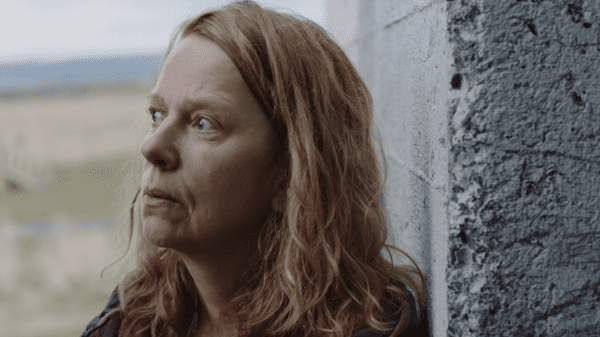 Hákonarson originally wanted to make a documentary illustrating this devolution, but when no interview subjects would speak on record, he decided to write and direct a feature instead. At the heart of his tale is Inga (Arndís Hrönn Egilsdóttir), a middle-aged dairy former in the country's snowy north. The County opens with Inga in the middle of a literally laborious workday, helping one of her cow's give birth, chains attached to a pair of the calf's legs to extract it from its mother.
We quickly see that Inga and her husband Reynir (Hinrik Ólafsson) subsist on the brink of exhaustion, too tired to converse meaningfully at day's end. The director wordlessly mirrors Inga and Reynir's dehumanization with shots of confined cattle and robotic milking equipment, the latter foisted upon them by the co-op, the better to work faster and get into bigger debt. The chains aren't merely around the calf's legs.
Not long into the film, Inga faces a double reckoning. Her husband dies in a late-night wreck, perhaps by suicide, maybe asleep at the wheel. Shortly after his funeral, Inga learns from a friend that Reynir had been forced to turn informant, narcing on farmers who purchased cheaper supplies outside the co-op store. Eyjólfur, the cooperative's CEO, had threatened to reclaim Reynir's debt-ridden farm if he didn't play ball.
As Inga, Arndís Hrönn Egilsdóttir draws us in with her character's transformation from bereft and shell-shocked to pissed off and galvanized into action. Inga vents her rage on the local oligarchs in ways both darkly comic and truly endangering of their parasitic livelihood.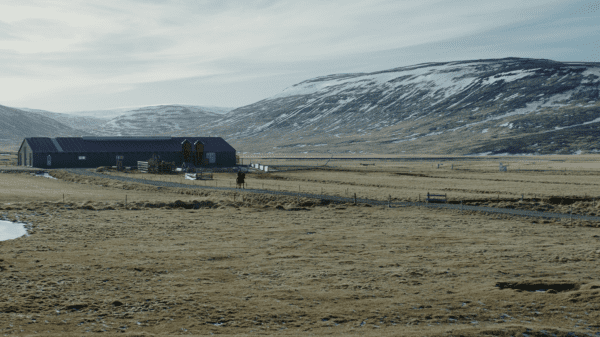 The County is not a flashy film. Unlike recent Icelandic works that played in North America, it doesn't wear its arthouse cred on its sleeve. There are no bravura flourishes: no onscreen Greek chorus or time-lapse shots of a farmhouse across multiple seasons. Hákonarson keeps his editing straightforward, his characters taciturn. As with his preceding feature, 2015's sibling rivalry drama Rams, his latest gives us a lived-in feeling of farmers scratching out an existence in beautiful but harsh terrain.
Commendably, Hákonarson's script doesn't preach, but his larger social point is clear enough – and universal, despite the regional particulars of his story and the narrow confines implied by his title. Whether in northern Iceland or North America, founding ideals aren't sufficient, but demand periodic reclamation.
(The County is available for home viewing through arthouse websites like this one.)
(Image credit for star rating: Yasir72.multan CC BY-SA 3.0 )